Build a Newsletter
About This Feature The Genie Template Editor and the Advanced HTML Editor are the two options you have for building your newsletters. The Genie Template Editor lets you select from a number of fully customizable templates, drag and drop articles, and easily insert pictures and media. The Advanced HTML Editor is for people who are fluent enough in HTML to design their own newsletters from scratch.
How to Use this Feature
Under "Newsletters" in the main menu, click "Build". You are given two options: Genie Template Editor and HTML Editor.
[+]
Genie Template Editor
[+]
Advanced HTML Editor
Best Uses Creating a visually interesting newsletter that draws the reader's eye can one of the most fun parts of email marketing - if you know what you're doing. Viewing the tutorial videos is a great step in the right direction if you're just getting started. One helpful hint for ensuring that your newsletters look as great to others as they do to you is to always check rendering in multiple email clients.
Need Extra Help? Check out our Design Tips Video
Creating a CSV File
Knowledge Base: Creating a CSV File
In an effort to further improve system-wide performance (read: get your newsletters sent faster to more inboxes), we've updated our subscriber input utilities. What does that mean? Well, we've streamlined the Add Subscribers process, but we've also eliminated the Quick Add feature. A heartless move, we know, but a necessary sacrifice for the benefit of improved sending.
So how does one go about quickly adding subscribers now? Don't worry. It's still quick. You'll need to create a CSV (or Comma Separated Value) file, but the process is very simple. When preparing to upload a list of new subscribers:
Paste all addresses into a plain text or .TXT editor (Notepad on Microsoft systems and TextEdit on Apple Systems)
Separate each email address with a line break, ensuring that only one address appear on each line of the document like this:

Make "email" the only word that appears on the first line of the document
Save the document as a CSV file (This process is different for different applications, but in most cases, you'll simply need to change the file extension to .csv)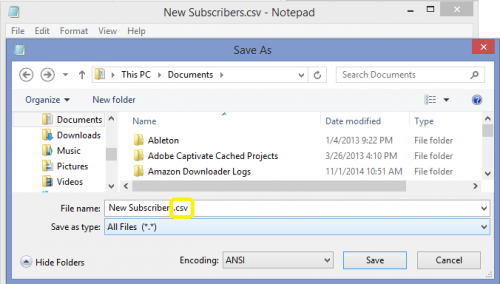 Upload that honker to MyNewsletterBuilder using the CSV uploader tool, which you'll find on the Import module on the Subscribers page of your MNB account.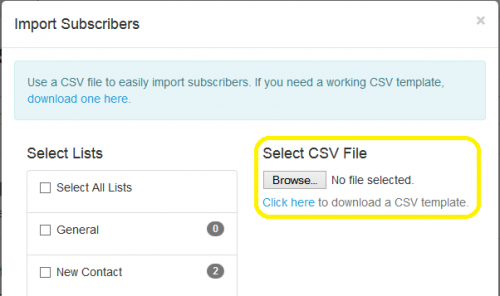 As always, if you run into any issues, please contact our excellent support team.
Auto-Save
In October of 2013, the auto-save feature for Genie was tweaked a bit to be more user-friendly (but perhaps less, oh-my-goodness-I-forgot-to-click-save-before-I-left-my-computer-unattended-for-the-last-two-hours friendly).
DISCLAIMER: we provide an ONLINE service, this is not like using a desktop application. Assuming that you can simply leave the Genie editor (or any of our newsletter editors) open for extended periods of time without activity is a bad assumption. Please, don't do it.
With that stated, this is how auto-save works in Genie:
1. Auto-Save is triggered after 5 minutes of editing, AND
2. When the existing article objects loses focus - which means you click someplace else outside of the newsletter (preview button, the backdrop, any blank area on the screen)
BOTH those statements have to be true. If you are inside a single article and typing for 30-minutes, auto-save will not trigger UNTIL you click on something else - the preview button, the THEME button, anything that is NOT an article.
What does Auto-Save really do?
When the auto-save function triggers, the system stores that copy of the newsletter in the "Auto-Save" folder in our system. This folder is accessible from "Newsletters" by first viewing the newsletters and selecting the "Auto-Save" option - it is fairly obvious.
The auto-save DOES NOT save into or over the existing version of the newsletter - we store it elsewhere to give you more access and opportunities to edit versions of draft newsletters.
Length Matters (part 1 - the reader)
Alright kiddies, lets settle down and cover the real question at hand: is your newsletter too long?
I have three pseudo-metrics (I like doing things in threes) I apply to reading any newsletter, whether its from my email reader or a simple html view:
1. How small is that scroll bar on the right
2. Am I staring at a WALL of text
3. How many scrolls does it take for me to get down the page
Let us take a moment and address why and how I apply these rules.
1. How small is that scroll bar on the right?
Why: a really small bar means a whole lot of text.
How: eyes right and take a gander at that vertical scroll bar.
When I open any email, the second thing I typically notice is the scroll bar. If it is tiny, I will simply skip the email for now and save it for later. People like to digest information in small chunks. A tiny scroll bar means tons of content and a whole lot of material to digest. Big newsletters are left to read later - if and when someone has lots of time to read.
ASIDE: for the clever folks that caught my reference to this not being the first thing I notice. Typically, the first thing I notice on an email is graphic header, logo placement, or newsletter title. Personally, I don't want or need excessive branding in my newsletters - I want great content, immediately, right in front of my face, like now.
2. Am I staring at a WALL of text?
Why: yikes, I'm not here to read a book, a thesis, or a diatribe.
How: take a quick gaze at the meat of the email to see if there negative/white space and clear delineations between pieces of content.
Email is not a medium for long content. Websites and books are. Using the proper tool and method to disseminate your information or message will help you better communicate to your peeps.
3. How many scrolls (just like a tootsie roll pop)
Why: email readers will truncate long newsletters
How: start scrolling down and count
I won't read anything with more than 5 scrolls. Typically, I prefer 3 or NONE. Email readers will truncate your message clipping HTML where ever they see fit. What happens if that is in the middle of a table tag? Whammo, bammo, broken newsletter.
Summary: short and sweet
Engage your subscribers with the juiciest tid-bit of information and knowledge and push them to your website. When the milk is free, nobody buys the cow (I can't believe I just wrote that).
My rule of three in composing a newsletter:
1. 3 articles
2. No more than 3 short paragraphs per article (this is long-form)
3. 3 fonts and colors (gets into style issues but it is part of my rule set)
Coming soon: part 2 - the technical aspects
I hope you find this helpful and if you have other topics you would like me to go over, please email me at .(JavaScript must be enabled to view this email address).
Building a newsletter using the Advanced HTML editor
Are you one of those super geeks that groove on writing your own html for a newsletter?
MNB gives you web geniuses a very easy to use editor to enable your brilliant creations to be distributed via the email network.
Most people (like you I imagine, since you are reading this article) write custom HTML in another software. Within our Advanced HTML editor, there is an option to upload a source file - conveniently called "Content Upload." It is located on the editor page. If you create your html elsewhere, you can easily upload it into our editor using that feature.
For those that want to write code directly in MNB - more power to you. I highly recommend turning OFF the rich text editor when you do so (click on Disable Rich-text Editor button at the top of the form/box).
There are a few tips and tricks I'd like to share about using our Advanced HTML editor.
PREFACE: we are not responsible for your html (good or bad) - we don't change it, we simply push it into a newsletter envelope
1. Don't copy the source code of a web page; web pages don't make good emails as the mark-up/html in them typically is not compatible with the email world.
2. If you do copy source code from a web page, please try only to include the content from the body. When you include head content, it likes to break and interfere with our default domain and location.
3. In the same genre as the previous comments, web rendered content does not translate the same in the email world - you need to know and understand the differences in rendering engines (not just IE, Chrome, Firefox, but Word, Chrome, Firefox, Yahoo, Gmail, Outlook.com, AOL, etc) - the rules are different.
4. If you have images you want to use in your newsletter - MNB can actually host them but you have to add them to our Genie Image Gallery. You don't have to actually USE Genie, but if you build a newsletter, you can upload images into your gallery, preview them in a newsletter, and then copy their image URL.
How does the footer work in MNB?
That is a great question and understanding the footer is a nice feather in your email marketing cap.
The first thing about footers you should understand is that they are built and derived from the information you provide in your User Settings, specifically the Organization Settings section in the Member Profile. Briefly read through that when you have time as it does tell you where and when that information is used.
The second thing about footers you need to know is that as soon as you build a newsletter, your footer is added to that newsletter (right then and there). If you change any information in your settings or change the footer (again, in your settings), it won't necessarily be reflected on that built newsletter.
What do I mean by "necessarily"? You can update a footer inside an already built newsletter by using the "Refresh Newsletter Data" option (from the Newsletter Details page). To do this, assuming you have either changed your address or selected a different footer:
1. Click on the newsletter name
2. At the bottom-right of the Newsletter Details page, click on the box for Refresh Newsletter Data
3. Click Save
4. Close the newsletter
The third thing to know about footers is that we have a few options for you. To select a different style of footer:
1. Click on Account
2. Click on Settings
3. Click on Footer Options from the left Display menu
On this page, you can change the language of your footer and the layout of your footer. You can even let us know you want to build a custom footer (this does cost some money because we have to program it into our system.
Remember, any changes here will not change any existing newsletter (unless you refresh the newsletter data); it only effects future newsletters being built.
The last thing you need to know about footers is that by CAN-SPAM standards, we require (99% of the time) all footers to have the mailing address, unsubscribe link, and report spam link.
Oh, oh. I just remembered one last piece of the footer you should know about: social sharing options. By default, every account has this feature turned on. You can disable the social sharing options in your footer by:
1. Click on Account
2. Click on Settings
3. Click on Social Network
4. Click off Enable Sharing Integration
How do I add a PayPal button to my newsletter?
Most of the work in adding a PayPal button is done outside of MNB. In PayPal, follow these steps:
1. Create a button under Merchant Services
2. Complete the info for the "Donate" or "Buy Now" buttons
3. Click on Create
You will then be presented with two tabs: website and email
4. Click on the email tab and copy that link to the clipboard
5. Build a newsletter in MNB
6. Add an image - using Genie, its the top-left icon
7. MNB has a gallery for PayPal buttons in the default galleries - you can use that or any other image you like
8. After you select your image, there will be an option within the Image Options to add a link - paste the link copied from step 4 above
That is all she wrote. Pretty simple.
I pasted formatted text into an article, where did the formatting go?
There are two times when something like this can happen:
1. Your article was set to "paste as plain text"
2. The formatting you tried to paste is not compatible in the email world (eg: copying from Word)
To check for number 1 above, click on the article and take note of the top left-most icon in Genie. If that icon is selected, then you are pasting as plain text only - which is actually the smartest option.
As for number two (appropriately named):
Lots of people use Word to format content before putting/copying content into a newsletter. When you do so, Word and the clipboard try to put in lots and lots of really bad code into the article.
In order to prevent this, Genie will strip out all code from Word - we do it because it is the safest method we have for preventing a newsletter for breaking. Word will actually try to paste in the actual code for a document object (which is a bunch of XML code that breaks stuff).
Our recommendation will always be this:
1. Paste everything as plain text
2. Format to your needs using as little format as possible
3. Save
Tips and hints
1. Stick to our recommendations for the least amount of problems
2. Firefox does the best job at copying formatted web content
3. Manually replace hard returns in copied text to ensure you have the spacing you want and need
4. If you are changing the formatting using the THEME and it isn't applying to your article, reset your article to default formats:
- click in the article
- click the Article Styles button - bottom right-most icon
- click Restore Defaults
5. Preview is about 95% accurate when rendering email - my advice is to copy your final newsletter and send it to a small test group using multiple email platforms OR subscribe to a service like Email On Acid (http://www.emailonacid.com/, which is what we use).
6. Even after you restore defaults, stuff is still messed up (caused by hidden formatting which is likely visible by clicking on source code)? Copy all the content in the article, add a new article, click on the Paste-As-Plain-Text button and paste the content into the new article.
How do I add a table to my newsletter?
Really? I don't advocate adding tables to your newsletter. It is hard enough simplifying content so that it is easily digestible by your subscribers - what are you expecting with a table in a newsletter?
I'm not saying "don't do it" but I am saying do it with caution and do it simply.
Without further adieu, here is what to do: (you like that?)
1. Build a newsletter or edit an existing one
2. Inside the article where you want to add a table, click into the source code (yes, it is easiest and best to do this using some simple html)
3. Add a table: for html help on tables, check out w3schools.
(carrots replaced with brackets)
- two columns, two rows -
[table][tr][td][/td][td][/td][/tr][tr][td][/td][td][/td][/tr][/table]
- two columns, three rows -
[table][tr][td][/td][td][/td][td][/td][/tr][tr][td][/td][td][/td][td][/td][/tr][/table]
- two columns, three rows -
[table][tr][td][/td][td][/td][/tr][tr][td][/td][td][/td][/tr][tr][td][/td][td][/td][/tr][/table]
4. Click on update
5. Back in the article, you will see a simply formatted (but small) table; click and drag the width and height out for the table to fill the article or as needed
That is the easiest and simplest way to add a table to a newsletter.
Why aren't my changes being saved in the newsletter?
Oh man, this is a doozy of a question. We have a few quick tips for you to troubleshoot this issue.
Most likely: you have another window on your computer open that has the newsletter open in edit mode.
Everyone says no, but 99% of the time, it is actually yes. People like to test the newsletters out in multiple browsers - which is smart when reading the newsletter in email - not during edits. First and foremost, close out of all your other windows and try saving again.
Another time this can happen is if multiple people edit the same newsletter. Sometimes it isn't open on your computer but open on other people's computers.
Whichever newsletter is saved last is the one that will get saved to the master copy.
Lost connection
Genie is really good at notifying you when you lose your connection and it cannot save. You should know this because Genie will tell you and unceremoniously drop you out of MNB. This isn't typical and most people that have this happen to them don't call us up asking that question.
An ounce of prevention
Folks, MNB is a fantastic email marketing system with a very powerful newsletter editor tool. It is not designed like a word processing utility with direct access to frequent and undisturbed access to your hard drive. It is a web app. Treat it like one.
Write your content on your computer (un-formatted) and simply copy and paste it into an article. Format it and click save. Rinse and repeat until you are done. Keep it simple.
How do I change the color of a link?
There is on smart way to change the color of a link in Genie and one not-so-smart way.
The smart way to change the color of a link
Every Genie template has a built-in theme that can be changed to suit your needs.
1. From Genie, click on Theme in the top right
2. Click on the specific style you are looking to change: Article Links, Side Article Links, Coupon Links, Table of Contents Links
3. Edit the font, size, and color
4. When done, simply click the "x" in the top right corner
These changes will automatically apply to every piece of content in your newsletter. That sure is smart!
Question: why is this smart?
Answer: Doing it this way reduces the amount of HTML you will need to use to render the newsletter. It will also keep the look and feel of your newsletter consistent and help the reader digest the information easier.
The not so smart way
1. Highlight the text for the link
2. Click the Insert/edit link icon (the chain)
3. Specify your link and save
4. Click on the icon for Source Code to edit the HTML
5. In the source code, between the anchor tags, you will need to add your HTML to change the color
Example with carrots replaced with brackets:
[a href="some url"][span style="color:red;"]text being linked[/span][/a]
This is basically an order of operations things here. The browser would first read the ANCHOR tag and apply that style and then read the SPAN tag and apply that style. If you highlight the text within Genie and try to change the font and/or color, that format is going to be added OUTSIDE of the anchor tags and simply get overturned in rendering.
Troubleshooting failed CSV file uploads
MNB has but a few requirements for uploading a CSV file:
1. The name of the column for the email address must be: email (no spaces, hyphens, or additional words)
2. If you want to upload data into MNB, it is best to use our template, but they are for field names for reference (first_name, last_name, full_name, job_title, company_name, phone_home, phone_work, address_1, address_2, address_3, city, state, zip, country, custom_1, custom_2, custom_3, custom_4, custom_5, custom_6, custom_7, custom_8, custom_9, custom_10)
NOTE: for the best performance in uploading data into MNB, use the conventions above even if you have given names or titles to your custom data fields
3. If you have duplicate column titles, the upload is going to fail
4. If you identify columns and don't include data for each column (blank data looks like this: ,,) - the upload is going to fail
5. All uploads are processed one-at-a-time, first-come-first serve - sometimes it takes a few minutes before we start on any specific file
6. CSV means COMMA separated value - not semi-colon - use the , instead of the ;
The TOP 3 questions we have related to CSV uploads are:
1. My file is still pending, when will it upload
Answer: You can ask support and they can tell you how many files are in front of yours but we cannot estimate the time (just too many variables). Please, if your file does not upload within a couple minutes, DO NOT try it again. We have it, it is in line. If you get the failed or errored message, read below and see if something might apply to you.
2. More columns than data, or vice-versa, more data than columns
The second biggest issue we have with uploading CSV files is related to number 4 above - having more column heads than column data. The best way to resolve this issue is to open your CSV file in a spreadsheet utility and copy the columns you are going to use into a new spreadsheet and save it as a CSV file. By copying only the columns you need into a new spreadsheet, you delete the excess columns that are causing the problems.
3. Not all rows were added
"My file had 250 addresses in it but only 200 some-odd were added and there were no errors displayed; why is that?"
The typical answer to that question is that there were duplicate email addresses in the file. MNB will only import the first address and ignore the duplicates.
Additional tips and tricks
1. Keep the file name simple, please. Go old school with file names: 9 characters with no punctuation except to identify the file type. Example: change this_is_my_file_name(bar.none).csv to uploadme.csv.
How do I re-send to soft bounces?
On occasion, you may find yourself in the need of re-sending your newsletter to your list of soft bounces. MNB makes it pretty easy to do; just follow these steps.
Copy the bounces into a subscriber group
1. Click on the number of bounces for the specific newsletter report
2. Click on Bounce Details from the Actions menu on the left
3. Click on Export Soft and make note of where you downloaded the file
4. Click on Subscribers from the main nav
5. Create a new subscriber group
6. Click Add from the sub-nav of Subscribers
7. Select the new group and on the right-side of the screen, browse to the file you downloaded of the soft bounces
8. Click Upload
9. You will have to wait till the upload is complete
Alternate method if you have less than 250 bounces
1. After you have created your subscriber group and downloaded the soft bounce file
2. Open the soft bounce file using a spreadsheet utility (Excel, Office Libre, etc)
3. Copy the column of email addresses to the clipboard
4. Go back to MNB, click Add from the subscriber sub-nav
5. Paste the list of subscribers in the Quick Add box on the top right - deleting the word "email" when done
6. Select the new subscriber group and click Add under the Quick Add
Send a copy of the original newsletter to the subscriber group of soft bounces
1. Click on Sent from Display in the left menu
2. Find the newsletter that was originally sent and then click on the copy icon under options (farthest right icon)
3. Give the newsletter a proper name you will remember and click Save
4. Now, find that copied newsletter and click Send
5. Select the group where the bounced addresses were copied
6. Specify your time and what-not and click send
It appears to be quite a few steps but once it has been done once, it is quite simple to reproduce.
Change the language of a footer
MNB provides quite a few languages for the default content in your newsletter headers and footers. There are some contextual things you should understand about how a newsletter is built in MNB before you go playing with these settings.
Primarily: when you first build and save a newsletter, the selected footer (Account / Settings / Footer Options) is added directly to your newsletter. Any changes to the footer options AFTER you have build and saved a newsletter will not reflect in those newsletters - they only apply to new newsletters.
Lets pretend, upon preview, you realize your footer is in Spanish. Oh goodness, what do you do?
To change the footer to English:
1. Close out of your preview and/or newsletter
2. Click on Settings from the sub-navigation under Account
3. Click on Footer Options from the left "Display" menu
4. Change the option at the top to English
5. Click Save
6. Click on Newsletters
7. Click on the title of the newsletter that has the Spanish footer
8. At the bottom of the first page, click on the option to "Refresh newsletter data"
9. Click Save
10. Close out of the newsletter
Now when you preview the newsletter, it should have the English version
Word Press Sign-Up Form
EDIT: March 3, 2015 (and happy birthday to my lovely wife)
There are NOW two great plug-ins available that work wonderfully on WordPress.
My FIRST recommendation is SumoMe's ListBuilder. This plug-in works in lots of places actually and the folks behind the plug-in are even simply brilliant. There system is so easy, it doesn't need a KB article.
The SECOND comes from a super smart fella by the name of Danny van Kooten. He created a Word Press plug-in aptly named Newsletter Sign-Up that takes just a few minutes to setup.
Without further adieu:
Preface: hit the link above (http://wordpress.org/plugins/newsletter-sign-up/), download the latest version and install it on your site.
To configure the plug-in:
1. Log in to your MNB site and click on Subscribers then Sign-up builder
2. Click on One-Step
3. Ignore the Style section but configure the rest of the form using Fields, Subscriber Group, and Preferences
4. When done configuring, make certain you click "Update" to refresh the HTML code at the top of the page
5. Now, go to that HTML box and make it really big because we need to copy some code and variables from that box into the plug-in (alternatively, I copy all the code into notepad or textpad)
6. On the Newsletter Sign-up configuration - List Settings page: (default settings to change)
- Select your mailinglist provider: other/advanced
- Newsletter form action: /tools/ext_subscribe
- E-mail identifier: mnb_fields[email]
7. IF you are going to use a name field, check the "Subscribe with name box" and use one of the following depending on what you selected in your code:
- mnb_fields[full_name] - I hope this is clear to everyone that this would be the Full Name field
- mnb_fields[first_name] - First name field
Now we need to add some custom fields at the bottom to tell the plug-in special info for your account. Add the following lines at the bottom:
8. Name: mnb_uid
Value: copied from the hidden element from your MNB-built HTML
(this field is typically at the top of the html and looks something like)


9. Name: mnb_cats[]
Value: copied from the hidden element from your MNB-built HTML
(this field is typically near the bottom of the html and looks something like)


10. Save this configuration and its time to move on
11. If you want to use a check-box on an e-commerce form or contact us form, click on "Checkbox settings" (from the plug-in setup) and follow that wizard
12. If you want to add this as a mini-form, click on "Form settings" (from the plug-in setup) and copy the simple code to use in a widget or on a page
That is all she wrote. It gets a little complicated when you have to match up the fields but this is a great way to add a simple sign-up form to your Word Press site.
Planning ahead aka: the pre-inject
Rewards favor the prepared - so does MNB.
We've mentioned this before in posts, emails, blogs, but it is time to make this a KB article: THE PRE-INJECT - dun, dun, DONE!
Pre-inject isn't a term the world actually knows so it bares some explanation.
This is how MNB handles all our email newsletters and marketing:
1. Customer builds a newsletter and schedules it to send to various subscribers
2. MNB takes that newsletter and assembles individual emails, one to each subscriber
3. We take each individual email and distribute batches of them across many, MANY sending servers
4. At the scheduled time (or immediately for Smart Sends), we deliver those emails
So, to give you our vernacular for the above steps:
1. Build (and Schedule - rolled into one)
2. Inject
3. Queue
4. Deliver
The scope of this article is only about INJECTING - pre-injecting to be precise.
The process of injecting is the most cumbersome of all these steps as it requires the most access to our servers and database - actually building out millions of emails can take some resources (kind of a hog really).
What we have done to favor the prepared: we allow (as we always have) customers to schedule newsletters to send in the future. Not really as cool as it sounds, I'm referring to something called planning (and has been around for a very long time - even cavemen did it).
When you plan ahead - we inject ahead
So, you have a newsletter you want delivered to your subscribers' inbox at 2p EST - TOMORROW (see, we are planning).
You build your newsletter TODAY and schedule it for tomorrow at 2pm EST.
At midnight on the day you scheduled the newsletter, we start the injection process (hence the term, pre-inject) and then queue your newsletter to be sent promptly at the time requested for delivery.
Your individual newsletters get batched across our servers and wait for the mailman. Our mailmen can deliver 250,000 emails in an hour and we have "many, MANY" mailmen working for us (40 some odd - technically speaking we can send 10 million emails in one hour - plus we're quite scale-able horizontally - all tech jargon for, "We got this").
MNB allows you to schedule well ahead of time - like days, weeks, months, or years. Clearly, not everyone can plan a year ahead, but all we want is a day. See, the resources on our servers are very available from like midnight to 6:00 am EST. Our servers love to work at those times and we're just trying to be kind to them - they like us better when we treat them right.
Here is a brief FAQ on the collected questions we've been asked when telling clients about pre-injecting.
Q: If I schedule this for a week from today, will new subscribers between now and then receive the email?
A: Any new subscriber PRIOR to the pre-inject will get the newsletter. You basically have until about midnight on the day the newsletter goes out to collect subscribers.
Q: What happens if I have to change my content?
A: Well, this gets tricky. We let you edit your content BEFORE it gets sent and AFTER it is done injecting. PLUS - if you are changing snippets (replacement tokens), the newsletter will have to re-inject.
You cannot edit the newsletter before it injects - simply cancel the newsletter, make the changes, and reschedule (we haven't done any of the hard leg work at this point).
Q: What if I can't schedule ahead of time?
A: Then we don't get to pre-inject but we still process mail pretty darn fast. We simply cannot guarantee we'll always have the resources to send 250k emails immediately (nobody can do that - not even Santa Claus).
Uploading audio and video to MNB
About This Feature

It's fairly easy to upload videos to stream through your newsletter. This means that you can include videos of tours, products, promos, or whatever. It also ups your cool quotient. You're welcome. If video is not your bag - we can dig that. You can upload sound too - a podcast, music clips, or your favorite cat meowing. Whatever you want, as long as your readers would appreciate it.



How This Works
We get questions about video upload quite a bit. Mostly, everyone says, "What format do you accept?" The issue here isn't actually the file type (mp4, avi, etc), it is actually the format of the video - frequently referred to as the codec.
Accepted file formats for audio and video:
audio: mp3, mp4, wav, wma, ogg, flac
video: mpg, mpeg, flv, avi, mov, wmv, mp4
Genie video uploads can be up to 300 MB (megabytes and audio can be up to 100 MB per file. Yeah, that is a whole lot of data; we like to be helpful and useful.
Genie, being the magical being that it is, will convert your video to flash to make sure that everyone can view the video online, regardless of their browser or platform. Normally within a few hours of upload, assuming that it is formatted in a way that is compatible with our system (Genie is a magician, not a deity). Once it has been converted, your video will be available to insert via the Genie video gallery.


Genie will also make your audio clips nice and audible within a short period of time. Upload and insert into your newsletter. We recommend using a nice big audio button.

Please Note: we do not offer support for a user in creating, editing, or processing videos. Let's face it: we're really good at email marketing, and our video editor is tied up. Not literally. Gaining video expertise would detract from our email marketing awesomeness.



Please see below for how the Genie likes his videos - if you have something similar, we shouldn't have any issues.
Standard Definition
Bit rate: 500,000 bits per second
Frame rate: 30 frames per second
Resolution x: 640 (horizontal)
Resolution y: 480 (vertical)
Audio hz: 44,100 hz
Audio bit rate: 96 kbits per second
subq: 6


If you continue to have problems, please contact support.

Best Uses

Uploading video and audio clips makes being you a whole lot easier. Content may be king, but who says it has to be typed out? Create a catchy video or a swingin' audio clip and add it to your newsletter. Sometimes clicking through to a website is a deterrent to all those click-grumps out there. This way, readers can stream in the newsletter - without clicking through to a website. Don't worry, you can still capture their clicks using your reports. So you can see what content really rules the roost when it comes to your readers.
Create Facebook Subscriber Form
About This Feature Imagine fans coming to your Facebook page, clicking like, and signing up for your email marketing campaigns right from the comfort of their own Facebook. Our Facebook App makes it possible o add a subscriber sign-up form to your Facebook page and gather new contacts through your social media channels. This is a great way to keep people interested and engaged while taking advantage of social integration, a nutritious part of any marketing plan.
How it Works Navigating through your MNB account, you can build the sign-up form and install it to Facebook. It's really simple. You can also customize some of the display options on Facebook. We will even share how to make your App visible when you're wondering where that darned thing went.
[+]
Add Subscriber Sign-up Form to Your Facebook Fan Page