What more is there to say? We have arrived at the summer weekend many look forward to celebrating. As a kid, it was one of my favorites. Our family (mostly living in Peoria IL) would get everything ready to go the day before and gather for an amazing breakfast at Mineral Springs Park in Pekin IL. We would then spend the rest of the day snacking, playing putt-putt golf, tossing a ball around, playing frisbee,croquet and yard darts. We would ride the pedal boats, visit the playground, and later go swimming in the awesome pool (they had a slide!) Later in the afternoon we would pack up and head to a family member's back yard for a cookout and later of course the fireworks. Plans are less engaging these days as the family no longer all lives near each other and of course we have lost the older folks who spearheaded the event, but here's to hoping you all find some fun things to do as our country once more celebrates our freedom and origins of our democracy. This week we bring you another awesome new review by Kevin Bonner. Read on below as he gives you his feedback on the Jeff Horton Band's latest CD. We also are announcing an expansion of the ages for our upcoming masterclass to include ages 19-21. Read on below for more information. The other new article this week shares info on how musicians can submit their music for the 2022 Blues Music Awards.


Swinging into into mid-summer, outdoor music opportunities abound. Check out our calendar below for some of them.
There is a little something for everyone.
Always remember, this is YOUR newsletter! Please send
feedback or suggestions our way. You can reach me by email at the address below. We appreciate our readers and want
to see
your ideas included!
THE JEFF HORTON BAND
"These Blues Are All Mine"
THE JEFF HORTON BAND – These Blues Are All Mine
Hidey-ho and welcome back Kitty Cats and Jammer Kids. Kevin B. here with a long overdue review of some blues for you to peruse. Today we have a local boy, his band and their new release: The Jeff Horton Band's These Blues Are all Mine.
I'd like to start out by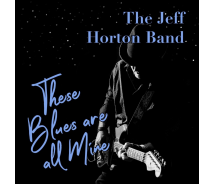 giving my heartfelt apologies to Jeff and the lads for taking so long to write this review. I like to live with the music for a while to avoid snap judgments. That being said, it's no excuse for my tardiness. Now, moving right along. . .
Interestingly enough, the Jeff Horton Band is fronted by a guitarist and vocalist who just so happens to be named Jeff Horton. Along for the ride with Jeff are Shaun Turner on saxophone, TJ Gates on drums, Kevin Clark on piano, Max Mitchell on bass and Pete Hill on organ. These Blue Are All Mine was wonderfully recorded right here in NWA at the top-notch Crisp Recording studio, with Darren Crisp handling the knob turning. The production is stellar, all warm and smooth like the curves of a Corvette that's been sitting in the summer sun.
The eleven tunes listed on the album clock in at just under fifty minutes (a total of 564.7MB for all you digital divas and dudes) of mighty fine blues.
T.B.A.A.M. kicks off with "Be Bad" which eases us into the party with a mid-tempo 12 bar blues that gives a nod to the New Orleans institution The Meters.
On the romping "Make Love to You" Jeff quits his job just so he can get home to share some lovin' with his lady. Not necessarily the most surprising topic for the blues, but it sure is fun.
"Groove Me" is a walking 4-on-the-floor shuffle with an outstanding Shaun Turner sax solo that's like listening to a tipsy professor – keen statements slurred just right.
"How You Got Here" is my favorite of this set. Jeff and band set up and support some scorching sax solos that blast off between verses. Jeff lays down some very tasty guitar licks of his own when it's his turn to shine.
For the first 6/8 blues tune in the set, JHB very capably retell the ageless story of a man wailing about his cheatin' and deceitin' woman. "The Way You've Been Treating Me" has all the familiar signposts including poor me lamentations, cold stops and meaty solos.
"Why I Play the Blues" is a funky recitation of many of the reasons why blues music is so important and vital: It heals. It shields. It provides the best salve to ease the ache of a broken heart and weary soul.
Let's get ready to rumba! "You Lied" is a latin flavored tune calling out a deceiving lover. Definitely wanted to swivel my hips to this one.
"You're Sorry" is another couple's-skate 6/8 slow burner that will surely have dance floors filled with swaying embraces.
Jeff gets all growly and ominous with "Down". This track rumbles forward on a groove provided by Max and TJ thick enough to make truck stop coffee envious. The guitar solos here are sharp as a ginsu knife cutting through the sludgy stomp like a Betty Davis side-eye glare.
We get another head-bobbing shuffle on "Since You Left", rolling along on a roadbed of barrelhouse piano and stabbing organ work by Kevin and Pete, respectively.
The final listed track is the namesake of the album, "These Blues Are All Mine". Listening to this track I am reminded of the great work Hadden Sayers has given us. Every one of the boys is killing it here.
As a bonus, the fellows have added an unlisted mash up of the aforementioned Meters' "Cissy Strut" and "Funk 49" by the James Gang. I would have never thought to put those two together, but JHB pulls the trick off seamlessly, showing off the prowess these musicians possess. Well done, guys.
As y'all know, I have my scale of "Not-a-Fave" to "Rave" I use to rate albums presented
to me. These Blues Are All Mine lands smack dab in the middle. It boasts solid performances and fantastic production. Although there is
no new ground being broken here, I'd definitely put this album in the rotation at a party.
More importantly, if you get the opportunity
to catch a Jeff Horton Band live show,
please do so. These tunes really take off
in a live setting.
Until next time, remember: If you can't be good, be good at it.
Kevin B.
NEW! Registration Expanded

Youth Master Class

Blues Workshop

Announcing: We have received a number of inquiries from older youth players and expanded the enrollment for our upcoming masterclass to include young players who are ages 19-21. For more information or to register,
please contact Tim Treese at 479-586-4184.
The Ozark Blues Society of Northwest Arkansas is now taking applications
for our master class workshop in the blues for young guitar and harp players. The event will be held on July 29-30, 2021
at the Meteor Guitar Gallery
in Bentonville. Master Class sessions will be led by
Akeem Kemp for guitar and
David Berntson for harp. The event will culminate in a concert and jam on Friday evening,
July 30th, at the Meteor.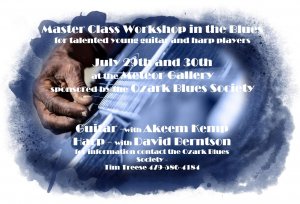 The workshop will be open to guitar and harp players ages 12-18. This is unusual opportunity for young blues players or those talented young players who want to learn the blues to get instruction from these exceptional blues recording artists. Participants will be sponsored by the Ozark Blues Society, so there will be no cost for participants. To be sponsored,
or just to find out more information,
call Tim Treese at 479-586-4184.
For more about Akeem Kemp Band:
For more about David Berntson:
Submissions Now Open

All musicians are invited to submit their Blues recordings for consideration.
Blues music released between November 1, 2020 and October 31, 2021 is eligible
for consideration for a 2022 Blues Music Award Nomination.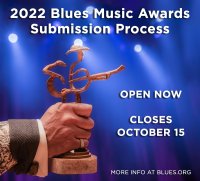 You may now formally submit your album or minimum 6-song EP for consideration via our online service here.
Artists now have opportunity to submit a single for "Song of the Year" consideration even if you do not have a full album or EP released. To be eligible for submission, your single must be professionally released to the public for the first time between November 1, 2020 - October 31, 2021 and may not be part of a larger EP or full album release. To submit a single for "Song of the Year," you must contact Joe Whitmer at joe@blues.org directly. Singles may not be directly uploaded to the online submission platform without a special code.
Submission fees and deadlines:
July 1, 2021 - July 31, 2021
$135 per album or EP submission / $35 per song submission

August 1, 2021 – August 31, 2021
$155 per album or EP submission / $55 per song submission

September 1, 2021 – September 30, 2021
$180 per album or EP submission / $80 per song submission

October 1, 2021 – October 15, 2021
$225 per album or EP submission submission / $125 per song submission
The submission process officially closes on October 15, 2021. You must upload your music and artwork and complete payment for your submission transaction no later than OCTOBER 15TH at 8:00am CST to be considered for a Blues Music Award nomination.
All music must be uploaded as a WAV file with album artwork uploaded as a JPEG or PDF file. If you need assistance with uploading your music, album artwork, and/or liner notes, please contact Joe Whitmer at joe@blues.org.
As you release future recordings, we encourage you to send at least one copy
of your CD to: The Blues Foundation,
421 South Main, Memphis, TN 38103-4464. The earlier you do this the better. It informs The Blues Foundation staff that your CD has been released and allows us to log it for future
BMA related communications.
Rockin' Hog Media
Rocklahoma 2021

Ticket Giveaway
The following was shared with OBS:

Let's face it, 2020 was brutal. It literally has affected every part of daily life and has cost so many of us, so much.
So now that things are getting back together, Rockin' Hog Media will launch their 10th Annual Rocklahoma Giveaway on our Music and Discovery website, NWA Rocks starting July 1st 2021.
We want to send you and a guest to this year's Rocklahoma festival in Pryor, Oklahoma this Labor Day weekend with a pair of GA, 3 Day Festival Passes and 1 Campground to help get you thru the weekend.

Keep up with the launch of this contest on either of our Facebook pages NWA Rocks and/or Rockin' Hog Media.
Early Bird pricing for Rocklahoma 2021 kicked off today at www.Rocklahoma.com and prices will go up next week.
Mark Your Calendar

2021 Blues Challenge

Looking ahead, the Ozark Blues Society Board of Directors is happy to announce we anticipate holding a regional Blues Challenge at The Meteor Guitar Gallery in Bentonville on October 22, 2021 in anticipation of the resumption of the International Blues Challenge in 2022.
for updates and registration information later this summer.
Support Options

For Local Artists

Please check this section of the newsletter weekly for ideas of how to support local musicians and venues. Submissions are being reduced to contact information this week as we restart the Live Music Calendar.
******
Buddy Shute and the Motivators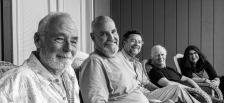 Buddy Shute and the M
otivators live at the Eureka Springs Auditorium on YouTube: LiveAtTheAud
***
To learn more about the band, visit:

Facebook: Buddy Shute and the Motivators
*****
Brick Fields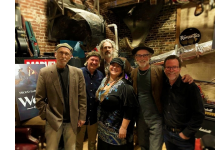 We have released a single from the upcoming album. Here is a link to the video "Take Me To the Riverside"
Once live music begins again, f
olks can stay updated on our concerts by signing up to our email at www.BrickFieldsMusic.com and following us on Facebook at:https://www.facebook.com/BrickFieldsMusic
We also have two stores on our website one for music merchandise and another for Blues Therapy handmade items such as essential oil blends, Jewelry, tie dyes, bath salts, body butters and more.
Thank you for your support.
I pray that each of you and your families are all doing okay through this.
Brick Fields
Booking Call: The Brick House 479-846-4668
*****
The Jeff Horton Band
Based in Bentonville, Arkansas, the
Jeff Horton Band definitely has
a passion for the Blues! For the last
10 years Jeff and the guys have
done their part in sharing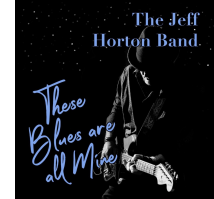 the Blues
Now, they're about to release their first all original album,
"These Blues are all Mine"!
Just like at their live shows, this album features a variety of Blues, from
the traditional to the contemporary there's definitely something for
everyone that loves the Blues.
*****
Jimmy Wayne Garrett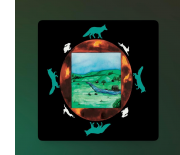 For more information about Jimmy Wayne Garrett, his schedule, recent interviews, or buy the latest album, visit: JimmyWayneGarrett.com
His music may also be found HERE:
YouTube link https://www.youtube.com/watch?v=NAj6BYVglL4&list=OLAK5uy_la2zCm6zUphqeNMMe4j9I2jxiI2YT1AkU
*****
LIVE MUSIC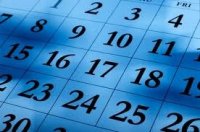 Please enjoy the following listings comprised of bands, venues, and/or organizations that support Ozark Blues Society. Always check with individual venues for event details and schedule changes. Submit weekly listings by emailing: SANDY
**Limited listings are currently available
on published community calendars.
If you know of dates for local blues
not included below, please email Sandy at the above email link.
07.
02
Jim Mills Band for Happy Hour at George's Majestic Lounge in Fayetteville

Ocie Fisher at JJ's Grill and Chill in Springdale

Dwayne Dopsie and the Zydeco Hellraisers with Brick Fields for Live on the Green at The Momentary in Bentonville

Richard Burnett at JJ's Grill and Chill in Bella Vista

Jimmy Wayne Garrett at the 1886 Crescent Hotel/Frisco Club in Eureka Springs
07.03
Jimmy Wayne Garrett at The Beer Keg in Fayetteville

Buddy Shute and Friends at Jamin' Java in Fayetteville

Akeem Kemp Band at the Butterfield Stage (Railyard Park) in Rogers

Richard Burnett at JJ's Grill and Chill in Fort Smith

Buddy Shute and Friends at Gotahold Brewery in Eureka Springs
07.04 Happy 4th of July!
Fireworks with the Symphony of Northwest Arkansas at The AMP in Rogers
07.05
Jim Mills at JJ's Grill and Chill on Steamboat in Fayetteville
07.06
Jim Mills at JJ's Grill and Chill on Steamboat in Fayetteville

Adam Collins, Matt Beach and Garrett Jones for Jazz at the Undercroft Bar in Bentonville
07.09
Earl and Them and Buudy Shute and the Motivators for Happy Hour at George's Majestic Lounge in Fayetteville

Live on the Green Concert Series at The Momentary in Bentonville

Keith Nicholson at JJ's Grill and Chill in Bella Vista
07.10
Keith Nicholson for Concerts at Osage Park in Bentonville

Sons of Brasil for Forest Concert Series at Crystal Bridges in Bentonville
07.17 - Mr Sipp for Forest Concert Series at Crystal Bridges in Bentonville
Please Submit Dates for Regional Blues Artists and Group Events HERE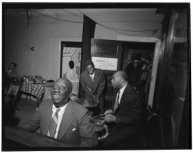 Today's show features music performed by James P. Johnson and Elvis Presley

"Truth is like the sun. Youcan shut it out for a time, but it ain't goin' away
.
"
Elvis Presley

Blues Education Supporters
Thanks to the following for their support of blues education.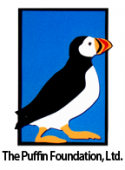 Check Out these regular local radio programs

"The Generic Blues Show" hosted by Paul Kelso airs every Friday night at 9pm on KUAF 91.3FM
Rockin' Hog Radio presents "Sunday Morning Blues" from 8am to 10am every Sunday
LINK
Get Involved with the Ozark Blues Society

Annual membership levels begin at $15 and give you so much in return, including meeting new friends while enjoying the best blues artists in the area.
By being a member of The Ozark Blues Society of Northwest Arkansas, you are helping to support the Arts and to preserve the Original American Art Form known as The Blues.
Membership Benefits Include:

Weekly E-newsletter
Opportunities to win tickets to events
VIP seating at events (when available)
Discounts on OBS merchandise
Social networking – meeting other people who also love the blues
Opportunities to volunteer on OBS committees and at events
Ability to attend board meetings and vote on upcoming organizational issues and elections
Visit our Website to renew or join! Ozarkbluessociety.org