Hi Creative One,





"The world is full of magic things, patiently waiting for our senses to grow sharper."
~W.B. Yeats





Are your senses sharp yet? Well, MAGIC THINGS ARE WAITING!!




Summer seems like a good time to sharpen my senses, especially seeing, tasting, hearing and humor. Anyone else in?







SIGHT:




I started sharpening my sight in May. It meant moving my technological habit from checking emails, social media, and Hulu returns to capturing scenes with my smart phone camera. My new smart phone app has replaced TV and Internet distractions and I go away with a souvenir which feeds my creative soul more than post-TV blues.





Here's my themed work Alley Art which I took with a smart phone and played with in SnapSeed after taking a lesson with my friend, Cliff Oliver. I'll be teaching this at my Taos retreat. That smart camera can be a way to become more present and artistic - take a field trip, include a picnic.





TASTE:


I think one of my favorite summer moments is biting into the first ripe nectarine. To me, summer fruit is an even better treat than sugar laden desserts to keep healthy and not have the sugar blues. Here's the challenge - it's simple. Buy a favorite fruit, take AT LEAST 15 minutes and make the eating of it a sensuous experience. Optional: Write a three-line story or a haiku about it and send it to me - I'll post next month.




My favorite summer smoothie: watermelon, banana, mint, ice (maybe a little maple syrup) blended on high and sipped on a front porch.





HEARING:


Well, there's summer concerts, I like those, but I'm in a sort of reclusive state so I've taken up playing the ukulele. It's fun, it's sharpening my senses, but I don't sound great yet. What I really like to do is make art while listening to Pandora, books on tape, my favorite podcasts - Radio Lab, Here's the Thing, This American Life. Bliss.





What's your sensory adventure going to be this summer? < Really.. what's it going to be?



WRITING:


Here's a Muse is In Writing Prompt that elicited some great responses:



HUMOR:
There's a running What the First Line ... theme on my wall in the last few weeks. One of my favorites was What's the first line in your book that was written in the slammer.




"It's not what you look at that matters, it's what you see."
― Henry David Thoreau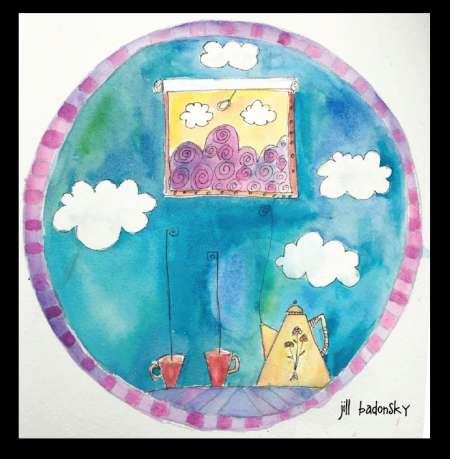 "Always try to keep a patch of sky above your life."

―Marcel Proust
When everyone is doing things the same way, I've always wanted to do things a little different. I know some of you are creative rebels like that too.
Sales people who think they can sell me shoes by saying "Everyone's buying these" get just the opposite response from me. I want something else - why would I want to do what everyone else is doing?.
Kathryn Costa just released her new book, A Guidebook to Mandalas. She asked me to make a mandala and send it to her one. I perused all the mandalas people were posting and some of the ones in her book and the symmetry intrigued me... but I'm not symmetrical (in many ways.) I like the look of imperfection - it's more organic.
Other mandalas in the book lent themselves to a less than perfect look so they gave me permission to break some rules and paint the one you see. Maybe it's not a classic mandala with a radius but it's me and it tells the story of Kathryn and I having tea. Here's what she wrote about it when I posted it on Facebook.
"
I love this mandala! So often people think of mandalas as having a "radial" balance where everything is arranged around the center. Contemporary mandalas offer more freedom where anything goes in the center and they often like your mandala here tell a story. I adore this mandala and can't wait to hold it in my hands.
" Kathryn Costa www.100mandalas.com/book
P.S.
Last newsletter still lurks here. Take a lurk.
(c) 2016 Jill Badonsky All Rights Reserved