Follow our craft beer adventures...
- Check out Brewtopia's Redesigned Website!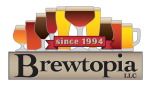 Owen has revamped his Brewtopia craft beer website. Started in 1994, the website is one of the longest-running online beer resources in the world. The new site includes archived links to past articles and a search option to locate specific beer features. Click here to head to the site.
- ACAT Beer List Just Released!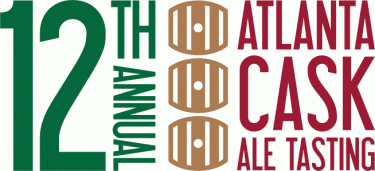 5 Seasons Brewing & Taco Mac Prado

Why is Cask Ale So Special?

Folks who love rare and special beers should note that EVERY cask-conditioned ale is special. The unfiltered beer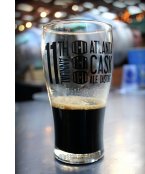 is still alive with yeast cells that provide a soft carbonation inside the cask, along with a variety of fruity esters and secondary fermentation components different from bottled or kegged versions. Often, brewers will also add interesting ingredients to the casks. Cask ale is truly the best way to enjoy flavorful craft beer, so be sure to attend our 12th annual Atlanta Cask Ale Tasting on Saturday!





Here's the tentative list of jaw-dropping beers coming up at Saturday's ATLANTA CASK ALE TASTING. There's NO WAY you can miss this!
Tickets: www.AtlantaCaskAle.com

• 5 Seasons Prado Hot Nuts Scotch Ale
• Abita Habanero Grapefruit IPA
• Blue Tarp Last Place Stout aged in a bourbon barrel from Decatur's Independent Distilling
• Burnt Hickory Eerie Von Mother of Mercy
• Cedar Creek Paradise Gone A Rye with grapefruit zest
• Cherry Street Old As Sh** Imperial Stout
• Copper Creek English-style Pale Ale
• Creature Comforts Biere de Garde with Booger Hill honey
• Eventide Kattegat Baltic Porter with peppermint & bourbon
• Flix Brewhouse St. Lucie Belgian Quad
• Fonta Flora TBD
• Founders Centennial IPA with lemon peel & chamomile
• Green Flash Handshake IPA with prickly pear and tangerine
• Harvey's Old Ale
• Harvey's Sussex Best Bitter
• Harviestoun IPA
• Harviestoun Orach Slie whisky barrel aged lager
• Heavy Seas Deep Six Robust Porter
• Highland Oatmeal Porter infused with vanilla and cayenne
• J.W. Lees Harvest Ale 2015
• J.W. Lees Moonraker
• JailHouse I Was With Peaches with vanilla, cinnamon and nutmeg
• Jekyll Copious Imperial Stout with vanilla
• Kentucky Bourbon Barrel English Pale Ale
• Machupu's Coffee MAZURT RIS
• Max Lager's Dark Soul with figs & chocolate
• Monday Night Pirates of the Scottish Isles with chicory and orange peel
• Moon River Bethesda Farmhouse Ale
• New Belgium Fat Tire dry-hopped with Simcoe
• Oskar Blues Dale's Pale ale dry-hopped with Citra & Mosaic
• Red Brick Chocolate Chakra Milk Stout
• Red Hare Saison Rouge with cranberries, ginger and vanilla
• Reformation Raspberry & Vanilla Declaration
• Second Self Valentine's Seasonal Bleeding Heart Chestnut Dessert
• Service Brewing Imperial Oatmeal Cookie Stout
• Sierra Nevada Bigfoot Barleywine
• Southbound Rockin' Chair imperial nut brown ale with pecans, vanilla, caramel, oak & cinnamon
• Starr Hill Debut #7 Double Chocolate Stout with peppermint
• SweetWater Café Chas coffee stout
• Terrapin Blind Date stout with dates and vanilla
• Thomas Creek Trifecta IPA with Citra hops
• Three Taverns Wango Tango sour ale with habanero, pineapple and mango
• Twain's Galactic Criminal Sin IPA
• Wild Heaven Blackberry is Not a Planet Either with Drie Fonteinen yeast and Brett
• Woodchuck Barrel-Aged Hard Cider
• Wrecking Bar Almond Joy Stout
• Yes Face ESB


2016 ACAT ticket buyers get a FREE one-year, online subscription to Beer Connoisseur - a $15 value!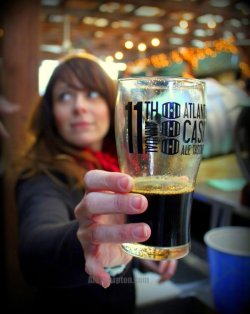 A benefit for the Atlanta Humane Society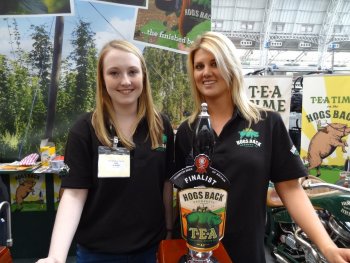 Two of the 1000+ volunteers at the Great British Beer Fest.


The UK's Craft vs. Cask Debate Rages... Sort of
By Owen Ogletree

Two blokes walk into a crowded London pub. The gray one with a beard and belly heads to the bar for a pint of traditional cask ale made in an upstart nano-brewery. The bearded hipster in skinny jeans goes straight to the pub's draft taps that offer a range of kegged ales and lagers from London's hottest new craft breweries. With every sip, the two exchange judgmental glances, each being certain that his pint ranks as the greatest beer in the country.

What's the difference between cask and keg? Unfiltered, unpasteurized cask ale contains yeast that carries out a slight secondary fermentation in the serving vessel, providing a subtle, soft, natural carbonation. Casks are allowed to settle in cool pub cellars at 50-55 degrees F, and bartenders "suction" the cellared cask ale to the bar using conventional hand-pump taps with no external gas pressure. Conversely, filtered, pasteurized kegged beer contains much higher levels of carbonation, and pressure from artificial gas forces the beer through standard draft taps.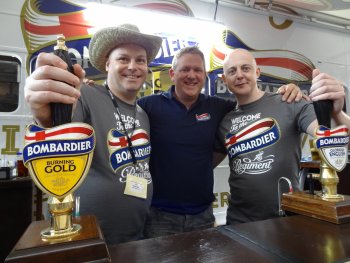 Traditional cask brewers are now turning out crafty new brands.


In a controversy unique to the UK, many see traditional cask-conditioned ale (a.k.a. "real ale") as under threat by new-fangled, American-inspired kegged craft options. The Campaign for Real Ale (CAMRA), Europe's most successful consumer protection group, started in 1971 as a grassroots protest against the UK's bland, lifeless kegged beers of the day, and some of CAMRA's current 160,000 members still consider any kegged beer as an evil, over-carbonated enemy.

Each August, CAMRA organizes London's Great British Beer Festival (GBBF) that's attended by more than 55,000 thirsty real ale lovers. 1,000 volunteers pour over 900 different beers and ciders in London's Victorian-era Olympia exhibition center. All British beers at the GBBF are cask or bottle-conditioned - kegs are only allowed for a few special, foreign beers. Disgruntled UK craft keg beer producers - like Scotland's BrewDog - have protested this rule.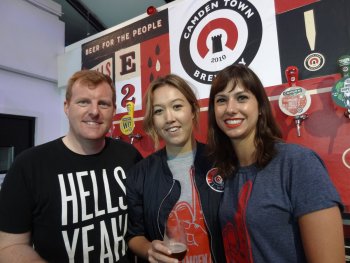 London's Camden Town Brewery specializes in craft lagers.


Enter a group of young craft beer lovers who came together in 2013 to start the annual London Craft Beer Festival (LCBF) during the same week as GBBF. With modern, kegged craft beers from the UK and Europe, obscure music, a locale loaded with industrial chic, and beers being served mostly by the brewers, the smaller LCBF caters to a contemporary crowd.

"Unlike the Great British Beer Festival, the London Craft Beer Festival is actually great, rather than just calling itself great," says LCBF founder Daniel Sylvester. "The two events happen during London Beer Week, and we thought people should come to both and see the difference. Our craft beer scene is being driven by amazingly talented UK brewers who are inspired by craft beers from around the world and supported by young, multi-gender craft beer lovers. We found the GBBF's lack of interest in this thriving scene the perfect antagonist for our festival."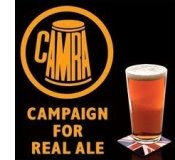 Roger Protz, editor of CAMRA's popular Good Beer Guide, believes that the GBBF does a fine job in showcasing cask ale creativity. "Years ago, there were just two basic styles of beer in the country - mild and bitter," he notes. "Now, walk around the GBBF and you'll see casks of hoppy golden ales, beers aged in whisky and wine barrels, beers made with chocolate and coffee - just like in the states, the UK now produces an incredible range of interesting beers."

UK beer writer Pete Brown believes a big misconception among many in the UK is that cask and craft are somehow separate. "For many, 'craft' is synonymous with 'craft keg' - but that's nonsense," says Brown. "Cask ale is the epitome of craft beer, and, despite all the noise around craft keg, craft cask is by far the fastest growing format of craft beer in the UK. Craft keg shows us that format is not everything, and that quality and flavor are not determined by the type of container. I think both will continue to thrive."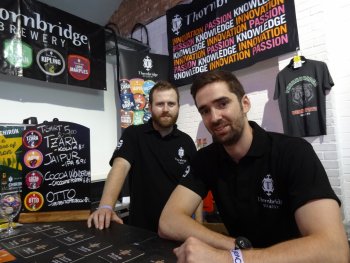 The popular Thornbridge booth at the London Craft Beer Fest.


Alex Buchanan, marketing manager for Thornbridge Brewery, sees no point in arguing about beer. He points out, "Extraordinary beer can come from a brewery that's been going for 150 years and only producing cask beer, or it can come from a brewery that's 15-weeks-old and producing fantastic keg beer. Consumers will be the judge."

CAMRA continues to focus on promoting cask ale, but Roger Protz sees plenty of room for craft keg in the UK. "Variety is important, and some UK bars and restaurants are simply not equipped to handle the challenges of cellaring, caring for and serving cask ale," he says. "Craft keg is ideal for these places, and most modern craft keg beers are good, unlike the dreadful, flavorless beers of the '70s."

Peter Jackson, owner/brewer of London's Southwark Brewing Company, remains optimistic that cask ale and craft keg will find an amiable equilibrium. "I think cask and craft keg producers should be happy that both formats are encouraging people to try new beers. It's an exciting time in the UK, and there hasn't been anything like it for 50 years."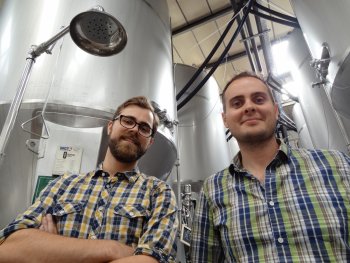 Head brewer John Dreibergen (left) and founder Dan Lowe of London's fledgling Fourpure Brewing.


The LCBF's Daniel Sylvester sees any equilibrium for cask and craft beer as being a long way off. He explains, "I was recently in a country pub in the middle of nowhere that had two craft beer bottle options, and the owners saw themselves as the most forward-thinking pub in the country. Big cities like London are taking the lead in craft beer, but the rest of the country will catch up eventually."

One thing is certain: the UK's current craft beer craze has encouraged consumers to think about beer, talk about beer and focus on flavor. The vast majority of UK beer drinkers seem too content in enjoying their pints to be concerned with debate.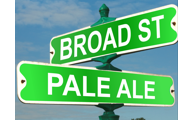 SOUTHERN BREWING BROAD STREET PALE

ALE


5.3% ABV

BREWER'S NOTES:

Like a southern summer, this beer carries peachy, citrusy notes to balance the refreshing finish. Nugget Hops, balanced with Cascade and a touch of Palisade, produce a crisp, appealing hop profile, and two-row malt with cara 120 and 40 create a lovely color and sweetness. These malts blend together to provide a solid base for the hops to shine through. Brewed with pride at Southern Brewing Company in Athens, Georgia.


- Creature Comforts Gets Comfortable

From Shannon Vinson at Creature Comforts Brewing Company in Athens, Georgia: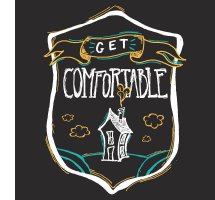 Creature Comforts recently kicked off this year's Get Comfortable campaign – a program established to assist with poverty, hunger and homelessness in our hometown of Athens, GA. This is immensely important, as Athens ranks among the top five poverty stricken cities in the U.S. (according to One Athens). Not to mention our mission at Creature Comforts is built around giving back to our community.
Get Comfortable supports five non-profit partners (featuring one per month).

These partners include: Sparrows Nest, Action Ministries, Athens Community Council on Aging, Athens Area Homeless Shelter and Athens Land Trust.

Wednesday brewery tours are now dubbed "community days" where tour guests can join us to help hand-make household and shelter items, hygiene and cleaning kits, and more for those in need. 100-percent of Wednesday tour profits go to the campaign fund.

We've created a new limited-run beer just for the cause called Get Comfortable IPA. Wednesday tour guests have the opportunity to purchase a tour that includes custom campaign glassware and an option to take home a souvenir crowler of the new brew.

Guests that bring donation items to the brewery will receive $2 off a Wednesday tour.

The campaign runs through March, and our fundraising goal is $50K.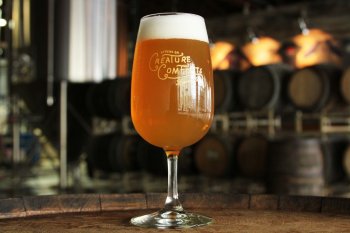 01/16/2016 - 6th Anniversary CHOPS & HOPS / CATCH 22 REUNION BEER DINNER at Chops & Hops in Watkinsville, GA. 16 beers, 7 courses.
01/23/2016 - ATLANTA CASK ALE TASTING. Tickets are on sale NOW and make great holiday gifts.
04/10/2016 - CLASSIC CITY BREW FEST, Athens, Georgia. Get your TICKETS today for Christmas gifts.
- Like Brewtopia Events on Facebook & Follow on Twitter

CLICK HERE and hit the Brewtopia Events "like" button on Facebook to see live photos and news posts as we sip, quaff and sniff craft beer around the world.

Also follow Brewtopia Events on Twitter.
COMING UP...
.
Owen Ogletree posts LIVE from the 12th annual ATLANTA CASK ALE TASTING coming up on Saturday, January 23.
Owen and Don "Dr. Brewski" Beistle head to Asheville, NC to report on new breweries and exciting beers.