Classical Conferences and Meetings in 2016

NB: Check www.bolchazy.com for conference presentations.
2016
AIA/SCS—American Institute of Archaeology and Society of Classical Studies Joint Annual Meeting
January 6–9, 2016
Hilton San Francisco Union Square
San Francisco, CA
Representatives: Marie and Allan Bolchazy, and Donald Sprague
Visit us at booth #406
B- C Author Presentations:
Thursday, January 7, 2016
8:00 a.m.–10:30 a.m.
Session #5
The Ides of March: New Perspectives
Josiah Osgood, Georgetown University, "Calpurnia and the Ides of March"—author, BC Latin Reader: A Suetonius Reader: Selections from the Lives of the Caesars and the Life of Horace

10:45 a.m.–12:45 p.m.
Session #15
German and Austrian Refugee Classicists: New Testimony, New Perspectives
Organized by the Committee on Outreach
Judith P. Hallett, University of Maryland, "Gendering the Study of Germanophone Refugee Classicists" —coauthor, BC Latin Reader: A Roman Women Reader

Larissa Bonfante, New York University, Response—coauthor, The Plays of Hrotswitha of Gandersheim and author, The Plays of Hrotswitha of Gandersheim: Bilingual Edition

Saturday, January 9, 2016
8:00 a.m.–11:00 a.m.
Session #61
Running Down Rome: Lyric, Iambic, and Satire
Mary Jaeger, University of Oregon, "Catullus the Mathematician" —author, BC Latin Reader: A Livy Reader: Selections from Ab Urbe Condita

8:00 a.m.–11:00 a.m.
Session #66
New Wine in Old Wineskins: Topicality in Modern Performance of Athenian Drama
Organized by the Committee on Ancient and Modern Performance
Wilfred Major, Louisiana State University, "How New is Aristophanes in New Orleans" —coauthor, Plato: A Transitional Reader

MLA—Modern Language Association
January 7–10, 2016
Austin Convention Center
Austin, TX
Representatives: Jody Cull and Connor Hart
Visit us at booth #116
CAMWS—The Classical Association of the Middle West and South
March 16–19, 2016
Williamsburg, VA
Representatives: Laurel Draper and Allan Bolchazy
CANE—Classical Association of New England
March 18–19, 2016
Smith College
Northampton, MA
Representative: Connor Hart
51

st

International Congress on Medieval Studies
May 12–15, 20016
Kalamazoo, MI
Representatives: Laurel Draper and Adam Velez
ACL—American Classical League
69

th

Annual Institute
June 25–28, 20016
University of Texas
Austin, TX
Representatives: Allen Bolchazy, Laurel Draper, and Donald Sprague
Classical Nails
My dear colleague, Judith Peller Hallett, regularly posts some interesting pieces on her Facebook page. Check out Nailpolis (someone knows their classics!).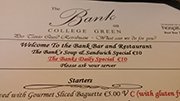 The menu from The Bank in Dublin, Ireland, boasts in Latin. Pro Tanto Quid Retribuamus, the motto of Belfast, Northern Ireland, is taken from Psalm 116:12. The literal translation is "What shall we give in return for so much?" (Photo courtesy of Donald Sprague.)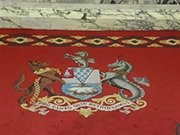 The coat of arms of Belfast, Northern Ireland. (Creative Commons 2.0/Kenneth Allen.)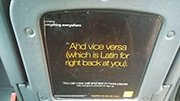 An advertisement in a Glasgow, Scotland, taxicab proclaims some Latin. (Photo courtesy of Donald Sprague.)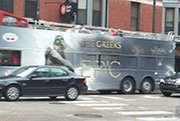 Chicago's Field Museum hosts a seminal exhibit of Greek artifacts. See this issue's Resources and Teaching Tips. (Photo taken on a foggy day courtesy of Donald Sprague.)
Congratulations to Edward Zarrow of Westwood High School, MA, who was proclaimed the American Council on the Teaching of Foreign Languages' Teacher of the Year for 2016. Zarrow will be a terrific spokesman for foreign language study and for the study of Latin. Read his personal statement written as part of the nomination process.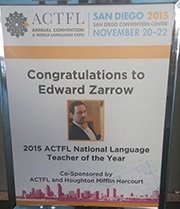 Following the Teacher of the Year 2016 announcement, congratulatory placards appeared at the ACTFL conference site.
---
Best wishes to Ronnie Ancona, Hunter College and the Graduate Center (CUNY), who has been named the new editor of the American Classical League's Classical Outlook. Ancona is the author or coauthor of several B-C titles, including Writing Passion: A Catullus Reader. She also served as the series editor for the BC Latin Readers.
National Greek Exam
Deadline: January 15, 2016
Administration (regular*): February 29–March 5, 2016 regular
National Mythology Exam
Deadline: January 15, 2016
Administration: February 22–March 4, 2016
National Latin Exam
Deadline: January 20, 2016
Administration (regular*): March 7–11,
National Roman Civilization Exam
Deadline: January 31, 2016
Administration: February 10–March 18, 2016
National Latin Vocabulary Exam
Deadline: January 31, 2016
Administration: February 10–March 18, 2016
Eta Sigma Phi Latin & Greek Translation Exams
Deadline: February 19, 2016
Administration: February 22–26, 2016
Bernice L. Fox Classics Writing Contest
Postmark Deadline: March 15, 2016
*Check online for early administration dates.
Special 411 on the NLE
Students may take test online or on paper!
Students may take a practice test online!
The 2016 webinar schedule will be announced in the January 2016 eLitterae.

---
What Equipment Do I Need for B-C Webinars?

To participate in Bolchazy-Carducci Publisher sponsored webinars you will need high-speed internet access, computer speakers/headphones, current web browser, and the link to the webinar virtual meeting space, which is provided in your webinar invitation.
Webinars Make for User-Friendly Professional Development

Participation is free. All webinars provide opportunity for participants to ask questions. Learn lots—attend as many presentations as you can. Bolchazy-Carducci Publishers provides documentation for your participation. You can share this with your supervisors. Many webinar presenters provide handouts, etc.
Bolchazy-Carducci Publishers provides eTextbooks on a variety of eBook platforms. Bolchazy-Carducci textbooks are available through VitalSource,

GooglePlay

,

Chegg

, Copia, RedShelf, Adams Book, Follett,

MBSDirect Digital

, and ESCO. Each eBook platform offers a variety of tools to enhance the learning process. eBooks have the same content as our traditional books in print.
eBooks are purchased from the eBook provider. For direct links to purchase Bolchazy-Carducci eTextbooks, visit the title's product page on Bolchazy.com. Just above the product description there is a list of the eTextbook providers and a direct link to purchase the eTextbook. Some eBook providers sell directly to schools—check with your school to make these purchases.
You can read eBooks on a Mac, PC, iPhone, iPad, Android, or a variety of eReaders. Review the eBook providers specifications.
The eyeVocab software leverages human memory for distinctive affective images* presented in isolation to radically improve the speed, depth, and permanence of second language vocabulary acquisition. Images are drawn from classical art, both western and eastern, from photojournalism and historical photography, great book illustration, and other sources.

*Learn how images are chosen.

Far more than a set of electronic flashcards, the multimodal vocabulary program facilitates a significantly deeper learning and retention. Students will readily master the frequent Vergil and Caesar vocabulary for the AP® Latin Exam and thereby devote far more of their study time and energy to reading and discussing De Bello Gallico and the Aeneid.

eyeVocab programs correspond to the following B-C books.

Caesar: Selections from his Commentarii De Bello Gallico
(Mueller)
(218 words)

Vergil's Aeneid: Selected Readings from Books 1, 2, 4, and 6
(Boyd)
(162 words)



Vergil's Aeneid: Books I–VI


(Pharr)
(292 words)

Latin for the New Millennium Level 1


(423 words)





(329 words)





The majority of Latin 1 students at the University of California at Davis are earning 90%+ on vocabulary quizzes thanks to eyeVocab.Introductory rate for each of the AP® Latin programs is $14.95. The LNM 1 introductory rate is $24.95. For site licenses, contact Miles Becker at sales@eyeVocab.com.




Click on each title to learn more.
The Pompeiiana Newsletter created and edited by Bernard Barcio ran from 1974 through 2003. The newsletter offered a place for Latin students to publish comics, stories, games, and articles, and was a beloved resource for Latin teachers. In 2008, Barcio granted Bolchazy-Carducci Publishers the rights for all of the Pompeiiana Newsletter. B-C is proud to serve as curator for this archive and has made the issues available for teachers, students, and friends of the classics. Check out http://pompeiiana.blogspot.com/
Each fall, Bolchazy-Carducci mails its Roman Calendar to Latin teachers across the nation. Folks on that mailing list should have received their copy by now. The calendar is also available in a digital format.

Preview Bolchazy-Carducci Titles

Preview Bolchazy-Carducci titles before you purchase using Google Preview.
---

Downloadable Products
iPodius - Bolchazy-Carducci Publishers online shop for: audio, software, video, and a treasure trove of teacher-created materials in the Agora.
---
BCP Facebook Fan Page
Become a FAN of Bolchazy-Carducci Publishers, visit our Facebook Fan page for the latest news from BCP.
---
BCP Blog
Visit the BCPublishers Blog for BCP news and information.
Check out the Halloween costume contest winners.
---
BCPublishers on Twitter
Follow us on Twitter

---
AP® is a trademark registered and/or owned by the College Board, which was not involved in the production of, and does not endorse, this site.



These products have been developed independently from and are not endorsed by the International Baccalaureate (IB).



Teachers look forward to this time of year as the winter solstice and the holidays signal a well-deserved vacation! May your time with family and friends bring you comfort and rest.
The Bolchazy-Carducci team wishes you happy holidays and a New Year filled with joy, the satisfaction of accomplishment, and good health. We join you in hoping for peace for our strife- and war-torn world.
Enjoy the snaps below of the B-C team chowing down at the annual holiday luncheon held in the office conference room/library. We all "oohed" and "ahhed" over our special visitor, six-week-old Alexandra Dean, daughter of managing editor Bridget Dean.
---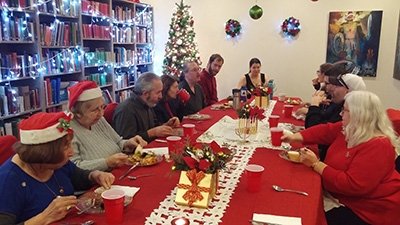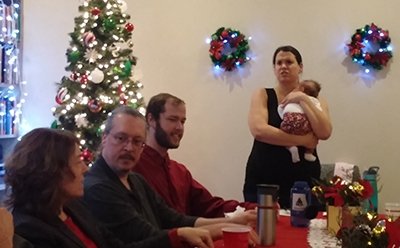 The sunny temperatures and beautiful seascapes of San Diego drew some 7,000 foreign language teachers to the 2015 American Council on the Teaching of Foreign Languages annual convention held November 20–22. Marie and Allan Bolchazy and Don Sprague represented Bolchazy-Carducci. Our booth was located at a corner and directly beside the booth for the American Classical League and the National Latin Exam. We enjoyed chatting with Sherwin Little, Linda Montross, and Lauren Rogers from time to time. Two one-hour breaks each day allowed conferees to visit the exhibit area without having any conflicts with sessions they wanted to attend. Traffic at our booth was good throughout the conference but was especially good during those designated break times. Most of the forty Latin teacher conferees stopped by, as did many department chairs and other foreign language teachers in search of materials for their Latin teacher colleagues.
Marie attended the opening session. Susan Candiotti of CNN talked about how important it is to learn foreign languages. Then five nominees for foreign language teacher of the year were introduced. Four were Spanish teachers and one was a Latin teacher. The Latin teacher, Dr. Edward Zarrow of Westwood High School in Westwood, MA, earned the deserved designation 2016 Foreign Language Teacher of the Year.
The keynote speaker was none other than Rick Steves, author of numerous travel books. Marie has used two of his books in her travels. One was a book on Paris that had been dropped into a Parisian puddle and dried out later, the other, a book on Croatia. She later had Rick autograph both of them. His talk focused on the value of travel, and his stories were delightful. His favorite European country is Ireland—he said he feels like he is trying to understand a foreign language when talking with the Irish. He once met an Irishman at a particular site and asked him if he was born there. "No," was the response, "I was born five miles from here." Later Rick asked him if he had lived in Ireland all his life, and the response was, "Not yet."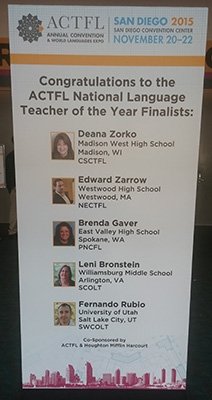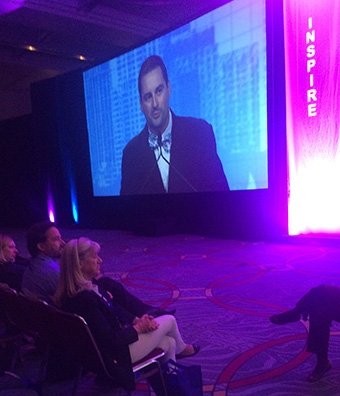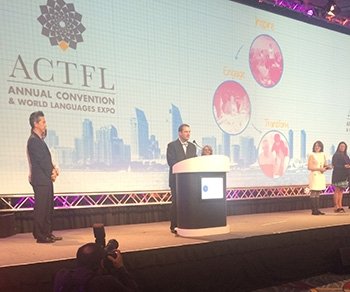 ACTFL salutes the nominees for Teacher of the Year. Winner Edward Zarrow, PhD, addresses his foreign language colleagues.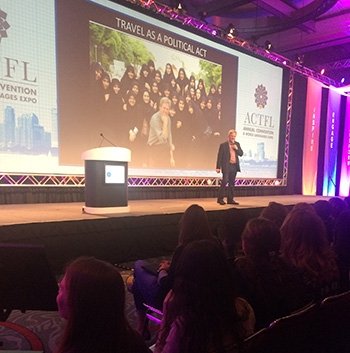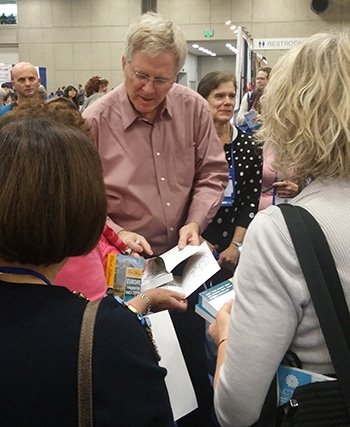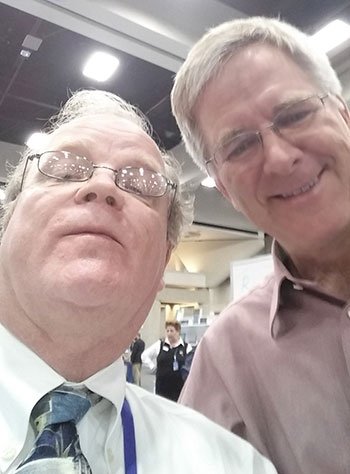 Rick Steves delivers the keynote "Travel as a Political Act." Steves surrounded by autograph seekers. Steves joins editor Don Sprague for a selfie.
Marie and Don also attended the 8:00 a.m. Sunday presentation given by Thaddeus Lisowski of the Head-Royce School in Oakland, CA. His session highlighted two teaching tools, one for early levels of Latin and one for late-level project work. His talk on early-level Latin vocabulary acquisition featured eyeVocab. Don also attended NLE committee members Lauren Rogers's and Linda Montross's talk on using the sight passages from the NLE as prep for AP Latin sight passages.
We all attended a Saturday evening reception for Latin teachers sponsored by ACL. Marie introduced herself to a number of the teachers, and when she met two from Georgia, she inquired if they knew Bob Patrick. It turns out that one of them was his daughter Miriam who had told Marie "Yes, I have an idea who he is" but did not initially identify herself as his daughter.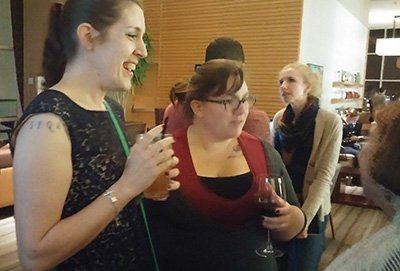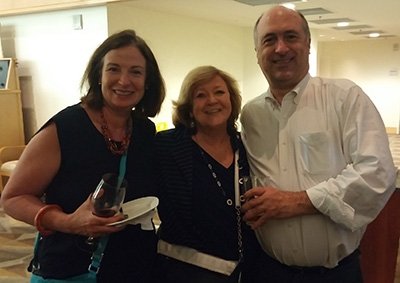 Georgia Latin teachers Rachel Ash and Miriam Patrick. Note the cool SPQR tattoo on Ash's arm. Mary Elizabeth DeCamp of Winchester High School, MA; Madelyn Gonnerman Torchin, MAT Supervisor at Tufts University; and ACL administrator Sherwin Little salute the Teacher of the Year at the ACL reception.
Interview with Jody Cull
Production and eLearning Manager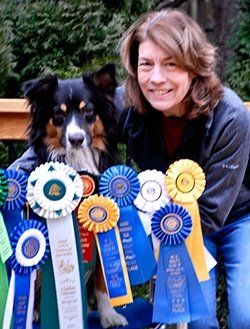 Jody Cull with her beloved Liesl and Liesl's ribbons (the latter at editor's request!)
DES: Give us a little overview of your time with B-C. How long have you been working for B-C? How did you find this job? What are your principal responsibilities?
JC: I began working for B-C in April 2002 as a temporary employee to help with an overload of production tasks. I found the job in a local newspaper ad. While my official title is now Production and eLearning Manager, the best way to describe my role is "Gatekeeper."
I am involved in all aspects of producing our books. I provide production and print cost estimates for proposed books. When a book is in development I construct a production schedule. As a book moves through editorial, production, and printing I coordinate this process with the editor, designer, and the printing company. Printing is the only component of book production that isn't done at Bolchazy-Carducci Publishers. Everything else takes place here, but the books are sent out for printing.
While a book is in development and production, I work with the editor planning, organizing, scheduling, and executing the marketing for the book. This involves communicating with our designer, contacting journals to reserve advertising space, and adding content to our website, Bolchazy.com. Along with coordinating the print production, I also work with eContent services and eBook platform providers to make Bolchazy-Carducci Publishers books available as eBooks on a variety of platforms and accessible on many devices.
DES: What previous work experiences have enriched your service at B-C?
JC: Wow, if I answer this I'll give away my age! I have worked in printing and publishing since 1982. I started working on my college newspaper on the production staff and then became managing editor. I learned A LOT from my college internship with the public television magazine in Grand Rapids, Michigan. After college I worked for a couple of printers as a graphic designer/production artist. This work was very helpful as I learned the complete printing process starting with production and finishing with the printed piece. I was hired as the typesetter and later production manager at the Ann Arbor Observer. While working there, I experienced the transition from traditional print production to digital print production. The Ann Arbor Observer gave me the opportunity to learn the digital production and digital printing process—start to finish. My production and printing experiences have proved to be great preparation for my duties at Bolchazy-Carducci Publishers.
DES: What do you enjoy most about your work at B-C?
JC: Variety—working at B-C gives me the opportunity to undertake a variety of projects along with opportunities for professional development and to continue learning as the publishing industry changes.
DES: When not at B-C, how do you like to spend your time?
JC: When I am not at Bolchazy-Carducci, I spend time with my family and working on my hobbies. One of my hobbies is technology/gadgets so that ties in with my job at B-C. I also enjoy doing needlework, paper crafting, making quilts, and canine agility. I compete in canine agility with my darling dog Liesl—a black tri Australian Shepherd. Australian Shepherds are working dogs—very smart, trainable, and they love to work for their owner. We have been working together as a team for four years. Liesl has earned several agility titles in American Kennel Club and Australian Shepherd Club of America competitions. This past year we started doing Rally Obedience and she earned her Australian Shepherd Club of America Novice A Rally title. However, Liesl prefers agility over rally . . . way more fun.
Editor Note: Check out this video to view Team Liesl in action!
DES: Is there a special anecdote about your time so far at B-C that you'd like to share?
JC: Yes, one of my favorites concerns Dr. Bolchazy (Lou) and treats. I enjoy making treats for the holidays and regularly bring a generous platter into the office for our holiday party. One year I made "copious," to use one of Lou's favorite words, treats for the party and kept them in my office because if they were in the kitchen Lou would help himself before the party. That morning right after getting his coffee, Lou came into my office looking for the treats and helped himself—it was not possible to hide treats from Lou! I told him it would spoil his lunch but he assured me that a few treats would not as he helped himself to several treats.
Screen Savers
I use technology frequently in my classes and, for a long time, I've been bothered by the various screen savers that pop up when I've stepped away from my computer or iPad for more than a few minutes. I understand why screen savers are important, but the random images and animated graphics can be a distraction for my students. At my school, classrooms are equipped with an Apple TV unit that enables teachers to connect an iPad or MacBook to the projector wirelessly. It works great and I use it at some point in every class each day. After a few minutes of inactivity, the Apple TV unit displays a screen saver, which, by default, shows a sequence of lovely animal and landscape photos. As great as these pictures are, they are not at all connected to what I teach. A couple of years ago, I learned that it was possible to create a custom album of images to use as the screen saver. I put together a nice collection of pictures of Rome that I have taken over the years. Though not a perfect solution, I felt like this was an improvement.
Recently, I came across an online tip that suggested that one create custom images related to the content area using either PowerPoint or Keynote. This made great sense to me, so I gave it a try. Using Keynote, I made slides of the declension endings, conjugation rules, important Latin vocabulary, and grammar terminology. Then, in Keynote, I saved each slide as an image file. This is easily done in the "file" menu, by clicking to export as images. I interspersed these image files with my Rome pictures. Now when my Apple TV goes to screen saver, my students see images that are connected to what we're studying in class. Whether you use Apple TV in your classroom or not, it is fairly straightforward to customize your screen saver to show images that enrich your classes. For help with connecting custom images to an Apple TV unit, check out this link: http://ccm.net/faq/32176-apple-tv-use-your-photos-as-a-screensaver
Lynne West
Bellarmine Jesuit Prep
San Jose, CA
Resources & Teaching Tips

√ Muslim Al-Andalus

In light of the current controversies about Islam, we offer the following scholarly essay from Latin for the New Millennium, Level 2. Francis C. Oakley, Edward Dorr Griffin Professor of the History of Ideas and President Emeritus, Williams College, Williamstown, MA, presents "Exploring the Muslim Influence in Spain: Al-Andalus and the Mudejar Way of Life." Feel free to copy and share with your students this discussion of a time when the followers of the "three religions of the book" lived in relative harmony. The essay also addresses the rise of anti-Semitism to set the broader context for a Latin passage from William of Tyre, "Jerusalem Is Taken by the Frankish Soldiers."
√

about.com


Have you checked out the various about.com newsletters? Lots of good stuff for your own edification as well as for classroom use! Former B-C colleague Andrew Reinhard is featured in this piece about gaming as a learning activity.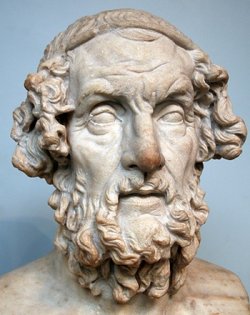 Bust of Homer in the British Museum, London, follows the tradition that the bard was blind. Roman copy of a lost Hellenistic original of the 2nd century BCE from Baiae, Italy. (Public Domain.)
• NPR pop culture blogger Linda Holmes discusses Star Wars as a modern Iliad.
• Thanks to Thuy LeDang Collins who posted this interesting
analysis activity
on the AP Latin Teachers Facebook page. If you teach AP Latin, you should
join
.
• Latin teachers are masters of across-the-curriculum and critical thinking learning. The
National Hellenic Museum
and the
Field Museum
, both of Chicago, are cosponsoring the largest collection of objets d'art and artifacts on loan from museums in Greece to be seen in America in decades. They have employed a brilliant promotion—a Trojan horse replica covering a Chicago subway entrance as depicted in the photos below.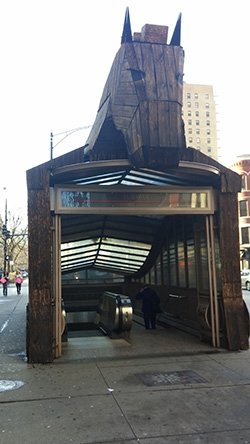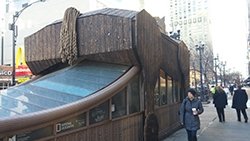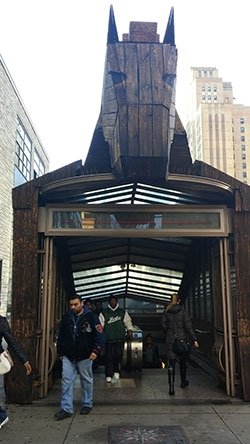 The horse has generated several articles. Have your students read the articles and discuss how each presents the story a bit differently. Have them hypothesize the reason for the differences.
These three articles all discuss the Trojan horse promotion: Chicagoist, TimeOut Chicago, USA Greek Reporter.
The Chicago Tribune provides a comprehensive overview of the exhibit.
Consider having your students to examine the various representations of the Trojan Horse including the ones promoting the exhibit. What do they make of the various images? What hypotheses can they develop?
Trojan Horse Images
√ Smithsonian Magazine
Your students will enjoy these classics-related articles.
• All Roads Lead to Rome(s)

• Rome Bans Centurions


The Illustrated Children's Encyclopedia of the Ancient World
edited by John Haywood et al.
When I was looking for children's books focused on the ancient world, I came across several that were noteworthy. I particularly enjoyed The Illustrated Children's Encyclopedia of the Ancient World and wanted to share information on it this month in eLitterae.

With its many full-color illustrations, this book is eye-catching and will readily appeal to children. It is appropriate for upper elementary students and beyond and contains valuable aids to readability. For example, the subheads and sidebars make the text more comprehensible; the time chart gives a perspective on world history, showing how the civilizations relate to one another; illustrations help the reader visualize the content and also stir interest; the activities help motivate the reader; the People and Places Index provides additional information that will be helpful; and having access to the definitions of words and concepts in the glossary may also be of considerable help. One extra nice feature of the book is the detailing of projects for children to make, e.g., an Egyptian crown, a temple to the gods, a water clock, a Greek garment, the head of Medusa, or a statue of a god.
The timelines are especially helpful. Readers can compare timelines for the Stone Age, ancient Egypt, ancient Greece, the Roman Empire, the Aztec and Maya worlds, the Inca world, the Chinese Empire, and ancient Japan. This way they can put into perspective what was happening in Europe, Africa, Asia, and the Americas on a specific date, e.g., the birthday of Confucius. It is admirable that there are sections on the histories of the Chinese Empire and ancient Japan, often lacking in our New World-focused or Eurocentric history books intended for American children.
The Chinese section contains information on such diverse topics as the development of writing, Buddhism, Kublai Khan, the Forbidden City, house design, art, family life, foot binding, farming, food, trade, and inventions. The information on medicine may surprise young readers. Acupuncture, which is popularly used today to relieve pain, was practiced from 2700 BCE in China. Chinese herbal remedies used for over two thousand years are also popular today. The engineering feat of the Great Wall of China also is covered. (I can proudly state that I have a card certifying that I climbed the Great Wall.)
In the ancient Japan section, the content includes such topics as the samurai, the Tale of Genji, the godlike emperors, polite behavior, shoguns and civil wars, Zen Buddhism, martial arts, peasant farmers, reliance on the sea, meals, houses, art, screens, the Imperial Shrine, palace fashions, and calligraphy. Several pages are devoted to describing how Japan was remote from the world and how and when that changed. In addition, several pages are devoted to describing the impact of monks and priests.
Of course, in an encyclopedia intended for children, some information cannot be found. For example, in the section on Egypt, the story of Osiris indicates that he was cut into pieces and then reassembled and brought back to life but does not note that his penis was not recovered. (However, if readers go online, they can find a more detailed description of what happened to Osiris. I suspect that children reading this encyclopedia in this day and age will be checking with the internet to get additional information often.)
This is a great book for adults to share with children or for children to explore on their own. They will want to keep it handy for reference.
Marie Carducci Bolchazy, EdD
President, Bolchazy-Carducci Publishers
Interview with Rose Williams, Latin of New Spain author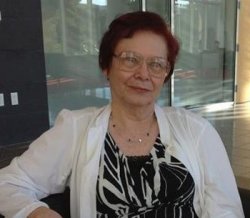 DES: Rose, explain to our readers how you became interested in the Latin of New Spain.

RW: Growing up in Texas, I was surrounded by Hispano-Roman culture. There are Latin city names like Corpus Christi; Spanish names very close to Latin; and Spanish missions built like Roman country villas. As I began to study Latin, the pervasive Roman influence in the world around me became steadily more apparent. In the study of history I discovered the extent of the Hispanic New World. The Spanish Empire expanded across half of South America (with the related Portuguese Empire covering the huge land of Brazil). The Spanish Empire also covered most of Central America, the Caribbean Islands, and much of North America including Mexico, Florida, and the southwestern and Pacific coastal regions of the United States. The explorers and settlers were imbued with the Renaissance and all classical Roman things, so the influence of Latin and Roman culture was everywhere. Some years ago I began to read Latin epic poems composed in New Spain; then I went searching for Latin prose writers in New Spain and those writing about New Spain.

DES: As you investigated these authors of Neo-Latin works, what aspects most captured your interest?

RW: In the epic poets, the close adherence to the Latin vocabulary and forms of expression found in Vergil's Aeneid and to some extent in his Georgics. In the prose writers, the adherence to the thought and writing patterns of Caesar's De Bello Gallico. Some, such as Columbus and Acosta, were interested in his way of explaining foreign cultures. Some, such as Cortés, were more interested in his battle and conquest techniques. Salazar delighted me in his dialogues designed both to teach Latin to students and to explain the magnificent Ciudad de Mexico that Cortés had built on the ruined Mexica (Aztec) city of Tenochtitlán.

DES: What did you find most challenging in putting Latin of New Spain together?

RW: There was a great lack of materials, both of texts themselves and of historical research materials. Scholars from Spain, Mexico, California, Scotland, and Texas helped me find these.

DES: Why do you think American high school students should encounter and work with the readings in Latin of New Spain? Where in the curriculum does the text fit?

RW: As the AP Latin materials, which dominate so much of high school study, come from Caesar and Vergil, these New Spain writings provide a valuable ancillary study that broadens students' views of this target literature. For Latin study in general, the writings of people in centuries near our own who approached tasks by adopting and adapting vocabulary, grammar, and methods of great Roman writers are very enlightening. They help all of us toward a deeper understanding of the Latin language and literature with its ubiquitous and long-lasting presence and of the many ways Rome shapes our world. The six writers in Latin of New Spain, while obviously closely tied to Caesar and Vergil, can be part of virtually any study of Latin literature at or above the intermediate level.

DES: Is there a special anecdote about your work with Latin of New Spain that you'd like to share?

RW: When a book is being prepared for publication it is typically examined carefully by peer reviewers. To encourage honest comment, the reviewer and the author are not known to each other. My peer reviewer and I disagreed about many things. By accident, however, we discovered each other's names. My reviewer turned out to be a colleague with whom I had shared many years of research in this area. As each of us has immense respect for the work of the other, we worked together smoothly to produce the best book of which we were capable.

Editor's Note: Rose refers to the university peer reviewer, Ed George of Texas Tech.

DES: What's the next project you have in mind, Rose?

RW: In a complete change of pace, I am now writing The Gentle Romans. We know the militant Romans, the engineering Romans, and the decadent Romans. This new project has Latin writings in which Pliny the Younger is giving a farm to his old nurse and sending a sick slave for a rest cure, Martial is mourning the death of a slave child, Cicero is worrying over the welfare of his slave and the provincials under his care, and Caesar is making laws to keep Roman governors from extortion in dealing with provincials. This side of the Roman culture needs to be examined.

eLitterae Subscribers Speical Discount

Special 20% Off Book Discount

Latin of New Spain
by Rose Williams
xx + 283 pp. (2016) Paperback, ISBN 978-0-86516-8336
Price: $19.00 $15.00
This offer is valid for five copies, prepaid, no returns.
Discount is not available to distributors or
on products distributed by Bolchazy-Carducci Publishers.
This offer expires 01/22/16.
(Please note that there will be no adjustments on previous purchases.
Offer is non-transferable and subject to change without notice.)
Enter coupon code eLit1215
on the payment page. The special

eLitterae offer pricing will be charged at checkout.