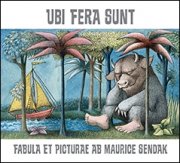 WHY (NOT) A LATIN WILD THINGS?


When Maurice Sendak's Where the Wild Things Are was first published in 1963, it became a classic almost overnight, selling more than 20 million copies to date and inspiring the creation of a host of offspring, including children's toys, dolls, and puppets, board and video games, a 1980s children's opera, coscripted by Sendak himself, as well as other musical compositions, and the much praised 2009 feature film adaptation, directed by Spike Jonze. The book has earned countless recognitions, including the 1964 Randolph Caldecott Medal for "the most distinguished American picture book for children," and in 2015, a half century later, was ranked first in TIME magazine's list of the top 10 children's books for ages 3–11 (though truly the book's appeal extends all the way to us senior citizens!). It has been translated into numerous other languages, including French, German, Spanish, Hebrew, and even Finnish, but never until now into classical Latin.


In an oft related anecdote, Sendak, who passed away May 8, 2012, at age 83, once wrote of a young admirer: "A little boy sent me a charming card with a little drawing on it. I loved it. I answer all my children's letters—sometimes very hastily—but this one I lingered over. I sent him a card and I drew a picture of a Wild Thing on it. I wrote, 'Dear Jim: I loved your card.' Then I got a letter back from his mother and she said: 'Jim loved your card so much he ate it.' That to me was one of the highest compliments I've ever received. He didn't care that it was an original Maurice Sendak drawing or anything. He saw it, he loved it, he ate it." With a passion akin to that young fan's, I must confess: libellum vidi, amavi, transtuli, "I saw the little book, I loved it, I translated it." I hope that Mr. Sendak would have considered this modest Latin rendering of his perpetually charming classic to be also a "high compliment," as it is most certainly intended, and also that lovers of what I affectionately dub "The Mother Tongue" will cherish this volume just as so many readers have enjoyed the Latin versions of such other children's classics as Winnie Ille Pu (Winnie the Pooh), Cattus Petasatus (The Cat in the Hat), and Alicia in Terra Mirabili (Alice in Wonderland).


ABOUT THE TRANSLATION


I was inspired to compose this Latin version of Where the Wild Things Are, first because of my profound affection for Maurice Sendak's enchanting tale of boyhood mischief and imagination, and because my mind, immersed for decades in the magical phrasings of The Mother Tongue, has long been afflicted by an autonomous twitch to turn all things written or spoken in English into this marvelous antique language in order to see how lovingly the words might wed.


The Latinity of this translation is arguably "correct," in terms of word choice and grammar, and for the most part "classical," language that an educated Roman of the late Republic or early Empire would have readily understood. Now this is not to say that the style is what some purists might call strictly "Ciceronian," as I have now and then opted for a usage that, while attested, may not have been entirely first-century mainstream and for diction one might in an instance or two term "Sendakian." The audience I envision for Ubi Fera Sunt will surely include, besides some children-at-heart classicists, a fair number of readers I'd call "semi-Latinists," folks who studied the language, loved it, and remember some, and who, likewise loving their Sendak and his whimsical jeu d'esprit, will appreciate word and syntax choices that make the correspondences between the translation and the English original as clear and as artfully playful as possible, without actually violating the rules of Latin. To facilitate intelligibility for this readership, I turn to an occasional non-Ciceronian usage (e.g., sine + gerund, freely employed by none other than the grammarian Varro himself), and in an instance or two the English idiom has required a bit of translational creativity.


In some cases I preferred one word to another because its English derivatives might make it more readily recognizable to readers who have "small Latin and less Greek." In other instances sound effects like alliteration, assonance, and prose rhythms—such an essential element of Sendak's artistry—were a consideration. The title Ubi Fera Sunt replicates the trochaic cadence of Where the Wild Things Are. I liked solus (rather than the more intense desolatus) for "lonely," as both are disyllabic. In a wholly neutral way I asked my brilliant wife Alice, who is not a Latinist but has a keen musical ear, "what do you think about my possibly using turba for "rumpus"?—without hesitation she replied, "Love it—because the words sound alike with that roaring UR/RU sound!" The aural effects are ever-present in my head when processing texts like this. Classical Latin literature was written always with the LISTENING audience in mind—indeed the Romans themselves virtually never read silently, even when alone. Likewise, Mr. Sendak's books—whether in his own startlingly sonorous English or in some simple admirer's translation to another tongue—absolutely demand to be read aloud. So, gentle reader: turba fera incipiat, "let the wild rumpus begin!"
---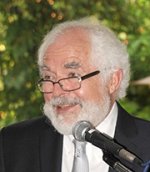 Richard LaFleur is Franklin Professor Emeritus and former Head of Classics at the University of Georgia. A past President of the American Classical League, LaFleur has received awards from the American Council on the Teaching of Foreign Languages and the Society for Classical Studies.
Classical Conferences and Meetings in 2015-2016

NB: Check www.bolchazy.com for conference presentations.
2015
ACTFL—American Council on the Teaching of Foreign Languages
November 20–22, 2015
San Diego Convention Center
San Diego, CA
Representatives: Marie Bolchazy and Allan Bolchazy and Don Sprague
Visit us at booth #1937
Presentation: "Re-energizing Student Approaches to Vocabulary in the Latin Classroom"
Thaddeus Lisowski, contributing editor, eyeVocab
November 22, 8:00–9:00 AM, Room 21
2016
AIA/SCS—American Institute of Archaeology and Society of Classical Studies Joint Annual Meeting
January 6–9, 2016
Hilton San Francisco Union Square
San Francisco, CA
Representatives: Marie and Allan Bolchazy, and Donald Sprague
Visit us at booth #406

MLA—Modern Language Association
January 7–10, 2016
Austin Convention Center
Austin, TX
Representatives: Jody Cull and Connor Hart
Visit us at booth #116
CAMWS—The Classical Association of the Middle West and South
March 16–19, 2016
Williamsburg, VA
Representatives: Laurel Draper and Allan Bolchazy
CANE—Classical Association of New England
March 18–19, 2016
Smith College
Northampton, MA
Representative: Connor Hart
51

st

International Congress on Medieval Studies
May 12–15, 20016
Kalamazoo, MI
Representatives: Laurel Draper and Adam Velez
ACL—American Classical League
69

th

Annual Institute
June 25–28, 20016
University of Texas
Austin, TX
Representatives: Allen Bolchazy, Laurel Draper, and Donald Sprague
Achill Island
One of the possible origins of the name Achill, off the coast of Mayo in Ireland, is the Gaelic word acaill, meaning "eagle." Some have associated the name with the Latin aquila, meaning "eagle." And, that's not far off the mark as both Gaelic and Latin are languages derived from Indo-European. Travelers often remarked on the white-tailed sea eagles on Achill, mainly on the peaks of Croaghaun. The last reported sighting of an eagle on Achill, however, was in 1912.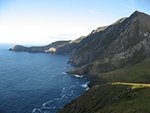 Croaghaun cliffs at Keem, Achill, said to be the highest sea cliffs in Europe. Creative Commons 3.0.
---
Carpe Diem Iterum
Once again advertisers create a word- play on Horace's famous tidbit of advice.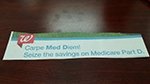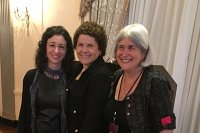 Congratulations to Linda A. Fabrizio, Garden City High School, NY emerita, author of the Teacher's Guide for Cicero: Pro Archia Poeta Oratio and contributor to the 3rd Student Edition. In the photo, Linda is flanked on the right by her daughter Marie-Therese Witte, Latin teacher at Shenendehowa, NY Middle and High Schools, who delivered her mother's Classical Association of the Atlantic States's Ovatio, and, on the right by Judith Peller Hallett, who, with her Latin composition students, composes the ovationes.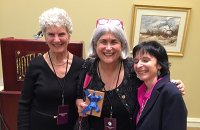 Congratulations to Judith Peller Hallett of the University of Maryland, who received the 2015 Barbara F. McManus Award for Leadership from the Classical Association of the Atlantic States. Ann R. Raia, longtime collaborator at the College of New Rochelle with Barbara McManus, stands to Judy's left while Maria Marsilio, CAAS Second Vice President, of St. Joseph's University, stands to the right of the honoree. Judy served as a consultant for Latin for the New Millennium, Levels 1 and 2, and more recently as coauthor of the BC Latin Reader A Roman Women Reader.
National Greek Exam
Deadline: January 15, 2016
Administration (regular*): February 29–March 5, 2016 regular
National Mythology Exam
Deadline: January 15, 2016
Administration: February 22–March 4, 2016
National Latin Exam
Deadline: January 20, 2016
Administration (regular*): March 7–11,
National Roman Civilization Exam
Deadline: January 31, 2016
Administration: February 10–March 18, 2016
National Latin Vocabulary Exam
Deadline: January 31, 2016
Administration: February 10–March 18, 2016
Eta Sigma Phi Latin & Greek Translation Exams
Deadline: February 19, 2016
Administration: February 22–26, 2016
Bernice L. Fox Classics Writing Contest
Postmark Deadline: March 15, 2016
*Check online for early administration dates.
Special 411 on the NLE
Students may take test online or on paper!
Students may take a practice test online!
FALL 2015 Schedule
Tuesday, December 8, 6–7:00 pm EST—Latin of the New World: Closely Modeled on Ancient Writers Such as Caesar and Vergil

Presenter: Rose Williams, author of Latin of New Spain and veteran college and high school teacher, Abilene, Texas


Williams will discuss the neglected wealth of Neo-Latin works produced in and about the "New World." Drawing on her new book Latin of New Spain (forthcoming December 2015), she will provide the context for this corpus of Latin writings and share representative selections, paying special attention to allusions to and echoes of Caesar and Vergil, from the Neo-Latin works of New Spain for the Latin classroom. These authentic selections from the New World offer students who have completed their beginning Latin grammar studies a special view of the full legacy of Latin literature.

---
What Equipment Do I Need for B-C Webinars?

To participate in Bolchazy-Carducci Publisher sponsored webinars you will need high-speed internet access, computer speakers/headphones, current web browser, and the link to the webinar virtual meeting space, which is provided in your webinar invitation.
Webinars Make for User-Friendly Professional Development

Participation is free. All webinars provide opportunity for participants to ask questions. Learn lots—attend as many presentations as you can. Bolchazy-Carducci Publishers provides documentation for your participation. You can share this with your supervisors. Many webinar presenters provide handouts, etc.
Bolchazy-Carducci Publishers provides eTextbooks on a variety of eBook platforms. Bolchazy-Carducci textbooks are available through VitalSource,

GooglePlay

,

Chegg

, Copia, RedShelf, Adams Book, Follett,

MBSDirect Digital

, and ESCO. Each eBook platform offers a variety of tools to enhance the learning process. eBooks have the same content as our traditional books in print.
eBooks are purchased from the eBook provider. For direct links to purchase Bolchazy-Carducci eTextbooks, visit the title's product page on Bolchazy.com. Just above the product description there is a list of the eTextbook providers and a direct link to purchase the eTextbook. Some eBook providers sell directly to schools—check with your school to make these purchases.
You can read eBooks on a Mac, PC, iPhone, iPad, Android, or a variety of eReaders. Review the eBook providers specifications.
The eyeVocab software leverages human memory for distinctive affective images* presented in isolation to radically improve the speed, depth, and permanence of second language vocabulary acquisition. Images are drawn from classical art, both western and eastern, from photojournalism and historical photography, great book illustration, and other sources.

*Learn how images are chosen.

Far more than a set of electronic flashcards, the multimodal vocabulary program facilitates a significantly deeper learning and retention. Students will readily master the frequent Vergil and Caesar vocabulary for the AP® Latin Exam and thereby devote far more of their study time and energy to reading and discussing De Bello Gallico and the Aeneid.

eyeVocab programs correspond to the following B-C books.

Caesar: Selections from his Commentarii De Bello Gallico
(Mueller)
(218 words)

Vergil's Aeneid: Selected Readings from Books 1, 2, 4, and 6
(Boyd)
(162 words)



Vergil's Aeneid: Books I–VI


(Pharr)
(292 words)

Latin for the New Millennium Level 1


(423 words)





(329 words)





The majority of Latin 1 students at the University of California at Davis are earning 90%+ on vocabulary quizzes thanks to eyeVocab.If you're attending ACTFL, check out Thaddeus Lisowski's presentation. Introductory rate for each of the AP® Latin programs is $14.95. The LNM 1 introductory rate is $24.95. For site licenses, contact Miles Becker at sales@eyeVocab.com.




Click on each title to learn more.
The Pompeiiana Newsletter created and edited by Bernard Barcio ran from 1974 through 2003. The newsletter offered a place for Latin students to publish comics, stories, games, and articles, and was a beloved resource for Latin teachers. In 2008, Barcio granted Bolchazy-Carducci Publishers the rights for all of the Pompeiiana Newsletter. B-C is proud to serve as curator for this archive and has made the issues available for teachers, students, and friends of the classics. Check out http://pompeiiana.blogspot.com/
Each fall, Bolchazy-Carducci mails its Roman Calendar to Latin teachers across the nation. Folks on that mailing list should have received their copy by now. The calendar is also available in a digital format.

Preview Bolchazy-Carducci Titles

Preview Bolchazy-Carducci titles before you purchase using Google Preview.
---

Downloadable Products
iPodius - Bolchazy-Carducci Publishers online shop for: audio, software, video, and a treasure trove of teacher-created materials in the Agora.
---
BCP Facebook Fan Page
Become a FAN of Bolchazy-Carducci Publishers, visit our Facebook Fan page for the latest news from BCP.
---
BCP Blog
Visit the BCPublishers Blog for BCP news and information.
Check out the Halloween costume contest winners.
---
BCPublishers on Twitter
Follow us on Twitter

---
AP® is a trademark registered and/or owned by the College Board, which was not involved in the production of, and does not endorse, this site.



These products have been developed independently from and are not endorsed by the International Baccalaureate (IB).



Dear Colleagues,

I'm sure you're all looking forward to a respite from the busy weeks of teaching and enjoying some Thanksgiving holiday time with family and friends. I know I am for sure.

It's been a busy time at Bolchazy-Carducci this fall. By Thanksgiving, we will have attended and exhibited at five different conferences—Illinois Classical Conference, Classical Association of the Atlantic States, Classical Association of the Empire State, Jesuit Classics Colloquium III, and the American Council on the Teaching of Foreign Language. In addition, dear associates have represented us at the New Jersey Classical Association and at the Texas Classical Association.

We love these opportunities to show you our latest titles as well as our beloved veteran titles. Come December, we will have four new titles in print—Latin of New Spain, Latina Mythica II: Troia Capta, Ubi Fera Sunt, and Lucretius: The Nature of the Universe (a translation of De Rerum Natura).


We're especially excited to launch Ubi Fera Sunt, the Latin translation of Maurice Sendak's wildly popular Where the Wild Things Are. Our dear colleague and longtime collaborator on Wheelock ancillary materials, Richard A. LaFleur, a.k.a. Doctor Illa Flora, took great delight in rendering this children's classic into Latin that the ordinary reader would find manageable. LaFleur is Franklin Professor of Classics Emeritus and former Head of Classics at the University of Georgia.

Earlier this month, attending the biennial Jesuit Classics Colloquium III hosted by Loyola-Blakefield (outside Baltimore) and its four classics teachers proved a wonderful treat for the soul and the mind. The gathering of Jesuit high school classics teachers from across the country evoked many wonderful memories of my twenty-six years teaching Latin and Greek at Loyola Academy in Wilmette, IL. I was inspired by the presentations and the rich conversations about teaching high schoolers the classics. I was similarly inspired by Doug Boin's webinar earlier this month "Coming Out Christian in the Roman World" with its groundbreaking study of the Roman world's transition from "pagan" religion to Christianity. Doug, Loyola Academy '95, and I enjoyed the Latin classroom, the summer Classics Tour, the Dumbach Scholars Honors Program, and yearbook work together. It's not surprising to see him at the cutting edge of today's classics research. In my classroom experience, I learned that teachers always learn from interaction with their students but it's very special when a teacher experiences learning of this kind from a former student. It evokes a genuine and humble "Wow!"

All of the B-C team wish you and your families a happy Thanksgiving. We appreciate the opportunity to serve you and your students. To celebrate that special relationship, we are pleased to offer you a special Cyber Monday discount. Plan to visit our website, mark your calendars!

Happy Thanksgiving!

Jesuit Classics Colloquium III Report

Classics department chair Bob Wright and his colleagues Rev. Lloyd George, SJ, Julie Meyer, and Elizabeth Olson welcomed Jesuit high school classics teachers from across the country to Loyola-Blakefield in Towson, MD, for the Jesuit Classics Colloquium III, November 5–7. Our consummate hosts made sure we were well fed and planned a well-paced and very complete series of formal presentations punctuated by informal sharing sessions.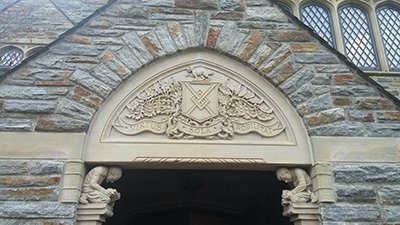 The entrance to Loyola-Blakefield's Wheeler Hall, home of classical languages among other departments, proclaims Virtus Sola Nobilitat. The modern gargoyles on either side represent the arts and sciences respectively.

Presenters impressed their colleagues with the ways they made connections between the Ignatian Pedagogical Paradigm and their work with students in Latin and Greek. Mario Morales, of McQuaid Jesuit in Rochester, NY, demonstrated connections between Ignatius's understanding of memory and comprehensive instruction in the Latin classroom. University of Detroit Jesuit High School's Nick Young discussed how the teachings of Cicero and Quintilian influenced the founding Jesuit educators and their understanding that those gifted with education are to put that education to the service of the larger community. My former colleague from Loyola Academy, Becki Wick explained how she helps her Greek students make connections between the lessons about war and its effects in the Iliad. Inspired by Jonathan Shay's Achilles in Vietnam, she provides students the opportunity through vehicles like the movie Platoon to find parallels with the battlefield at Troy and more contemporary examples. The course also includes a service component that connects students with veterans and their stories. In sharing sessions, the classics instructors shared their "consolations and desolations" as well as their best practices and favorite learning activities.

Saturday's activities included a Latin Mass celebrated by Rev. Joseph Michini, SJ, school chaplain, with a small choir under the direction of Loyola-Blakefield's choral director, Dr. Richard Skirpan, and a group visit to the terrific collection of ancient art at the Walkers Art Gallery in Baltimore. Fr. Michini's remarks, though he had not attended Nick Young's talk, echoed how Jesuit schooling from its beginnings was deeply rooted in the classical tradition.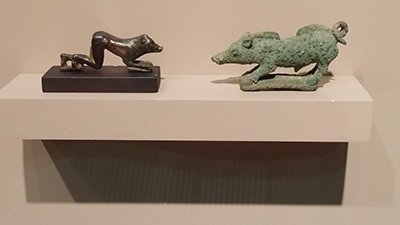 The Walters Art Gallery is blessed with a treasure of everyday objects like these small sculptures of one of Odysseus's men in the midst of Circe changing him into a pig (left) and a pig (right).
The Classical Association of the Empire State Report
Syracuse, NY, welcomed the 52nd Annual Institute of the Classical Association of the Empire State for the first time in twenty years. The renovated Crowne Plaza proved to be a very hospitable setting for the meeting that ran the balmy weekend of October 22–24. Former CAES president Tom Hayes kicked off the institute Thursday evening with an interesting recap of his participation in a National Endowment for the Humanities seminar that visited Etruscan sites in Italy. Friday and Saturday morning provided a full program of presentations with an emphasis on pedagogy—representative topics included Union College's Professor Stacie Raucci's "Mapping the City of Rome" and David Pellegrino's "Hands-on Workshop: Vocabulary Strategies: Quizlet and StudyBlue." Raucci mentioned that her students use Rome Alive, Volumes 1 and 2 in her course "City of Rome." Pellegrino assembled B-C's flashcards for the frequent vocabulary of the Caesar readings for AP Latin as he had done for earlier AP Latin curricula.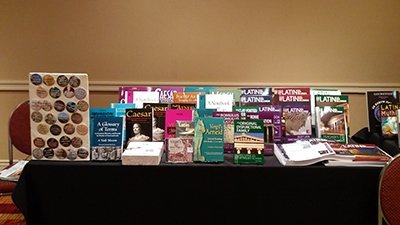 A close-up of the B-C book display highlights the new full-color buttons and the Latin for the New Millennium program.

Outgoing CAES president Michael Kutny wisely placed registration and the book exhibit in the same room and served breakfast and snacks in the room alongside. Thus, in the course of the weekend, it was my pleasure to meet and speak with just about every attendee. Several folks spoke affectionately of Bolchazy-Carducci's late founder Lou Bolchazy whom they consider one of their own as Lou taught in New York for a few years, received his doctorate from SUNY-Albany, and regularly, with Marie, attended the CAES annual institute. I was especially pleased to be able to congratulate Charles Giglio in person—he was named 2015 New York State Teacher of the Year. Giglio strives to maximize all opportunities that come his way with this honor to speak about the value of Latin in the curriculum. As a "people watcher," I enjoy observing people and their interactions, and in doing so at CAES, I readily saw the institute's theme Vitae Sal Amicitia incarnated.

The highlight of the conference was a delicious buffet of Italian specialties in the hotel's rooftop events room that overlooks the city of Syracuse. The late Joe Crisafulli, who had served as local host and organizer until his untimely death in late spring, had arranged for one building to be bathed in purple light to honor CAES whose banner is comprised of white and a proud purple. Following dinner, Barry Strauss, the Bryce & Edith M. Bowmar Professor in Humanistic Studies and Chair of the History Department at Cornell University, delivered the keynote address, which drew on his celebrated study The Death of Caesar published this past March. Strauss's talk was fascinating and kept me fully engaged on a full belly!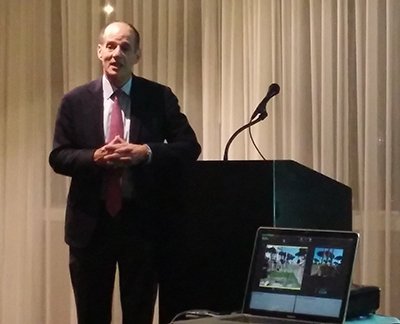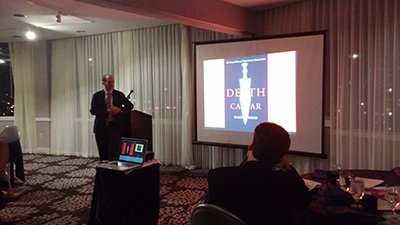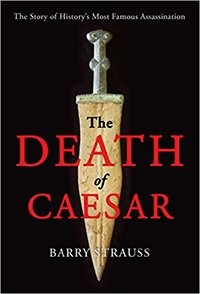 Professor Barry Strauss of Cornell University delivers his presentation on the assassination of Caesar—the subject of his book The Death of Caesar.
Thanks to all the CAES attendees and especially Michael Kutny and Ellyn Bibik who made sure that all went well for B-C and me.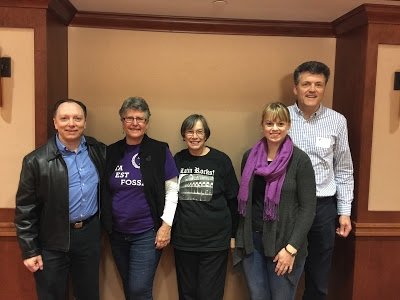 CAES 2015–2016 Officers
David Pellegrino, Treasurer; Peg Minnick, Recording Secretary; Susie Scoppa, Corresponding Secretary; Kitrina Finlayson, Vice President; John Mooney, President.
Editor's Note: Check out Marie Bolchazy's review of The Death of Caesar in the May/June eLitterae.
Classical Association of the Atlantic States Report

The Classical Association of the Atlantic States met October 5–7 at the historic Hotel Du Pont in Wilmington, DE. CAAS Executive Director Mary Brown chose the Du Pont for its location, meeting facilities, beautifully appointed accommodations, and excellent food. The special events and catering staff took great pains to ensure that all went well. For example, they readily accommodated the larger than expected crowd for Friday's luncheon and moved Saturday's luncheon to the beautiful ballroom.
The highlight of CAAS this year took place the evening before the program kicked off. After setting up four tables of B-C books and other teaching materials in the exhibit room, I was honored to join Jim Brown (Mary's husband), Senior Associate Athletic Director at Philadelphia's St. Joseph's University, who hosted a dinner for Dr. Ruth Westheimer and Jerome Singer of the University of Pennsylvania Press, coauthors of Myths of Love: Echoes of Ancient Mythology in the Modern Romantic Imagination. Dr. Ruth and Dr. Singer spoke the following day as part of the panel "Ancient Greco-Roman Myths of Love in the Modern Romantic Imagination and Contemporary Feminist Classical Scholarship." Dr. Ruth—though 4' 11" —proved a towering presence as she regaled us with stories of her life, her family, her writing with Dr. Singer, and, of course, her opinions on sex. I must note her emphatic belief, shared at dinner and at the panel, that sex should take place in the context of a relationship. And, that relationship-based sex is by its very nature more satisfying sex. All of us at the dinner table thoroughly enjoyed Dr. Ruth's charm, insights, and wit.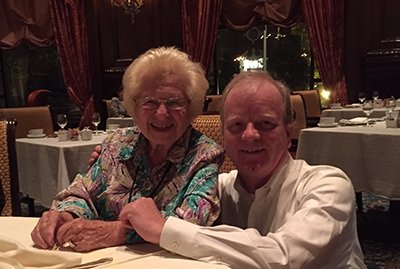 Don Sprague and Dr. Ruth Westheimer pose following a delicious dinner in the Hotel Du Pont's atmospheric Green Room Restaurant.
CAAS uses the annual meeting as an opportunity to honor members whose service has had a profound impact on CAAS and the classics profession. This year CAAS proclaimed ovationes for three individuals—Fred Booth of Seton Hall University, Linda Fabrizio newly retired from Garden City High School, NY, and William Klingshirn of the Catholic University of America. It was particularly rewarding to hear Bill Klingshirn's tribute as I first met him when he was an undergraduate classics major at "
classics powerhouse," the College of the Holy Cross. A graduate of St. Ignatius High School, Cleveland, OH, Bill entered Holy Cross as a Henry Bean Scholar who enjoyed four years of tuition as a classics major. Friday's banquet also honored Judith Peller Hallett with the 2015 Barbara F. McManus Leadership Award. The award bore special meaning for Judy as she and Barbara were great friends and collaborators. Judy's family and friends joyfully joined the celebration.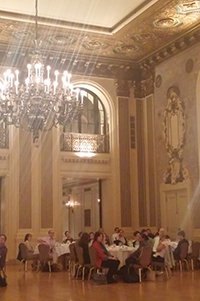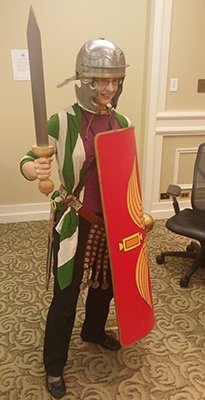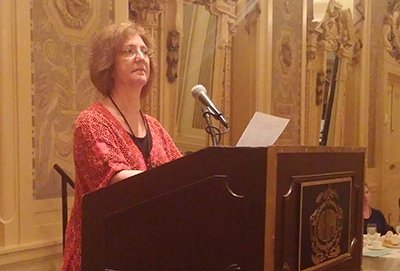 Scenes from CAAS 2015: The DuBarry Ballroom is a tribute to the magnificent handiwork of the Italian and French craftsmen who devoted two-and-a-half years to its decoration. UPenn writing instructor Marian Makins enthusiastically donned the authentic Roman armor exhibited by Joe Balmos of A Day in Ancient Greece. CAAS President Ronnie Ancona, Hunter College and CUNY Graduate Center, conducts the business meeting in the DuBarry Ballroom.

Interview with Rene Vela
Shipping & Logistics Specialist
DES: Give us a little overview of your time with B-C. How long have you been working for B-C? How did you find this job? What are your principal responsibilities?

RV: I started working at B-C during this summer as a temporary employee. I was able to find this job after giving my resume to a temp to hire agency where a friend works. I'm now going on two months as a full time employee. During a normal day here at B-C I package orders, receive shipments, maintain warehouse records, and monitor our stock.

DES: What previous work experiences have enriched your service at B-C?

RV: I previously worked for an educational teaching aid company as their receiving lead. I worked production, shipping, and all aspects of warehousing during my time there. That experience has helped me tremendously here at B-C.

DES: What do you enjoy most about your work at B-C?

RV: I have really enjoyed my coworkers throughout my first few months here. From day one they have been extremely welcoming and helpful.

DES: When not at B-C, how do you like to spend your time?

RV: When I'm not at B-C I am out driving at my second job as an Uber/Lyft rideshare driver. Aside from driving I really enjoy video gaming and watching sports—ROLL TIDE!

DES: Is there a special anecdote about your time so far at B-C that you'd like to share?

RV: Since I started working here at B-C I have come to realize how big Greek and Latin literature is in schools. I say that because the schools I attended only offered Spanish and French classes.


This month, I would like to share a couple of websites that I've enjoyed using lately. The first is www.hexameter.co. Hexameter.co is a great, free resource for students as they are learning the process of scansion. It has a good overview of the process as well as a great video tutorial. But, its real strength is that it provides users with lines that are the right level of difficulty for them through its use of adaptive technology. As users successfully scan, they are presented with slightly more challenging lines. If the user fails to scan a line correctly, the degree of difficulty of the next line offered decreases a little. As a teacher, I have the ability to create a class that my students can join. Doing so gives me access to various points of useful data concerning the progress that my students are making. Last but not least, the students really enjoy the various badges that they can earn as well as the class leaderboard.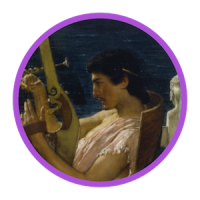 The second website that I would like to share is called Orbis (orbis.stanford.edu). I came across this website when I was searching for an answer to a student question. Many of my students are really interested in the Roman military but it's not one of my strengths. A student was wondering about the length of time needed to get from Rome to the Nervii and I really wasn't sure. Orbis can offer an answer and a great exploration opportunity. It is a site developed through a grant at Stanford University. The user can input a starting location and an endpoint to determine possible routes and the length of time for a journey. It has a number of variables that can be customized, such as season, method of transportation, and cost. I've enjoyed using it to learn more about transportation in in the Roman world.
ORBIS
The Stanford Geospatial Network Model of the Roman World

Lynne West
Bellarmine College Prep
San Jose, CA

Resources & Teaching Tips

To complement this issue's Book Buzz, we offer some cooking-related class activities. Thanks to our colleagues who posted these resources on Roman cooking and food on the Latin Teacher Exchange.
Learn more about that key Roman cooking ingredient—garum.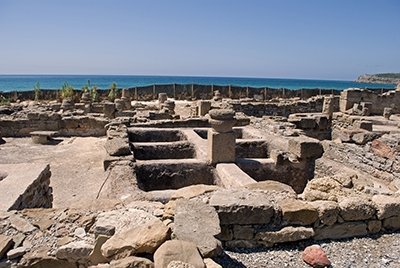 Remains of a garum factory in Baelo Claudio, Spain. Creative Commons 3.0.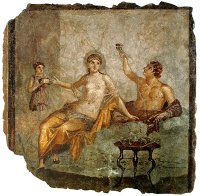 Fresco from Herculaneum shows detail from a Roman banquet scene. Public Domain.
Here are two sites that help with dessert—Roman spelt honey cake and Roman honey pastries.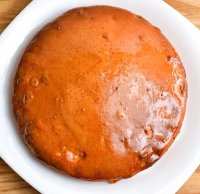 The Seven Wonders of the Ancient World continue to fascinate. Check out the project to revive the Colossus of Rhodes.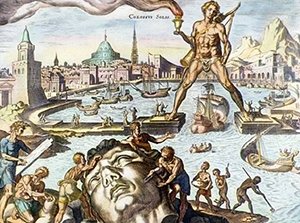 A hand-colored engraving by Martin Heemskerck (1498–1574) depicts the Seven Wonders of the Ancient World including the Colossus of Rhodes that was built about 280 BCE and stood about one hundred feet high. Public Domain.
In ancient Pylos, the city of Nestor, the University of Cincinnati discovered a tomb whose riches promise to tell us about the interconnections between the Minoan and Mycenaean civilizations.
√ Nothing New in the Ancient World?
The Philosopher's Kitchen: Recipes from Ancient Greece and Rome for the Modern Cook
by Francine Segan
I explored three different classical cookbooks, and this one is my favorite by far: beautifully illustrated and filled with easy-to-follow recipes including many vegetarian ones. Author Segan, a food historian, has presented on TV programs including Today and Fox News and is a frequent guest on radio stations such as NPR. The Philosopher's Kitchen is chock-full of doable recipes, many of which are simple to prepare with easy-to-find ingredients. I myself have tried out two of them, e.g., roasted leeks with apples, and beets with honey-wine syrup. My son, Allan, who loves cooking, has tried out some of the more complicated recipes (see his review below). Often a literal translation of the original recipe is given, and we at once can see that today's cook would need more guidance. For example the literal translation of Apicius's veal and fig stew recipe is as follows:

Veal, pepper, lovage, fennel seed, marjoram, nuts, fig-dates, honey, vinegar, liquamen (fermented fish sauce), mustard, and oil
Segan, however, reworks the recipe so that today's cook can create its modern equivalent.
The foods are shown on lovely serving plates and are stunningly presented in full-color illustrations. Any restaurant would be happy to display such illustrations of their offerings. Foodies especially will be impressed. When looking at the photos of food, the adjectives "luscious," "scrumptious," and "delicious" immediately came to mind. My mouth watered when I viewed the full page illustrations of scallops with garlic crisps and creamy arugula and port of Naples seafood stew with almond pesto crostini.
Many black-and-white illustrations depict scenes of ancient Rome or Greece. I loved the asides recounting information about where some phrases originated. Did you know, for example, that in the time of Pythagoras, votes were cast with beans and thus we got the expression "bean counter"! Segan also provides considerable information about the ancient world and its famous people. And the quotes she cites are thoughtful:
Very little is needed to make a happy life. Marcus Aurelius

Time is flying, never to return. Vergil

There are two liquids especially agreeable to the human body, wine inside and oil outside. Pliny the Elder

I have hardly ever known a mathematician that was capable of reasoning. Plato

But the major focus is on food. Segan presents nearly one hundred recipes in the categories of appetizers, soups and stews, salads and vegetables, seafood, poultry, meats, breads, and desserts. Segan also supplies menus for special occasions:
New Year's Eve bacchanal (turn back the clock 2000 years!)

November 7 celebration of Plato's birthday to ponder the meaning of life

Greek myth party with ambrosia and mild debauchery

Family Olympics with ant chariot races
Once you have this book, you can start planning your classical theme party. Or you can just prepare the recipes for everyday consumption. You will definitely want to keep this book on hand.



Such fun! Bene tibi sapiat!



Marie Carducci Bolchazy, EdD


President, Bolchazy-Carducci Publishers

---
The Philosopher's Kitchen Recipe Review
Beets with Honey-Wine Syrup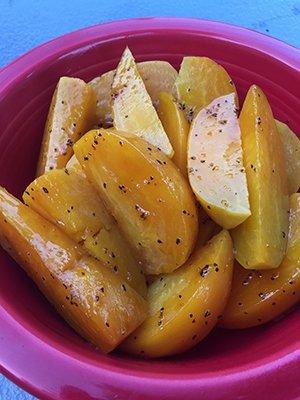 This dish is inspired by a recipe of Marcus Varro, the first-century BCE scholar and author commissioned by Julius Caesar to supervise the development of a Roman national library.
It is a remarkably simple dish to prepare, yet flavorful. The recipe calls for either red or golden beets, with red or white wine, and honey. I chose the golden beets with white wine. The only other ingredients are olive oil, salt, and pepper. The beets were tender, yet still al dente, and the slightly sweet syrup enhanced the flavor of the beets without masking the beets. They were delicious served warm, as well as served cold the next day.

Salmon with Berry Glaze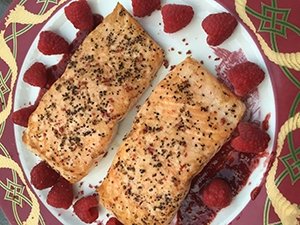 This dish was inspired by Sotades, a third-century BCE Athenian poet.
The salmon filet can be simply sautéed or grilled and is served with a sweet and sour chutney-like sauce, and garnished with berries. The glaze, consisting of fresh berries (I opted for raspberries), shallots sautéed in butter, and fruit vinegar, takes just a few minutes to cook. The berry mixture is then pressed into a sieve for a very smooth glaze and is finished off with more butter and some honey. My glaze came out a bit thicker than pictured in the book, but with a little adjustment in cooking time, it should be the appropriate consistency. The glaze has a fruity but tart flavor and nicely complements but does not overpower the flavor of the salmon.
Allan Bolchazy
Vice President, Bolchazy-Carducci Publishers
---
Editor's Note: While a mom might be a little biased in praising her son's cooking, I can attest that Allan Bolchazy is a master in the kitchen. And, I might add, he not only works wonders in cooking for a few or baking a cake for a B-C team member's birthday but he also does a wonderful job when preparing dinner at his church hall for over a hundred homeless guests.

eLitterae Subscribers Advance Notice of Cyber Monday Special


Enter coupon code 48BC15 upon checkout,.
SALE STARTS NOVEMBER 30TH (CYBER MONDAY)
(T
he sale begins at midnight November 29 and ends at midnight December 1.)
Four NEW Titles Available

This offer is valid for five copies, prepaid, no returns.
Discount is not available to distributors or
on products distributed by Bolchazy-Carducci Publishers.
This offer expires 12/01
/15.
(Please note that there will be no adjustments on previous purchases.
Offer is non-transferable and subject to change without notice.)
Enter coupon code

48BC15
on the payment page.