WAIT! That's not a blues song....but it got your attention, right? This past week the selections were made for the Women in Blues Showcase that will be held in Memphis during IBC weekend and guess who made the cut? Read on below for all the juicy details. And I want to give a shout out to Michele Seidman and crew. They have been putting their hearts and souls into encouraging and promoting women blues artists for years. Why not take a moment and see what it's all about!


There are a couple articles today you might want to read. One is in support of a fundraising CD that is being compiled and the other is sad news of a treasured venue closing it's doors.
If you are looking for something to do this weekend? Check out articles below about a couple neat events tonight and Saturday night. This week the listings I survey for the calendar seemed a bit light so if you don't see your favorite band or venue listed, let me know! I harvest information from a variety of local listings and a few

venues

websites but I would love to add the ones you, the reader, wants to see listed. Y
ou know the deal, e-mail me anytime at smccann7@sbcglobal.net
~Sandy McCann


Did Someone Say Women Have the Blues Too??
Perhaps we here in Northwest Arkansas are spoiled a bit. After all, we have so many women playing and singing the blues around here that there are enough to form a super-group like Divas on Fire! Even with such an outstanding level of recognition of female blues artists here,
it is enlightening to look into a national/international organization that exists solely to support women blues artists everywhere. The group is called National Women in Blues (WIB.) Their new website is already full of history and information for and about women blues artists.
WIB has hosted a number of women focused festivals, but additionally they partner with The Blues Foundation and sponsor a WIB showcase at IBC. This year our outstanding Women in Blues artists, Divas on Fire, will be one of the featured acts in the showcase! To further
support Northwest Arkansas' claim to fame on Women in Blues, last year's Ozark Blues Society's Blues Challenge winner Amanda Rey has also been selected to be in this year's showcase. If you will be in Memphis for IBC,
this don't miss Showcase will be
Friday, January 29th from noon-4.


In addition to their website noted above, you can easily stay connected to all the exciting Women in Blues events by clicking HERE to connect with the WIB Facebook Page.
The Big Chill In Rogers Has Closed

Last week when I was preparing the weekly calendar, the website for The Big Chill was not responding. When the same thing happened this week I went looking for their Facebook page and found the sad news that they held a farewell bash on October 31st. Perhaps many in Rogers and Bentonville already knew but since I had missed the news I thought others may not have heard either. The following message was posted on their Facebook page. Ozark Blues Society wants to thank Gina Parks for her support of the music we all love and wishes her the best for her Hot Springs location.


I would like to say a few words to the many people in the Rogers and Bentonville area who have been a source of great support and energy while The Big Chill NWA has been open.
First, the amazing crew that have stuck by me and continue to support and help me with this business. You are all very appreciated and I will miss you dearly.
Second, the amazing talented musicians I have had the pleasure of working with. You have been the core of the business and I am so proud to have

been a venue for you all to showcase your amazing music. I sincerely hope you keep the flow of great music going in other venues.
Third, the regular patrons who have made the Big Chill NWA happen for the last year.
I wish I could have held on and kept it going. It has been a struggle to split myself between two businesses four hours apart.
I appreciate all of you who have helped.
If you are ever in Hot Springs, please come see us at 910 Higdon Ferry Road. We are just a few blocks south of Oaklawn park and will continue the vibe of The Big Chill and the music we present there. Hope we see you soon.
Sincerely,
Gina Parks
Owner
The Big Chill Inc.
Another regional opportunity to see artists competing for an opportunity to be sponsored to go to the 2016 International Blues Challenge is just down the road in Forth Smith.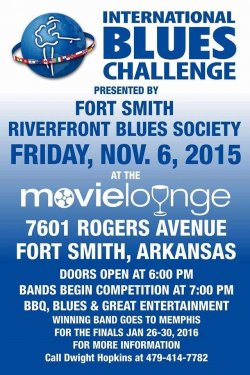 Eli Cook has just been named one of the top three solo blues artists in the world by Blues Matters Magazine, and he will perform at The Founder's Room of Alma 7503 Robinswood Rd, Alma, AR on Saturday, November 7. The evening begins at 6PM and dinner is available. For reservations call
479-221-5737
or purchase tickets online at www.thefoundersroomofalma.com
The legendary Son House was known to say "Blues is a feelin'…" Eli Cook's music echoes that same raw honesty--and it's driving him to the forefront of modern Blues. With his super slick slide guitar sound and a husky voice that is sexy and heartfelt, this Virginia bluesman shines brightest in concert. His distinctive blend of contemporary and old-school styles has been called by John Mayall "mystifying and unique."
Eli took up the guitar as a teenager in the Blue Ridge foothills of Virginia. Following the tradition of the great blues men, he performed in churches and late-night gospel revivals with only his acoustic and deep baritone voice. All Music Guide proclaimed that Eli could be "the best blues singer of his generation."
Eli Cook has been featured in Vintage Guitar, Guitar Player, and Guitar Edge magazines.
For more information about Eli Cook, visit www.elicook.com

Looking For Input On A Fundraising CD Project
The following was submitted by
Friends, several weeks ago I volunteered to write a song for the Natural State Burial Association. (www.naturalstateburialassociation.org ) And now somehow I've volunteered to put together a compilation CD of songs about death, burials, and graveyards as a fundraiser for the NSBA.

Which, of course, is why I'm writing to you. What I hope the end product will be is a CD of about 14 songs from different Arkansas musicians in a variety of genres. Songs of lament, celebration, humor, religious impulse, - whatever humans feel about death - with mostly vocals, but I'd like to have a few instrumentals as well. We have several musicians who have already agreed to contribute: Still on the Hill, Jack Williams, Judi O'Neal, Emily Kaitz and myself. I'd really like to get some blues in the mix!

Proceeds from the sale of the CD will go to fund the licensing and preparation of a 20-acre green burial cemetery in Washington County.

So, I have three questions for you:

1. Have you got a song or two you think would work? They need to be studio quality, either originals or something you have the rights to include on the CD. It would be perfectly OK to use something you've put on a previous CD. Of if you have access to a studio and want to record something new, that's fine too. Participating will get you: 5 CDs, our thanks and the satisfaction of contributing to a good cause.

2. Can you recommend other Arkansas musicians who might be interested in contributing? I tend to be a little NWA and acoustic-centric so any help in diversifying the mix would be great!

3. Do you have any advice you can share about the project? I've never done one of these and if there are pitfalls I should watch out for, please let me know!
Please contact me at wschmidt1998@yahoo.com or 720-771-4634.
Thanks!
Walter Schmidt
How to Support Your NWA Representatives on the Road to Memphis!

Please watch our newsletter and website for information about ways you can help send our winners to Memphis. Ozark Blues Society offers our Blues Challenge winners a handsome support package to help defray the cost of going to Memphis and competing in the International Blues Challenge in January. We will be hosting a fundraiser to assist in this support. Of course you may always share your support by donating through our website directly or via Facebook!
Don't forget to follow our winners on their journeys!
Solo/Duo Winner:
Jimmy

Wayne

Garrett

Band Winner: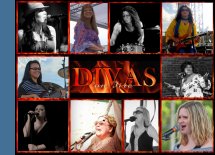 Perhaps you want to make plans to go cheer them on at the IBC in Memphis! Remember, special rate rooms are available through the
Tickets can be bought as a pass that includes all the competition events or individually as wristbands on Beale Street and in the participating clubs each night of quarter and semi finals. If available after pass sales, tickets may be bought for Saturday's finals at the Orpheum Theatre. Check out IBC Tickets HERE.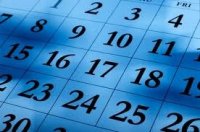 11/06-11/14

11.06
Full House for Happy Hour at Georges Majestic Lounge in Fayetteville

Silvershakers at Bears Place in Fayetteville


Forth Smith Blues Challenge at The Movielounge in Fort Smith
11.07

Eli Cook at The Founders Room in Alma

Mark Bokun and Buddy Shute at Low Gap Cafe in Ponca
11.10
Jed Clampit at Pesto Cafe in Fayetteville

"R&P" (Richard and Paul) and friends at the Chancellor in Fayetteville
11.11
Blues Therapy with Brick Fields at Bears Place in Fayetteville
11.12
"R&P" (Richard and Paul) and friends at the Chancellor in Fayetteville

Randall Shreve for Notes at Night at The Pressroom in Bentonville
11.13
Earl and Them and Daryl Brooks for Happy Hour at Georges Majestic Lounge in Fayetteville

Keith Nicholson Trio at JJ's Grill and Chill in Fayetteville
11.14
Left of Center at Warrens Rec Room in Alma

Earl and Them at Chelseas Cafe in Eureka Springs
Mark Your Calendar
11.21 Vintage FM at The Founders Room in Alma

12.31 Chris Cameron/New Years Bash at The Founders Room in Alma
In this issue: 11/06/2015
November 6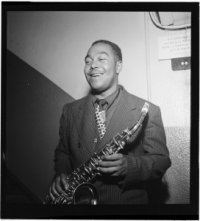 Today's show features music performed by Fats Waller and Charlie Parker

"Music is your own experience, your own thoughts, your wisdom. If you don't live it, it won't come out of your horn. They teach you there's a boundary line to music. But, man, there's no boundary line to art."
Check Out these regular local radio programs

"The Generic Blues Show" hosted by Paul Kelso airs every Friday night at 9pm on KUAF 91.3FM
Rockin' Hog Radio presents "Sunday Morning Blues" from 8am to 10am every Sunday
LINK
Get Involved with the Ozark Blues Society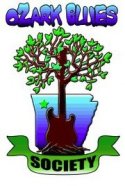 Annual membership levels begin at $15 and give you so much in return, including meeting new friends while enjoying the best blues artists in the area.
By being a member of The Ozark Blues Society of Northwest Arkansas, you are helping to support the Arts and to preserve the Original American Art Form known as The Blues.
Membership Benefits Include:
Weekly E-newsletter
Opportunities to win tickets to events
VIP seating at events (when available)
Discounts on OBS merchandise
Social networking – meeting other people who also love the blues
Opportunities to volunteer on OBS committees and at events
Ability to attend board meetings and vote on upcoming organizational issues and elections
Visit our Website to renew or join! Ozarkbluessociety.org