Classical Conferences and Meetings in 2015-2016

NB: Check www.bolchazy.com for conference presentations.
2015
CAES—Classical Association of the Empire State
October 22–24, 2015
Vitae Sal Amicitia
52nd Annual Institute
The Crowne Plaza
Syracuse, NY
Representative: Donald Sprague
TCA—Texas Classical Association Conference
November 13–14, 2015
AT&T Executive Education and Conference Center at the University of Texas at Austin
Austin, TX
Representative: Rose Williams
Presentation: Saturday, November 14, 2:15–3:45 "Rome in New Spain" Rose Williams, author The Latin of New Spain (forthcoming 2015)
ACTFL—American Council on the Teaching of Foreign Languages
November 20–22, 2015
San Diego Convention Center
San Diego, CA
Representatives: Marie Bolchazy and Allan Bolchazy and Don Sprague
Visit us at booth #1937
Presentation: "Re-energizing Student Approaches to Vocabulary in the Latin Classroom"
Thaddeus Lisowski, contributing editor, eyeVocab
November 22, 8:00–9:00 AM, Room 21

2016
AIA/SCS—American Institute of Archaeology and Society of Classical Studies Joint Annual Meeting
January 6–9, 2016
Hilton San Francisco Union Square
San Francisco, CA
Representatives: Marie and Allan Bolchazy, and Donald Sprague
Visit us at booth #406

MLA—Modern Language Association
January 7–10, 2016
Austin Convention Center
Austin, TX
Representatives: Jody Cull and Connor Hart
Visit us at booth #116
CANE—Classical Association of New England
March 18–19, 2016
Smith College
Northampton, MA
Representative: Donald Sprague
Sausages
In discussing the opening of Chicago's Foodseum, Executive Director Kyle Joseph mentioned Homer's sausage simile in the Odyssey (20.24–30) when discussing the evolution of our carnivorous nature and the institution's opening exhibit on "encased meats."
---
Spielberg's Mythos
"But, it was that moment when Rylance, an Emmy nominee for PBS Masterpiece's Wolf Hall, saw the director as akin to a classic Greek playwright: 'When most of us are dreaming, his soul won't rest because he's searching for some essential thing.' " USA Today 10/11/2015
---
Origin of the Ampersand


Of course, it's Latin in origin!



Evolution of the Ampersand. Creative Commons 3.0
---
Latin on The Simpsons
Even The Simpsons values Latin!



Seal of the Mayor of the City of Springfield. Creative Commons 4.0
---
LEGO Hadrian's Wall
Gotta love those buildings Roman enthusiasts!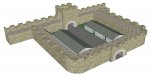 Elevation of Reconstructed Mile Castle. Creative Commons 3.0
National Classical Etymology Exam
Deadline: Late Registration: October 19–27, 2015
Administration: November 2–December 2, 2015
CAMWS Latin Translation Contest
[intermediate and advanced levels for
high schoolers and for college students]
Deadline: November 13, 2015
Administration: December 1–12, 2015
National Greek Exam
Deadline: January 15, 2016
Administration (regular*): February 29–March 5, 2016 regular
National Mythology Exam
Deadline: January 15, 2016
Administration: February 22–March 4, 2016
National Latin Exam
Deadline: January 20, 2016
Administration (regular*): March 7–11,
National Roman Civilization Exam
Deadline: January 31, 2016
Administration: February 10–March 18, 2016
National Latin Vocabulary Exam
Deadline: January 31, 2016
Administration: February 10–March 18, 2016
Eta Sigma Phi Latin & Greek Translation Exams
Deadline: February 19, 2016
Administration: February 22–26, 2016
Bernice L. Fox Classics Writing Contest
Postmark Deadline: March 15, 2016
*check online for early administration dates.
Special 411 on the NLE
Students may take test online or on paper!
Students may take a practice test online!
Bolchazy-Carducci Publishers provides eTextbooks on a variety of eBook platforms. Bolchazy-Carducci textbooks are available through VitalSource,

GooglePlay

,

Chegg

, Copia, RedShelf, Adams Book, Follett,

MBSDirect Digital

, and ESCO. Each eBook platform offers a variety of tools to enhance the learning process. eBooks have the same content as our traditional books in print.
eBooks are purchased from the eBook provider. For direct links to purchase Bolchazy-Carducci eTextbooks, visit the title's product page on Bolchazy.com. Just above the product description there is a list of the eTextbook providers and a direct link to purchase the eTextbook. Some eBook providers sell directly to schools—check with your school to make these purchases.
You can read eBooks on a Mac, PC, iPhone, iPad, Android, or a variety of eReaders. Review the eBook providers specifications.
The eyeVocab software leverages human memory for distinctive affective images* presented in isolation to radically improve the speed, depth, and permanence of second language vocabulary acquisition. Images are drawn from classical art, both western and eastern, from photojournalism and historical photography, great book illustration, and other sources.

*Learn how images are chosen.

Far more than a set of electronic flashcards, the multimodal vocabulary program facilitates a significantly deeper learning and retention. Students will readily master the frequent Vergil and Caesar vocabulary for the AP® Latin Exam and thereby devote far more of their study time and energy to reading and discussing De Bello Gallico and the Aeneid.

eyeVocab programs correspond to the following B-C books.

Caesar: Selections from his Commentarii De Bello Gallico
(Mueller)
(218 words)

Vergil's Aeneid: Selected Readings from Books 1, 2, 4, and 6
(Boyd)
(162 words)



Vergil's Aeneid: Books I–VI


(Pharr)
(292 words)

Latin for the New Millennium Level 1


(423 words)





(329 words)





Special offer —try any eyeVocab program for FREE— trial offer for first 50 teachers who contact Miles Becker at sales@eyevocab.com.Introductory rate for each of the AP® Latin programs is $14.95. The LNM 1 introductory rate is $24.95. For site licenses, contact Miles Becker at sales@eyeVocab.com.




Click on each title to learn more.
The Pompeiiana Newsletter created and edited by Bernard Barcio ran from 1974 through 2003. The newsletter offered a place for Latin students to publish comics, stories, games, and articles, and was a beloved resource for Latin teachers. In 2008, Barcio granted Bolchazy-Carducci Publishers the rights for all of the Pompeiiana Newsletter. B-C is proud to serve as curator for this archive and has made the issues available for teachers, students, and friends of the classics. Check out http://pompeiiana.blogspot.com/
Each fall, Bolchazy-Carducci mails its Roman Calendar to Latin teachers across the nation. Folks on that mailing list should have received their copy by now. The calendar is also available in a digital format.

Preview Bolchazy-Carducci Titles

Preview Bolchazy-Carducci titles before you purchase using Google Preview.
---

Downloadable Products
iPodius - Bolchazy-Carducci Publishers online shop for: audio, software, video, and a treasure trove of teacher-created materials in the Agora.
---
BCP Facebook Fan Page
Become a FAN of Bolchazy-Carducci Publishers, visit our Facebook Fan page for the latest news from BCP.
---
BCP Blog
Visit the BCPublishers Blog for BCP news and information.
---
BCPublishers on Twitter
Follow us on Twitter

---
AP® is a trademark registered and/or owned by the College Board, which was not involved in the production of, and does not endorse, this site.
These products have been developed independently from and are not endorsed by the International Baccalaureate (IB).
Have you checked out the B-C Halloween classics-themed costume contest? Make sure you let your students know! Dolus aut Dulce!
B-C is employing social media to keep you up to date with what's happening at the press as well as in the classics world. Follow us on Facebook, Twitter, and our blog to be in the know!
Headed to ACTFL? Check us out at booth #1937. Mark your schedule to attend Thaddeus Lisowski's presentation "Re-energizing Student Approaches to Vocabulary in the Latin Classroom." He'll be discussing two different approaches to vocabulary—eyeVocab and a student project for Latin 4. Encourage your Spanish teacher colleagues to attend and learn about the power of eyeVocab for mastering second language vocabulary.
Be sure to check out the four remaining webinars for this fall.
Best wishes to you and your students as you approach the midpoint of the fall semester. May their midterm grades be all dulces!
Illinois Classical Conference ICC/Classical Association of Iowa AMICI Report

Monmouth College hosted the 2015 joint meeting of ICC and AMICI Friday, October 2–Sunday, October 4 and welcomed B-C editor Laurel Draper. Classics Professors Bob Simmons and Tom Sienkewicz, the local co-chairs, encouraged attendees to stay at the AmericInn, which is only minutes from Monmouth College's campus.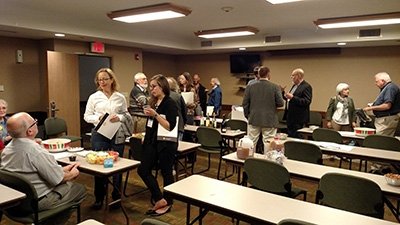 The Monmouth College Department of Classics and CAMWS generously sponsored a social hour at the AmericInn on Friday night. Photo courtesy of Tom Sienkewicz, Monmouth College.



Registration and the book exhibit opened Saturday morning. Chris Mural, Stevenson High School, Lincolnshire, IL, who organized the book exhibit, graciously offered his assistance in bringing boxes from Laurel's car to the book display. The book exhibit was set up in the same room as registration and the refreshments—testament to the hosts' attention to logistical detail. Indeed, as lunch was held in the same room as the book exhibit, many attendees stopped by the Bolchazy booth before heading to the next session.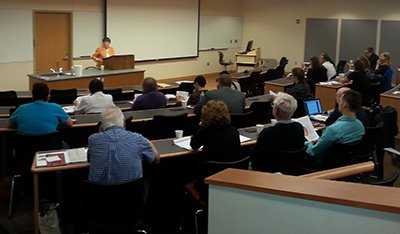 Laurel joined the rest of the attendees for a wonderful keynote address by Dr. Ann Ellis Hanson of Yale University. Photo courtesy of Bob Simmons, Monmouth College.



A bagpiper, who also happens to be a Latin student at Monmouth, opened the banquet held Saturday evening. Monmouth College's mascot is Big Red the Fighting Scot, and the college offers scholarships for bagpipers. The meal itself was a Roman banquet, featuring Cornish hens, quiche, hard-boiled eggs, seasoned lentils, dates, olives, and grapes. Following dinner, students from a classics-in-translation course taught by Bob Simmons performed a twenty-minute play they had written and staged. The play, described as a mash-up of Plautine comedies with some new material added, was a hit.

At the conclusion of Sunday lunch, Chris Mural awarded one Bolchazy-Carducci book each to the two attendees who had traveled the farthest. Dr. Hanson was clearly the winner at the collegiate level, and she selected The Thebaid of Statius. Several attendees at the high school level had all traveled about the same distance; in the end, Vergil's Aeneid: Expanded Collection was awarded to Hillary Richards, who is student teaching with Chris Mural at Stevenson High School.

Loading the car for the journey home went quickly thanks to the generous assistance of Alice Mulberry, Jay Mulberry, and Marilyn Brusherd.

Laurel Draper
Assistant Editor
Interview with Mike Frazier
Shipping & Receiving Specialist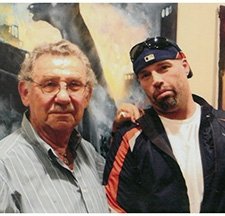 Mike Frazier (right) and Lou Bolchazy,
late founder of Bolchazy-Carducci Publishers

DES: Give us a little overview of your time with B-C. How long have you been working for B-C? How did you find this job? What are your principal responsibilities?

MF: I have been working for B-C for eleven years now. I found the job listing in the now defunct local advertiser. I am responsible for shipping, receiving, inventory, stock returns/crediting as well as taking care of the copier machine, doing some general maintenance, and ordering supplies. I assemble and ship all the materials needed for the conferences at which B-C exhibits. I take pride in making sure all orders are correct and timely.

DES: What previous work experiences have enriched your service at B-C?

MF: I've built on my prior shipping experience working for B-C.

DES: What do you enjoy most about your work at B-C?

MF: Working for a great company and with great coworkers.

DES: When not at B-C, how do you like to spend your time?

MF: Watching sports, listening to music, and spending time with family and friends.

DES: Is there a special anecdote about your time at B-C that you'd like to share?

MF: I truly miss our founder Lou Bolchazy. He could always make me laugh when my day was subpar and the stories he would tell cheered me up and lifted my spirits.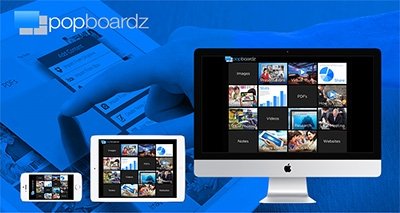 PopBoardz is a great tool that teachers can use to organize a variety of different types of materials that they might need to teach a class. I often find myself using a combination of slides, PDFs, images, websites, and video clips all in the span of one lesson. I do not love having to flip between my slides, files, and the web and definitely prefer to have everything accessible from one place. PopBoardz provides a solution to this problem.
At this time, PopBoardz is available as an app for either Mac or iPad. PopBoardz allows the user to import various types of files and links into a single presentation. It's a very streamlined interface that provides the user with a four-by-four grid of tiles into which content can be imported. When presenting, the user has the flexibility to access the information and resources in each tile in whatever order seems most appropriate.
Creating a PopBoardz presentation is a very straightforward process that involves importing each of your resources into a tile. That's really all it takes. I enjoy using PopBoardz to bring together the resources I need for my teaching, but it's also a great tool for students too. My students use it to bring together research or create "boardz" focused on a particular cultural or language theme. To learn more about PopBoardz, check out their website: www.popboardz.com.

Lynne West
Bellarmine College Prep
San Jose, CA

Resources & Teaching Tips

√
Classical and Mythological Allusions Activity
For extra credit, I would always encourage students to find examples of mythological and other classical allusions in the print media, to bring them to class, and then share them along with an explanation of their appropriateness with the class. If I happened to have my own classroom, we would post the examples on the bulletin board.
Now that most students have a cell phone with a camera feature, students can capture the allusions they find with a quick click of the cell phone and then share those examples with their classmates. This can be an extra credit assignment that students share on an ad hoc basis or one can set an expectation of six or twelve (or whatever number seems reasonable for your community) examples for a semester's project that is then shared on poster board or via such online options as Glogster.

Stopped at an intersection on Peterson Avenue in Chicago, I came across the following example of a mythological allusion that could be shown students as an example.
√ Gilgamesh

The epic of Gilgamesh was one of Lou Bolchazy's favorite topics of scholarship and discussion. He was proud to commission a contemporary translation as well as other editions of the epic that he always noted predates the more famous poems of Homer. He would certainly revel in the latest discovery. Check out these two articles from LiveScience and Smithsonian Magazine.



√ Roman Technology


A nonclassicist provides a set of images that delineate the engineering feats of the Romans.

√ The Smithsonian Magazine has featured a number of articles relevant to the classics.



√ Archaeologists Recreate Hittite Feast




An interesting

complement

to the Gilgamesh discovery . . .





√ Underwater Treasures




Finds shed light on ancient Egypt.





√ Construction of the Pyramids




Newly discovered documents address the long-puzzling question—how'd they build those pyramids!?!





√ Hollywood's Egypt


An interesting example of reception . . .



√ Pompeiian Teeth


This article arrived via Facebook from a former student, Class of 1980, who practices dentistry.



√ Underwater Treasures




The Antikythera wreck yields more artifacts.


How to Win an Election: An Ancient Guide for Modern Politicians
by Quintus Tullius Cicero
translated by Philip Freeman
This short book (99 pages) provides both the original Latin text and a facing translation. While a Latinist will appreciate seeing the original text and comparing it with the translation, a lay person can focus on the English text and find it valuable.
In essence, this is a book of pragmatic advice for Marcus Tullius Cicero from his younger brother Quintus on how to win the election of 64 BCE for the consulship. Like Machiavelli's Prince, the advice is a no-nonsense approach to gaining power. Some of Quintus's comments are focused specifically on this particular election. For example, Quintus notes that his brother's ability as a public speaker is key. Quintus advises his brother to stay in Rome during the campaign and that his support of Pompey has won over the common people.
However, if a few specific comments are removed, this book could well serve as a vade mecum on winning a political election today. Following are some examples of the advice Quintus gives that cannot be distinguished from what American politicians running in the 2016 Presidential campaign believe.
1. Call in your debts—make sure those who owe you for services you have given them know exactly what you want them to do; remind them that you have not asked anything of them before.
2. Give incentives for individuals to support you—could be favors (something small), personal attachment, or support for something they want. Let them know you will be in their debt.
3. Recognize who will be important to you and who will be useless. Confine your efforts to the former.
4. Cultivate friendships even with unsavory individuals if that would help your cause. Talk to them, send your friends to talk with them, show that they matter to you.
5. Pay attention to special interest groups and neighborhood organizations.
6. Work to remember names and faces. However, while it is important to learn individuals' names, that isn't enough. Show how you can support their interests.
7. Go after young men; they are easier to win over than older ones, who are set in their ways.
8. Recruit enthusiastic, energetic young people to canvass voters and spread the news.
9. You will be judged by the followers you have. It is essential to have a crowd of devoted followers with you all the time.
10. Remember, however, that politics is full of treachery. Don't be too trusting of individuals.
11. Deal with your enemies. If you have wronged someone, apologize. With those who don't like you for no good reason, be kind to them and you can possibly win them over. For those who are friends of your opponents, treat them well.
12. To win over the voters at large, be personable and generous and attend events that honor leaders; be available to those who need you, promote yourself, and never give up.
13. Learn the art of flattery—not normally an admirable art but important when you are running for office.
14. Do not go on vacation. Always be present to talk to the voters.
15. Say no rarely, but if you must say no, express your regret at turning down a request. Further, it is better to give a gracious lie as an excuse for saying no than to give an outright refusal. Promise you will make it up in some other way.
16. Say whatever you need to say to win over the support of the business community and the leaders of the towns. Don't worry too much about having to break promises. When the time comes, you can always say that you would love to help if only you could.
17. Always think about publicity.
18. Smear your opponents. Point out their crimes, sexual scandals, and corruption.
19. Offer hope to your supporters. Let people know that you are for peace. Assure them that you are on their side but stick to vague generalities.
So, does Quintus's advice sound familiar? It certainly seems like nothing has changed in over 2000 years.
Marcus Tullius Cicero did, indeed, win the election of 64 BCE and served as consul. He went on to be named Pater Patriae (Father of His Country) and struggled against the rise of dictators. Ultimately, however, in 43 BCE, he and his brother were murdered. The Roman Republic died and the Roman Empire rose.
Marie Carducci Bolchazy, EdD
President, Bolchazy-Carducci Publishers
FALL 2015 Schedule
Tuesday, October 27, 6–7:00 pm EST—The List(s) of the Seven Wonders of the Ancient World: The Uses and Abuses of Θαυματα
Presenter: Jennifer Tobin, Associate Professor of Classics and Mediterranean Studies, University of Illinois Chicago
Did you grow up thinking there was only "one" list of the seven wonders of the ancient world? Tobin's webinar will explain the context of how the list of seven wonders came to be and how it evolved over time.
---
Tuesday, November 3, 6–7:00 pm EST—Coming Out Christian in the Roman World
Presenter: Douglas Boin, Assistant Professor, St. Louis University
Professor Boin's presentation will draw on his recent analysis of the transition from "pagan" belief and practice to Christianity in the Roman world. His lively new book Coming Out Christian in the Roman World sets forth a groundbreaking study of this significant period in history. The Wall Street Journal praised Boin's work "he has produced a genuinely thought-provoking and imaginative book."
---
Tuesday, November 10, 6–7:00 pm EST—
Using Lectiones Memorabiles: Volume II: Selections from Horace, Lucretius, Seneca, Suetonius, and Tacitus in the IB or Other Advanced Latin Classroom
Presenter: Yasuko Taoka, author of Lectiones Memorabiles: Volume II: Selections from Horace, Lucretius, Seneca, Suetonius, and Tacitus and Associate Professor, Southern Illinois University Carbondale
---
Tuesday, December 8, 6–7:00 pm EST—
Latin from the New World
Presenter: Rose Williams, author of Latin of New Spain and veteran college and high school teacher, Abilene, Texas
Williams will discuss the neglected wealth of Neo-Latin works produced in and about the "New World." Drawing on her new book Latin of New Spain (forthcoming fall 2015), she will provide the context for this corpus of Latin writings and share representative selections from the Neo-Latin works of New Spain for the Latin classroom. These authentic selections from the New World offer students who have completed their beginning Latin grammar studies a special view of the full legacy of Latin literature.
---
What Equipment Do I Need for B-C Webinars?

To participate in Bolchazy-Carducci Publisher sponsored webinars you will need high-speed internet access, computer speakers/headphones, current web browser, and the link to the webinar virtual meeting space, which is provided in your webinar invitation.
Webinars Make for User-Friendly Professional Development

Participation is free. All webinars provide opportunity for participants to ask questions. Learn lots—attend as many presentations as you can. Bolchazy-Carducci Publishers provides documentation for your participation. You can share this with your supervisors. Many webinar presenters provide handouts, etc.
eLitterae Subscribers Special

Special 40% Off Book Discount

Editors: Helena Dettmer & LeaAnn A. Osburn
160 pp., Paperback
ISBN: 978-0-86516-797-1
$14.00

40% off! Just $8.40
This offer is valid for five copies, prepaid, no returns.
Discount is not available to distributors or
on products distributed by Bolchazy-Carducci Publishers.
This offer expires 11/22/15.
(Please note that there will be no adjustments on previous purchases. Offer is non-transferable and subject to change without notice.)
Enter coupon code

eLit10
15

on the payment page.
The special eLitterae offer pricing will be charged at checkout.