Classical Conferences and Meetings in 2015

NB: Check www.bolchazy.com for conference presentations.
2015
ICC & AMICI—Joint Annual Meeting of the Illinois Classical Conference & the Classical Association of Iowa
October 2–4, 2015
Monmouth College
Monmouth, IL
Representative: Laurel Draper

CAAS—Classical Association of the Atlantic States
October 8–10, 2015
Hotel DuPont
Wilmington, DE
Representative: Don Sprague


CAES—Classical Association of the Empire State
October 22–24, 2015
Vitae Sal Amicitia
52nd Annual Institute
The Crowne Plaza
Syracuse, NY
Representative: Donald Sprague
TCA—Texas Classical Association Conference
November 13–14, 2015
AT&T Executive Education and Conference Center at the University of Texas at Austin
Austin, TX
Representative: Rose Williams
Presentation: Saturday, November 14, 2:15–3:45 "Rome in New Spain" Rose Williams, author The Latin of New Spain (forthcoming 2015)
ACTFL—American Council on the Teaching of Foreign Languages
November 20–22, 2015
San Diego Convention Center
San Diego, CA
Representatives: Marie Bolchazy and Allan Bolchazy and Don Sprague
Visit us at booth #1937
2016
AIA/SCS—American Institute of Archaeology and Society of Classical Studies Joint Annual Meeting
January 6–9, 2016
Hilton San Francisco Union Square
San Francisco, CA
Representatives: Marie and Allan Bolchazy, and Donald Sprague
Visit us at booth #406

MLA—Modern Language Association
January 7–10, 2016
Austin Convention Center
Austin, TX
Representatives: Jody Cull and Connor Hart
Visit us at booth #116

Have your students check out Scott Shane's Objective Troy to learn the power of classical allusion. It's a simple Google search, and God knows they're good at those. Ask them the significance of the book title. Click the book cover for the New York Times review.

---

(Creative Commons 2.0)
How many of your students came to class with comments about the US Open Tennis Tournament? Many a sports pundit readily came up with
Veni Vidi Vinci
to recognize Italian tennis player Roberta Vinci's defeat of Serena Williams.
---
Overheard on NPR . . .
What would a British tabloid headline make of the Oedipus myth?
Sex with Mum Is Blinding

Perhaps that headline is a bit off color for your students but . . . in line with B-C's clever title The Original Dysfunctional Family . . . have your students come up with some tabloid-like headlines for the myths they already know and for others as they learn them.

---
B-C Referenced in the Wall Street Journal
When the Wall Street Journal spoke to ACL's Sherwin Little about an article on Latin and Latin translations, he immediately referred the reporter to B-C Vice President Allan Bolchazy.

Congratulations to Tom Sienkewicz, the Minnie Billings Capron Professor of Classics and Department Chair at Monmouth College, upon his appointment as honorary life trustee for Eta Sigma Phi, the college and university classics honor society. In its proclamation, ΕΣΦ recognized the outstanding service Tom provided the organization over the years and most especially as the group's executive secretary. Tom served as series coeditor for LEGAMUS Transitional readers, as coauthor of Vergil: A LEGAMUS Transitional Reader, and as coeditor of The World Dictionary of Foreign Expressions.
---
FALL 2015 Schedule
Tuesday, October 6, 6–7:00 pm EST
—
Suggestions for Implementing Lectiones Memorabiles: Volume I: Selections from Catullus, Cicero, Livy, Ovid, Propertius, Tibullus, and Vergil in the IB or other Upper Level Latin Class
Presenter:

Marianthe Colakis

, author of Lectiones Memorabiles: Volume I: Selections from Catullus, Cicero, Livy, Ovid, Propertius, Tibullus, and Vergil and teacher at Townsend Harris High School, Queens, NY
Dr. Colakis will provide her insights as author of the text and offer suggestions for how to maximize use of this new book. The text offers an engaging anthology of readings on the following topics: Vergil (Aeneid and Georgics), love poetry, and women. While the book is specifically designed for the IB Latin curriculum, teachers are choosing to use it in their Latin 4 and Latin 5 classes as well.
---
Tuesday, October 27, 6–7:00 pm EST—The List(s) of the Seven Wonders of the Ancient World: The Uses and Abuses of Θαυματα
Presenter: Jennifer Tobin, Associate Professor of Classics and Mediterranean Studies, University of Illinois Chicago
Did you grow up thinking there was only "one" list of the seven wonders of the ancient world? Tobin's webinar will explain the context of how the list of seven wonders came to be and how it evolved over time.
---
Tuesday, November 3, 6–7:00 pm EST—Coming Out Christian in the Roman World
Presenter: Douglas Boin, Assistant Professor, St. Louis University
Professor Boin's presentation will draw on his recent analysis of the transition from "pagan" belief and practice to Christianity in the Roman world. His lively new book Coming Out Christian in the Roman World sets forth a groundbreaking study of this significant period in history. The Wall Street Journal praised Boin's work "he has produced a genuinely thought-provoking and imaginative book."
---
Tuesday, November 10, 6–7:00 pm EST—
Using Lectiones Memorabiles: Volume II: Selections from Horace, Lucretius, Seneca, Suetonius, and Tacitus in the IB or Other Advanced Latin Classroom
Presenter: Yasuko Taoka, author of Lectiones Memorabiles: Volume II: Selections from Horace, Lucretius, Seneca, Suetonius, and Tacitus and Associate Professor, Southern Illinois University Carbondale
---
Tuesday, December 8, 6–7:00 pm EST—
Latin from the New World
Presenter: Rose Williams, author of Latin of New Spain and veteran college and high school teacher, Abilene, Texas
Williams will discuss the neglected wealth of Neo-Latin works produced in and about the "New World." Drawing on her new book Latin of New Spain (forthcoming fall 2015), she will provide the context for this corpus of Latin writings and share representative selections from the Neo-Latin works of New Spain for the Latin classroom. These authentic selections from the New World offer students who have completed their beginning Latin grammar studies a special view of the full legacy of Latin literature.
---
What Equipment Do I Need for B-C Webinars?

To participate in Bolchazy-Carducci Publisher sponsored webinars you will need high-speed internet access, computer speakers/headphones, current web browser, and the link to the webinar virtual meeting space, which is provided in your webinar invitation.
Webinars Make for User-Friendly Professional Development

Participation is free. All webinars provide opportunity for participants to ask questions. Learn lots—attend as many presentations as you can. Bolchazy-Carducci Publishers provides documentation for your participation. You can share this with your supervisors. Many webinar presenters provide handouts, etc.
Bolchazy-Carducci Publishers provides eTextbooks on a variety of eBook platforms. Bolchazy-Carducci textbooks are available through VitalSource,

GooglePlay

,

Chegg

, Copia, RedShelf, Adams Book, Follett,

MBSDirect Digital

, and ESCO. Each eBook platform offers a variety of tools to enhance the learning process. eBooks have the same content as our traditional books in print.
eBooks are purchased from the eBook provider. For direct links to purchase Bolchazy-Carducci eTextbooks, visit the title's product page on Bolchazy.com. Just above the product description there is a list of the eTextbook providers and a direct link to purchase the eTextbook. Some eBook providers sell directly to schools—check with your school to make these purchases.
You can read eBooks on a Mac, PC, iPhone, iPad, Android, or a variety of eReaders. Review the eBook providers specifications.
The eyeVocab software leverages human memory for distinctive affective images* presented in isolation to radically improve the speed, depth, and permanence of second language vocabulary acquisition. Images are drawn from classical art, both western and eastern, from photojournalism and historical photography, great book illustration, and other sources.

*Learn how images are chosen.

Far more than a set of electronic flashcards, the multimodal vocabulary program facilitates a significantly deeper learning and retention. Students will readily master the frequent Vergil and Caesar vocabulary for the AP® Latin Exam and thereby devote far more of their study time and energy to reading and discussing De Bello Gallico and the Aeneid.

eyeVocab programs correspond to the following B-C books.

Caesar: Selections from his Commentarii De Bello Gallico
(218 words)

Vergil's Aeneid: Selected Readings from Books 1, 2, 4, and 6
(162 words)



Vergil's Aeneid: Books I–VI


(292 words)

eyeVocab for Latin for the New Millennium Level 1


(423 words)





(329 words)


Special offer —try eyeVocab for Latin for the New Millennium, Level 2 for free—one month trial for first 50 teachers who contact Miles Becker at sales@eyevocab.com.Introductory rate for each of the AP® Latin programs is $14.95. The LNM 1 introductory rate is $24.95. For site licenses, contact Miles Becker at sales@eyeVocab.com.




Click on each title to learn more.
The Pompeiiana Newsletter created and edited by Bernard Barcio ran from 1974 through 2003. The newsletter offered a place for Latin students to publish comics, stories, games, and articles, and was a beloved resource for Latin teachers. In 2008, Barcio granted Bolchazy-Carducci Publishers the rights for all of the Pompeiiana Newsletter. B-C is proud to serve as curator for this archive and has made the issues available for teachers, students, and friends of the classics. Check out http://pompeiiana.blogspot.com/
Each fall, Bolchazy-Carducci mails its Roman Calendar to Latin teachers across the nation. Folks on that mailing list should have received their copy by now. The calendar is also available in a digital format.

Preview Bolchazy-Carducci Titles

Preview Bolchazy-Carducci titles before you purchase using Google Preview.
---

Downloadable Products
iPodius - Bolchazy-Carducci Publishers online shop for: audio, software, video, and a treasure trove of teacher-created materials in the Agora.
---
BCP Facebook Fan Page
Become a FAN of Bolchazy-Carducci Publishers, visit our Facebook Fan page for the latest news from BCP.
---
BCP Blog
Visit the BCPublishers Blog for BCP news and information.
---
BCPublishers on Twitter
Follow us on Twitter

---
AP® is a trademark registered and/or owned by the College Board, which was not involved in the production of, and does not endorse, this site.
These products have been developed independently from and are not endorsed by the International Baccalaureate (IB).
By now, teacher readers are well into the thick of the new school year and some are looking at Homecoming already. Best wishes that the year has begun well, that retention of students and knowledge is strong, and that your students are staying the course.
It seems like ages ago that Connor Hart, our editorial and social media assistant, and I represented Bolchazy-Carducci Publishers (B-C) at the National Junior Classical League's annual convention. It's always a terrific experience to enjoy the enthusiasm of some 1,400 Latin students! NJCL also afforded me the opportunity to connect with teaching and editing colleague LeaAnn Osburn. In addition to offering the regular realia, learning aids, and other wares of her company, L & L Enterprises, LeaAnn was excited about her new line of jewelry with classical and mythological associations. Check out that "classic" jewelry.
Do check out the chock-full fall schedule for our complimentary professional development webinar series. We're very pleased with the variety of offerings including presentations about the two new books aligned with the IB Latin curriculum.

This issue brings you our usual features and as a back-to-school treat—a special 20% discount on orders made in the next two weeks. So, do take advantage!
National Junior Classical League Report

The 62nd Annual National Junior Classical League Convention was held at Trinity University in San Antonio, Texas, from July 27 to August 1, 2015. The Fiesta Room was open to book exhibitions July 29 to 31. B-C was represented by Don Sprague and Connor Hart. NJCL was Connor's first time representing B-C at a conference and he did a terrific job. We filled seven tables with many of our titles and other learning materials. Our attractive exhibit drew a steady group of lookers and purchasers. We were pleased that students were welcomed during all the exhibit hours. Teachers, adult chaperons, and students made the extra effort to come to the exhibit as it was located in the building next to the Student Union where registration and the sponsors' lounge were located.
The enthusiasm of students checking out our wares was truly inspiring. It's always terrific to witness the eagerness, determination, and commitment of students from a variety of backgrounds and from across the country. Equally significant, these special young people are polite, respectful, and appreciative. In particular, they appreciate the dedication of their Latin teachers and their willingness to sponsor an NJCL chapter. Kudos to all those NJCL Latin teacher sponsors!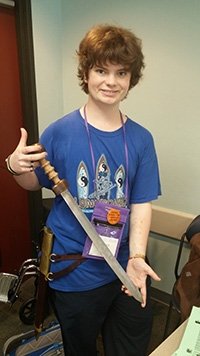 Robert Sanders of Ascension Academy in Amarillo, TX proudly shows the gladius he made himself. Robert noted that his handiwork consisted of authentic materials—metal, leather, and wood.

Teachers were drawn to the new International Baccalaureate titles that B-C has published to meet the current IB Latin curriculum. A couple students purchased an IB book for their personal study. Students were thrilled about the Dr. Seuss and Shel Silverstein books and took home almost the full supply we had brought. A number of students showed interest in our Greek language books, such as Plato Transitional Reader, Twenty Greek Stories, and others, primarily for independent use. In addition, several sought Greek history and culture titles for future NJCL prep.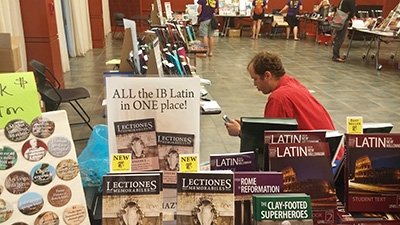 Connor Hart, editorial and social media assistant, with cell phone in hand tweets about B-C's NJCL drawing.
The new buttons proved a hit with attendees. Teachers and students alike donned the "classic" button they received from B-C in their registration packets. One young woman asked if we had a button with Cogito. Ergo sum femina. Perhaps, when we do buttons 3.0. In the meantime, we're very pleased with the 2.0 set.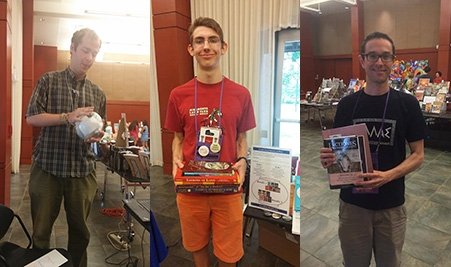 B-C's Connor Hart reaches into the fishbowl to pick winners from the student and teacher participants. As Fortuna would have it, both a student and a teacher won. Student Winston Durand, of Miramonte High School in Orinda, CA took home Bundle 1, a set of culture resource books, while Andy Ellis, a teacher at Anderson High School in Austin, TX, took home Bundle 2 with the IB volumes and some Cicero and Ovid texts.
NJCL and the other conferences we attend allow us to meet new teachers like Daphne Francois of Boston Latin Academy and old friends like Alice Sanford of Nashville who now teaches Latin part-time at a small private Christian school. She is pleased that Tim Russell succeeded her at Nashville's Hume Fogg Magnet High School. The meeting also provided us an opportunity to talk with Bob Cape about his presentation for B-C's winter webinar series.
The schedule for exhibiting at NJCL afforded Connor and Don the opportunity to "carpe diem" and enjoy our surroundings a bit. We enjoyed two dinners alongside the river on Wednesday and Friday. Thursday afternoon we hit the highway headed for Texas hill country and its wineries. We explored Main Street in Fredericksburg, a city founded by German immigrants, which was rediscovered in the '90s and is prized for its intact late 1800s / early 1900s streetscape. We caught lunch at the Buffalo Nickel where we were surrounded by a variety of mounted animal heads. After lunch, we enjoyed the Fredericksburg Winery where the salesman proved to be a very engaging raconteur. Then, it was off to the hinterland and the Chisholm Trail Winery.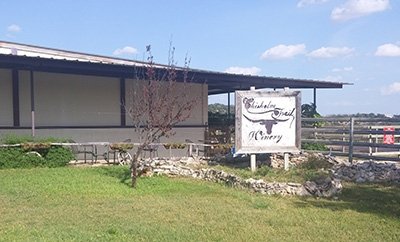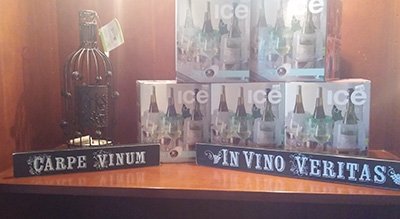 The exterior of the Chisholm Trail Winery, named for its location along the old trail down which cowboys drove the cattle on their way to Kansas City and Omaha. The tasting room boasts some phrases dear to the hearts of Latin teachers.
After packing up our exhibit Friday afternoon, we visited three of the five missions in the San Antonio area, all part of the National Park Service and recently accepted as a UNESCO World Heritage Site. Mission Concepción is mostly in ruins except for the church that continues to serve as a working parish church. It boasts a beautiful dome and bell tower. We then visited the Mission San José, also preserved as a functioning parish church. This site retains much of its perimeter wall and other elements of the mission community. The layout reminds one of the Roman castra. Our last stop was the Alamo, where the church never reached completion. It's an interesting history laid out both in a series of panels by the National Park Service and in the Daughters of the Republic of Texas (that title says lots!) museum. The interior of the never-completed mission church, however, is rather anticlimactic.
The opportunity both to exhibit at NJCL and to explore a bit of San Antonio and its surrounds were much appreciated.
Don Sprague
Editor and Liaison to the High School Community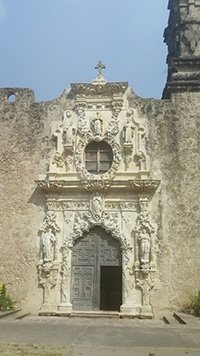 The Mission San José is renowned for the baroque decoration of the tympanum depicted here, and of the frame for its rose window.
Interview with Bridget Dean PhD
Managing Editor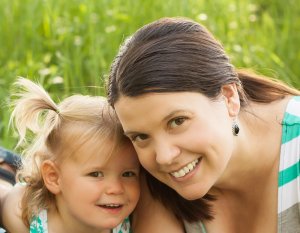 Proud Mom with her two-year old daughter Lizzie.
DES: Give us a little overview of your time with B-C. How long have you been working for
B-C? What attracted you to this job? What are your principal responsibilities?
BD: I've been working with B-C since part-way through 2011. After my undergraduate degree I debated between pursuing a career in editing or my PhD in classics. Life came full circle when just two years after receiving my PhD, I found a way to combine my interests. In addition, I get to keep some connection to the classroom through developing textbooks and working closely with teachers.

DES: What previous work and volunteer experiences have enriched your service at B-C?

BD: While I've volunteered (mostly in coaching young children) and worked in several industries that help my day-to-day interactions with customers (serving and working in a law firm come to mind), my time in the classroom has been the greatest asset. As you would expect, having been in front of a classroom helps me greatly when I'm evaluating a manuscript or advising an author on the extra features that could benefit those using their text. More surprisingly, due to the emphasis we place on customer service at B-C, my time in the classroom also helps me field phone calls from teachers who want help selecting texts for their courses.

DES: Could you share with us how you've found balancing your professional life with being the mother of a two-year old?

BD: The balance has been surprisingly easy. That is mostly due to how accommodating B-C has been to my needs. Even after I returned to work, B-C was wonderful about allowing me to adjust my start and end times to sync with the needs of my child. With number two now on the way, I can say that this is a wonderful place to work.

DES: What are your favorite off-the-job activities?

BD: I have to say most of these have changed now that I have a child at home. I used to play sports constantly—ice hockey, softball, tennis, and more. Nowadays, I spend my free time with my daughter and do a lot of reading after she goes to sleep.

DES: What do you enjoy most about your work at B-C?

BD: I like the ability to bring a needed text to the market. Following in the vision of our founder Lou Bolchazy, we do not limit our acquisitions by profit margins alone but often consider whether or not a given book "should" be available to teachers.

DES: Is there a special anecdote about your time at B-C that you'd like to share?

BD: This question follows perfectly from the previous one. A frequent conversation in acquisitions meetings with Lou would involve me or someone else on the committee explaining to Lou why a given text would not make a profit or even cover its own costs. We would try to explain that enough teachers could not use the text due to time, the specificity of the subject matter, or other constraints. Lou would end the discussion by saying, "They should."

Editor's Note: Despite Lou's conviction, the acquisitions committee respectfully but regularly outvoted him.


ThingLink is a web-based tool that enables us to enhance an image with links to more information, other images, YouTube video, and text. The process is very simple and begins with uploading your image to the ThingLink site. Then, you click on the spots in the image that you would like to say more about. Clicking on a spot puts down a marker or a "tag" in ThingLink lingo. Each tag can be connected to text that you type in, a website address, an image on the web, or a YouTube video. Once you've saved your tagged image you can easily share its URL with students. When viewers access your image, as they hover their mouse over the image, the tags will appear and the viewer can click on each tag to get the information that you have connected to the tags. I think that ThingLink is a great way to enrich maps. I have used it to create a tagged map of Jason's journey.
I'm planning on starting my AP Latin class this fall by having students create a tagged map of Gaul with information about the different regions Caesar highlights. When I introduce my Latin 1 students to the pantheon of Roman gods, I usually have pairs of students create a short presentation on their assigned divinity. This year, instead of a PowerPoint™, I'm going to assign the pairs to create a tagged image of their god or goddess using ThingLink. I can share the ThingLink pantheon with all the other students by providing them the links on the class website and then the students can see their classmates' work. To give ThingLink a try, visit
https://www.thinglink.com/edu
Lynne West
Bellarmine College Prep
San Jose, CA
Resources & Teaching Tips

√ Saving Teacher Prep Time

For new teachers and for veteran teachers who might not have seen this in a previous issue of eLitterae, please find a slightly revised version of this teaching tool.

For maximum time savings, teachers can use a scantron sheet or card for quick grading. Be sure, if it's available, to obtain an item analysis along with the grade report as the item analysis will tell you which items the students found particularly difficult. Based on that information, you can emphasize those case uses, constructions, etc. in later lessons.

Some students find a scantron answer sheet or a card a bit of a challenge. Mix it up, use the special answer sheet to be filled out by hand from time to time as an alternative. Students need only place the correct number or letter for the answer in the margin. For other students, choosing the correct answer from the master list of identification codes with all its options is a challenge. They'd prefer to pluck the answers from their head without being stalled by sorting through all the options. So, from time to time, at the expense of additional grading time needed, don't give students the master list of answer options; just remind them what C, CU, T, M, CO, and the like mean.

This system allows you to spend your test prep time and especially your grading time working on more complex items like short answer, translation, and translation sections. If you have questions about this system, don't hesitate to contact me, don@bolchazy.com.

For implementing this system, in addition to the master list of identifications hotlinked above, please feel free to use:
Special Answer Sheet for Identifications to be Written Out
Special Answer Sheet for Identification Answers Noted by Number
Sample Quiz/Test Section for Caesar 4.24.1–12

You can, of course, make additions and adjustments to the master list of identifications as needed.



√ A Myth Title to Check Out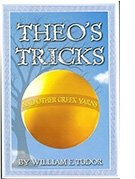 Retired Episcopalian minister William Tudor has transformed a lifelong love of Greek myth and Greek words into a myth-based tale, Theo's Tricks. Add this book to your classroom library as a great resource for those students who love myth and finding English words derived from the ancient Greek.




√ The Best Resource Possible


What better resource than your colleagues? And, with social media, access to your colleagues across the country and around the world! Join the Latin Teacher Idea Exchange on Facebook.

Sample items taken from the Latin Teacher Idea Exchange.
Experiential Learning
Make bread like the Pompeiians. Gratias tibi, Krystal Kubichek.
Roman Home Reconstruction House of the Vine, Melbourne Museum. Gratias tibi, Mark Pearsall.
More 3-D Reconstructions—Pompeii, Rome, Alexandria, Hadrian's Wall, and more! Gratias tibi, David Pellegrino.
√ The Best Spokespersons for Latin—Our Students!


Check out this student's proclamation "Yes, You Can Speak Latin."

√ National Latin Survey
Check out the first round of analyses from this national survey. The survey's director Elliott Goodman will be providing additional analyses in his presentation as part of B-C's winter webinar series.



√ Palmyra—Symbol of Multiculturalism


Sad to say that ISIS has wrought much destruction since this article was published but its discussion of ancient Palmyra as a symbol of multiculturalism is still worth sharing with your students.



√ Toga Beats


Have you checked out this wonderful program? Toga Beats presents grammar set to catchy electronic music that makes Latin, like a favorite song, stick in the student's head. Thirty tracks helps students master Latin's inflection. Test out this complimentary track with your Latin 1 class.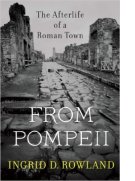 From Pompeii
The Afterlife of a Roman Town

It takes a bit of effort to get into this book, but the reader who stays with it will be amply rewarded with amazing details not only about Pompeii, but also about Mt. Vesuvius and Naples. What is unique is the depiction of the views of some famous people concerning Pompeii: Mozart, Dickens, Mark Twain, Renoir, Hirohito, Roberto Rossellini, and Ingrid Bergman. In some ways, the book could be classified as reception studies, and it is particularly fascinating to view Pompeii the way these famous people did.
Mark Twain visited in 1867, two years after the end of the American Civil War. He found Pompeii to be far more appealing than Naples (although he had sincere admiration for the Dominican friars who were missionaries to the urban poor of Naples). Not surprisingly, he describes his observations of Naples with some sarcasm and considerable wit. He commented that in Naples twice a year for eight days, priests demonstrate the miraculous liquification of the blood of San Gennaro. Twain noted that the amount of time the blood takes to liquefy varies according to the size of the crowd—taking forty-seven minutes when the crowd is large and as few as four minutes when the crowd is small.
Renoir discovered how the classical art of Pompeii was saturated in light and color—he loved its radiance. He reveled in the perpetual sunlight of Naples and his work began to reflect the impressions he gained relative to color and composition.
Rossellini cast Ingrid Bergman in Viaggio in Italia and filmed it in Naples and in the ruins of Pompeii. Bergman's character looks on as workers uncover the plaster bodies of a Pompeian man and woman. According to her daughter, Bergman cried when she reflected on the fact that she was looking at people and the messages they have left.
Rowland's coverage is quite broad. She writes of the development of a New Pompeii; it was planned in the 19th century by Bartolo Longo, whose mission it was to take care of the neglected souls living around the Bay of Naples. His partner, later his wife, was the Contessa De Fusco, who owned the land upon which New Pompeii was built and who had the status and social connections needed to move the project to completion. Later, the animosity of Pope Pius X toward Longo and his wife resulted in the couple being subject to an investigation. They were exonerated but only after they donated the sanctuary and all its institutions to the Vatican. Ultimately, in 1980, Pope John Paul II conferred on Longo the title of "Blessed," the first step toward canonization.
When visiting heads of state came to Naples, they were directed to Herculaneum as opposed to Pompeii—as it was easier to guard them in Herculaneum. However, when the Clintons visited, Hillary Clinton insisted that they visit Pompeii—she was described by one eyewitness as "volitiva" (determined). She was, however, prevented from entering a room with a statue of the god Priapus, who was endowed with a phallus of enormous proportions.
The book ends with a coda: Vesuvius will erupt again, and although the inhabitants in the area will have ample warning, no doubt some will refuse to be evacuated and will die as a result. In any event, even those who choose to leave will face a panicked evacuation. Neapolitans are used to bending rules, traffic and public transportation in the region is already packed, and overpasses and train tracks may buckle. What will happen to Pompeii itself remains to be seen. Until then, in Pompeii, as Rowland notes, juice sellers will still serve lemonade, the Hotel Suisse will still serve a fine lunch, and the sun will still smile down through umbrella pines.
Marie Carducci Bolchazy, EdD
President, Bolchazy-Carducci Publishers
---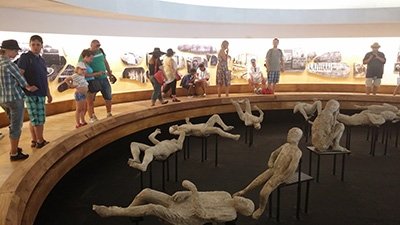 For a special exhibit associated with the Italian State's commitment to a multipronged project of renewal and preservation at Pompeii, all the plaster casts in the city are assembled beneath a wooden pyramid in the center of the amphitheatre.
Editor's Note: I almost missed this when visiting in June but my friends, whom I had left to explore the interior of the amphitheater on their own, made sure I did not miss this striking arrangement.


eLitterae Subscribers Special

BACK TO SCHOOL DISCOUNT OFFER
Receive 20% off your entire order!
But act fast, offer good for two weeks only.
This offer is valid for single copies, prepaid, no returns.
Discount is not available to distributors or
on products distributed by Bolchazy-Carducci Publishers.
This offer expires 10/11/15.
(Please note that there will be no adjustments on previous purchases. Offer is non-transferable and subject to change without notice.)
Enter coupon code

eLit09
15

on the payment page.
The special eLitterae offer pricing will be charged at checkout.