Prepping international Fellows for crisis management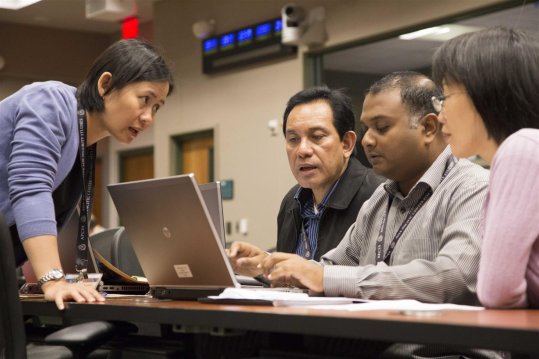 Effective response to a disaster or crisis is often a race against time, and in the effort to save lives, governments and other agencies must work quickly to deliver medical aid, food and shelter to affected populations. Success in such efforts can hinge heavily on the quality of coordination and cooperation across a wide spectrum of responding organizations. The Asia-Pacific Center for Security Studies challenged 114 international Fellows to hone their skills in this arena by tackling a simulated crisis exercise -- focused on a pandemic -- as part of the July 23 - Aug 25 Comprehensive Crisis Management course (CCM 15-1). The Fellows, hailing from 42 locations, completed the two-day capstone exercise prior to their Wednesday course commencement. CCM is an executive education program designed to educate and build resilient capacity among security practitioners for crisis preparation, response and recovery. In the photo above, Fellows team up on a crisis management exercise during a seminar session. To read more, click here.
Faculty members support Thailand national security workshop

At the request of the Thai National Security Council, APCSS participated in an Aug. 18 - 19 conference in Bangkok titled "Major Power Relations and Engagements in Southeast Asia." Participating faculty members included Dr. Alfred Oehlers, Dr. Rouben Azizian and Dr. Christopher Snedden. Among topics they covered were China, India, Russia, Japan, and Central Asia, and their significance in understanding security relationships in Southeast Asia. This was the second engagement between the Thai organization and APCSS. In this evolving relationship, the Center is assisting the Thai NSC in deepening its expertise across a number of high priority topics significant for Thailand's national security. More than 80 officials attended this conference, drawn not only from the NSC, but also from up to 22 services, agencies and ministries with responsibilities in national security coordination.
APOC 15-3 in session at APCSS

One hundred fifty U.S. and international Fellows from nine locations are taking part in the Asia-Pacific Orientation Course (APOC 15-3) Aug. 31 - Sept. 4. APOC provides an introduction to Asia-Pacific culture, politics, protocols and challenges, while addressing U.S. interests in the region. Attention is given to both historical and emerging issues.
Center welcomes international groups
APCSS played host to a number of international organizations this month. On Aug. 26, 65 guests from the Singapore Command Staff College (left), including Rear Adm. Giam Hock Koon, an alumni of Executive Course 05-3, visited the Center for discussions on regional security perspectives. Dr. Alex Vuving briefed the group on issues associated with the American regional "rebalance" and Dr. Rouben Azizian addressed challenges in the regional security architecture. Seventeen international journalists (middle) attending the East West Center's Senior Journalists Seminar visited APCSS Aug 27th. Journalists taking part in the 21-day SJS came from 11 countries and were focused on the topic "Bridging Gaps in US Relations with the Muslim World." The Center welcomed 17 participants in the U.S. State Department's International Visitor Leadership Program (right) Aug. 17 - 21. The group joined Fellows in the CCM 15-1 as role players in the course's capstone project, which challenged players to form strategies to overcome a simulated pandemic.
Dr. Justin Nankivell named new Associate Dean for Academics

| | |
| --- | --- |
| Dr. Justin Nankivell is the new Associate Dean for Academics at the Asia- Pacific Center for Security Studies. This APCSS position was formerly known as the Deputy Dean, College of Security Studies. The role has been redefined and expanded to include alignment of all facets of the APCSS executive education program with U.S. Pacific Command and Office of the Secretary of Defense policy priorities. An expert in international law, Nankivell has been at the Center since 2008. Prior to his appointment as associate dean, he served as an associate professor. U.S. Army Col. (Ret.) David Shanahan, who previously held this position, continues to serve as a faculty member at the Center. | |
Regionalism, Security & Cooperation in Oceania

is the latest book to be published by the Asia-Pacific Center for Security Studies. The book is edited by APCSS professor

Dr. Rouben Azizian

and

Dean of the College of Security Studies Carleton Cramer

.

The book is the result of a workshop on the regional security architecture held in August 2014 in Vanuatu hosted by APCSS and the Pacific Institute of Public Policy. Eleven workshop participants who are subject matter experts from across the region contributed chapters to the book. They offered an expert analysis and discussion of key trends, challenges, and opportunities for enhancing regional security cooperation and harmonizing Oceania's regional security architecture.
"Economic Statecraft, Structural Power, and Structural Violence in Sino-Kyrgyz Relations" is a new article by Dr. Jeffrey Reeves and published by Asian Security. According to the publication abstract: "this article employs the concepts of structural power and structural violence to undertake a critical study of China's use of economic statecraft toward Kyrgyzstan. The article argues that China's reliance on economic exchange to secure its strategic ends in Kyrgyzstan has resulted in asymmetric economic exchange between the two states."
Dr. Saira Yamin contributed a chapter titled "Sharia Law and Its Implications for Women's Status and Rights" to the new two-volume book Women, War and Violence: Topography, Resistance and Hope by editors Mariam M. Kurtz and Lester R. Kurtz. Her chapter appears in volume 1 and examines the relationship between Sharia (Islamic) law and the status of women in Muslim societies. In the book, Yamin explores how Sharia has been incorporated in legal and social structures and institutions, and reflects on implications for women.
| | |
| --- | --- |
| Understanding Kashmir and Kashmiris is a new book authored by Dr. Christopher Snedden. It provides a comprehensive, informed and even-handed narrative of the Kashmir dispute for a generalist audience. Snedden contextualizes the geo-strategic and historical circumstances surrounding the British decision to relinquish prestigious "Kashmir," and explains how they and four Dogra maharajas consolidated and controlled J&K subsequently. | |
| | |
| --- | --- |
| | "Engagement of Malaysia and Indonesia on Counterinsurgency in the South of Thailand," is a paper by recent graduate of the Advanced Security Cooperation course (ASC 15-1) Wassana Nanuam. She is a journalist with the Bangkok Post who writes on local and regional political and military issues. Nanuam addresses opportunities and challenges associated with Thailand's outreach to Malaysia as a partner in working a diplomatic solution to the violent insurgency in the nation's southern region. |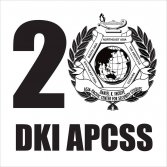 The APCSS 20th anniversary is Sept. 4. The Center will commemorate the event Oct. 6 with activities coinciding with Advanced Security Cooperation course (ASC 15-2). It will simultaneously mark its formal name change to the Daniel K. Inouye Asia-Pacific Center for Security Studies.

Aug 3: ADM Harry Harris, Jr., Commander, U.S. Pacific Command
Aug. 5: Mr. Hideshi Tokuchi, Vice Defense Minister, Japan
Aug. 10: Gen. Vincent Brooks, Commander, U.S. Army Pacific
Aug 18: Sen. Mazie Hirono, U.S. Senator, Hawaii
Aug. 27: Mr. Stephen Schwartz, Director, Office for Australia, New Zealnd, and Pacific Island Affairs, Bureau of East Asian and Pacific Affairs, U.S. State Department.
The 2014 APCSS Annual Report containing a detailed record of Center activities is now available here.
Our latest edition of Currents magazine, published June 30, 2015, is available
here

.
If you have a new email address, please update your subscription to ensure you are getting the latest APCSS updates. Mahalo.
If you have any questions, please contact the editor at hallj@apcss.org
| | | |
| --- | --- | --- |
| | | |
| | | |