Classical Conferences and Meetings in 2015

The water problem in the American Southwest has given rise to a new word grassicide used to describe several processes employed to kill the grass and restore the ground to a more water-sustainable set of plantings.
---
Raid's Coliseum Test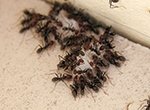 Ants feasting. Courtesy of Creative Commons: Fir0002/Flagstaffotos
---
Watch this clever ad incorporating the Coliseum.
Judith P. Hallett, Program Coordinator of CAAS and Professor of Classics and distinguished scholar-teacher at the University of Maryland, College Park, has been awarded the 2015 Lambda Classical Caucus Activism Award in recognition of her work promoting the rights and well-being of sexual minorities. Professor Hallett served as a contributing editor for Latin for the New Millennium, Levels 1 and 2 and is the coauthor of the BC Reader A Roman Women Reader: Selections from the Second Century BCE through Second Century CE.
Gratias multas tibi agimus. Ad multos annos, carissime amice!
Christine Sleeper, veteran Latin teacher and ACL member, died this past winter on February 15. An amazing woman, she had a pilot's license, became an air traffic controller, and served with the American Red Cross. At the daunting age of 54, in 1970, she entered the Latin classroom and left a blazing trail of excellence including the founding of the National Latin Examination. A number of the ACL Institute participants journeyed right after the conference to New Hampshire to celebrate this remarkable woman and attend a memorial service in her honor. For Christine's obituary, check out the spring NLE Newsletter.
A number of instructors have inquired about a Teacher's Guide for the very popular
Ecclesiastical, Medieval, and Neo-Latin Sentences by Richard Upsher Smith, Jr. who designed the text to accompany Wheelock's Latin. Rest assured, the Teacher's Guide is in the works!
ALL the IB Latin in One Place!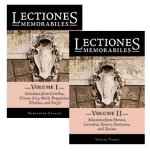 We, and especially authors Marianthe Colakis and Yasuko Taoka, worked sedulously on a tight deadline to prepare two new books that provide all the prescribed Latin readings with IB appropriate notes and background materials for the IB curriculum with exams beginning in 2016.






Click below to learn more about these books and to order exam copies.

Bolchazy-Carducci Publishers provides eTextbooks on a variety of eBook platforms. Bolchazy-Carducci textbooks are available through VitalSource,

GooglePlay

,

Chegg

, Copia, RedShelf, Adams Book, Follett,

MBSDirect Digital

, and ESCO. Each eBook platform offers a variety of tools to enhance the learning process. eBooks have the same content as our traditional books in print.
eBooks are purchased from the eBook provider. For direct links to purchase Bolchazy-Carducci eTextbooks, visit the title's product page on Bolchazy.com. Just above the product description there is a list of the eTextbook providers and a direct link to purchase the eTextbook. Some eBook providers sell directly to schools—check with your school to make these purchases.
You can read eBooks on a Mac, PC, iPhone, iPad, Android, or a variety of eReaders. Review the eBook providers specifications.
The eyeVocab software leverages human memory for distinctive affective images* presented in isolation to radically improve the speed, depth, and permanence of second language vocabulary acquisition. Images are drawn from classical art, both western and eastern, from photojournalism and historical photography, great book illustration, and other sources.

*Learn how images are chosen.

Far more than a set of electronic flashcards, the multimodal vocabulary program facilitates a significantly deeper learning and retention. Students will readily master the frequent Vergil and Caesar vocabulary for the AP® Latin Exam and thereby devote far more of their study time and energy to reading and discussing De Bello Gallico and the Aeneid.

eyeVocab programs correspond to the following B-C books.

Caesar: Selections from his Commentarii De Bello Gallico
(218 words)

Vergil's Aeneid: Selected Readings from Books 1, 2, 4, and 6
(162 words)



Vergil's Aeneid: Books I–VI


(292 words)

eyeVocab for Latin for the New Millennium Level 1


(423 words)





eyeVocab for Latin for the New Millennium

Level 2 is forthcoming.

Introductory rate for each of the AP® Latin programs is $14.95. The LNM 1 introductory rate is $24.95. For site licenses, contact Miles Becker at sales@eyeVocab.com.




Click on each title to learn more.
Webinar Schedule
will be published in the September issue of eLitterae.
What Equipment Do I Need for B-C Webinars?

To participate in Bolchazy-Carducci Publisher sponsored webinars you will need high-speed internet access, computer speakers/headphones, current web browser, and the link to the webinar virtual meeting space, which is provided in your webinar invitation.
Webinars Make for User-Friendly Professional Development

Participation is free. All webinars provide opportunity for participants to ask questions. Learn lots—attend as many presentations as you can. Bolchazy-Carducci Publishers provides documentation for your participation. You can share this with your supervisors. Many webinar presenters provide handouts, etc.
The Pompeiiana Newsletter created and edited by Bernard Barcio ran from 1974 through 2003. The newsletter offered a place for Latin students to publish comics, stories, games, and articles, and was a beloved resource for Latin teachers. In 2008, Barcio granted Bolchazy-Carducci Publishers the rights for all of the Pompeiiana Newsletter. B-C is proud to serve as curator for this archive and has made the issues available for teachers, students, and friends of the classics. Check out http://pompeiiana.blogspot.com/
Each fall, Bolchazy-Carducci mails its Roman Calendar to Latin teachers across the nation. Folks on that mailing list will be receiving their 2015–2016 copy soon.
Preview Bolchazy-Carducci Titles

Preview Bolchazy-Carducci titles before you purchase using Google Preview.
---

Downloadable Products
iPodius - Bolchazy-Carducci Publishers online shop for: audio, software, video, and a treasure trove of teacher-created materials in the Agora.
---
BCP Facebook Fan Page
Become a FAN of Bolchazy-Carducci Publishers, visit our Facebook Fan page for the latest news from BCP.
---
BCP Blog
Visit the BCPublishers Blog for BCP news and information.
---
AP® is a trademark registered and/or owned by the College Board, which was not involved in the production of, and does not endorse, this site.
These products have been developed independently from and are not endorsed by the International Baccalaureate (IB).
Whither has summer run? It seems like ages ago that I was in Italy in June conducting a tour of Rome, Tuscany, Amalfi, and Campania. Already schools in Georgia are beginning classes! I received an announcement for my own faculty orientation on the 15th! And, I have so many projects still to do . . .
If you're looking for some engaging material to enrich your classes, check out the teaching resources and tips in this issue. While our regular Tech Tip advisor Lynne West has been studying on a Fulbright this summer and presenting a workshop on technology in the classroom for teacher, we present an exciting new source for material on Rome—Ancient Rome Live—and an interview with its founder Darius Arya.
The summer was punctuated by the sad occasion of the passing of Barbara McManus, a wonderful person, a dedicated servant of the classics community, and a respected scholar. It was my pleasure to share a Vergilian Society Campania program in 1979 with Barbara and then again to share a Roman Britain program. It was a regular delight to connect with her at APA meetings and more recently at CAAS conferences. Barbara's CAAS colleagues wrote a beautiful tribute. Requiescat in pace.
May Barbara's dedication inspire us all in our endeavors on behalf of the classics community of learners.
American Classical League Report

The 68th Annual Institute of the American Classical League was held at the University of Connecticut in Storrs, Connecticut, from June 26 to 28, 2015. B-C was represented by Marie & Allan Bolchazy, Don Sprague, and Laurel Draper. An attractive exhibit of six tables packed to the max displayed B-C's books from the BC Readers to the AP Latin materials and Latin for the New Millennium. While traffic at the exhibit was brisk, the conference afforded B-C reps time to catch up with authors and to address concerns and questions from teachers. Marie was pleased to autograph some of her I Am Reading Latin books.
Comments from LNM users revealed that some are not aware of the resources provided in the Teachers' Lounge. From additional readings for Level 1 to a Quia test bank for Levels 1 and 2 and a variety of worksheets, maps, and other materials, the Teachers' Lounge provides a variety of materials from B-C and hosts an abundance of materials created by teachers using LNM. For example, the Lounge provides an LNM 1 // NLE 1 correlation. No matter what textbook series a teacher uses, she has to supplement and/or accelerate the introduction of some topics. For instance, LNM does not present all the tenses as early as other books do. Some teachers do this NLE instruction in class, while others provide students resources for learning on their own.

The ACL Institute served as a launch for B-C's two volumes to meet the current International Baccalaureate Latin examination curriculum. Lectiones Memorabiles: Volume I: Selections from Catullus, Cicero, Livy, Ovid, Propertius, Tibullus, and Vergil by Marianthe Colakis and Lectiones Memorabiles, Volume II: Selections from Horace, Lucretius, Seneca, Suetonius, and Tacitus by Yasuko Taoka quickly sold. Not only did IB teachers welcome these new books but others thought the anthologies would serve an intermediate college class or an upper level high school class quite well.

The new buttons were a hit. People also were thrilled with our "Buy a book, get a (classic) button" promotion, where we gave away the old buttons. (Look for the September issue of eLitterae for a special feature on the new buttons.)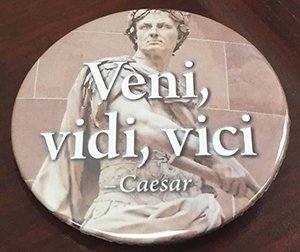 Teachers continued to tell us about their schools dispensing with paper workbooks and textbooks and now others shared that their department or their schools were abandoning that route. Unfortunately, texts like A Notebook for Caesar and A Notebook for Vergil don't work digitally, with the ready possibility of cutting and pasting, copying, etc. Students have to write in them at home and bring just the notebook to class. That makes them very teacher-friendly as teachers can walk around the room and see who has or has not done her homework. The Vergil and Caesar workbooks are, however, available digitally.
Participants faithfully attended the many presentations and panels on the program. During those time slots, traffic in the exhibit room thinned considerably. B-C folks made sure to attend two presentations featuring B-C authors. Don and Marie attended a panel organized by BC Readers editor Ronnie Ancona entitled "A Little Lucan Goes a Long Way: The Value of Introducing Lucan's De Bello Civili into the Secondary School Latin Classroom." The other presenters joining Professor Ancona were graduate students who had studied Lucan and the BC Latin Reader with her. The backgrounds of these six Hunter students were amazingly diverse. Several had started out with a focus on business before deciding to become secondary Latin teachers; one was the winner of the 2015 Sally Davis award. The topics were also diverse: one presenter compared the writings of Lucan and Edgar Allan Poe, another compared Caesar's and Lucan's descriptions of the crossing of the Rubicon, and another compared Lucan's views on the Roman Civil War with an American perspective of the American Civil War.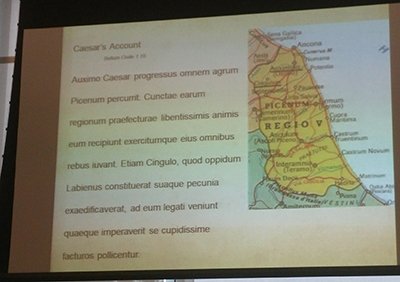 For a post AP Latin Exam activity, have students compare Caesar's and Lucan's accounts of the civil war.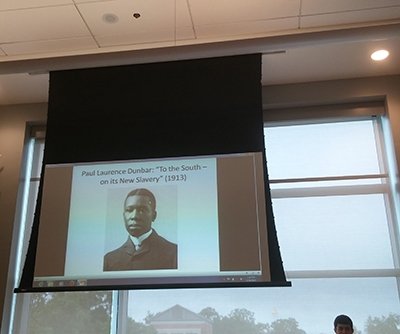 For a cross-disciplinary unit, have students compare Lucan to Paul Lawrence Dunbar's poem on the American Civil War.
Laurel graciously served as power point clicker for Rose Williams's presentation "New Spain or New Rome? Hispanic Work in the New World." Rose kept a group of 15 or so, including Don, engaged as she presented various aspects of Roman influence in New Spain including references to the authors and works in the forthcoming new text Rose has enthusiastically constructed—Latin of New Spain. The session concluded with small group work translating three Latin passages and then a question and answer period. Rose was very pleased with the response and reported that a number of people followed up with her following the presentation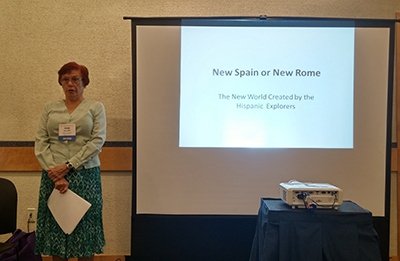 Rose Williams opens her talk.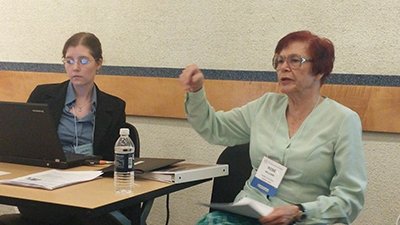 B-C editor Laurel Draper assists an animated Rose Williams.
Attendees break into groups for translation exercises.
Both Marie and Don attended Saturday evening's award ceremony. Adam Blistein of the Society of Classical Studies received a certificate of appreciation for his service. Adam, who will be retiring next June from his position as SCS executive director, worked tirelessly to ensure collaboration between the ACL and the SCS. Bob Patrick of Parkview High School in Gwinnett County, Georgia was presented the SCS/ACL award for outstanding pre-collegiate teaching. The ceremony also recognized National Latin Exam scholarship recipients and their teachers.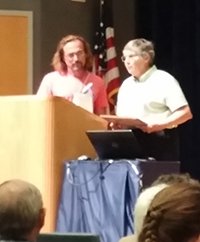 ACL president Kathy Elifrits presents Bob Patrick his SCS/ACL award.
B-C authors Rose Williams and Marianthe Colakis joined the B-C group at our banquet table. Emeritus/emerita awards were given to (1) John Traupman (Conversational Latin)—in absentia—Ronnie Ancona accepted for him and shared some remarks John had sent to Sherwin Little; (2) Virginia Blasi (she praised Lou in her acceptance speech); (3) David Pellegrino (AP Latin Vocabulary Cards); (4) Cindy Caltagirone, ACL technology guru; and (5) David Perry, who was unable to attend the 2014 ACL to receive his award. After dinner, Stan Farrow played the piano and we all sang songs both in English and in Latin. At the request of Judy Hallett and in honor of the Supreme Court decision validating same-sex marriage, we sang "Over the Rainbow" including Judy's Latin version.

Allan, Marie, Laurel, and Don left the Institute pleased with the success of the B-C exhibit and inspired by the dedication and enthusiasm of the ACL attendees.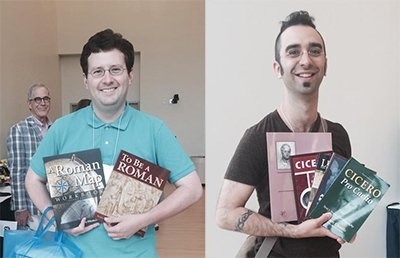 Congratulations to the winners of our book bundle drawing at ACL! Paul Giblin (left) won a bundle of Roman culture resource books and Lance Piantaggini won a bundle of Latin author books including the two IB volumes.
Interview with Laurel Draper
Assistant Editor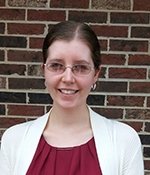 DES: Give us a little overview of your time with B-C. How long have you been working for B-C? What attracted you to this job? What are your principal responsibilities?
LD: I've been a full-time employee with B-C since May 2011. My career here began as an internship in the summer of 2010; I found out about the position when I asked a professor if he knew of any summer job openings, preferably in publishing and related to classics. I double-majored in English and classical languages, so working for a classics publishing company appealed to me as a way to use the skills I had developed while also indulging my love of books.
As assistant editor, I work on books at all stages, from acquisitions and development to proofreading. I am the primary editor for some books, while for others I do a particular stage, such as copyediting or proofreading, for another editor's book. Other responsibilities include writing and editing some of our marketing pieces, including the Roman Calendar and the high school catalog. I also represent B-C at some of the conferences we attend each year.
Editor's Note: Based on the high quality of her work, Laurel was promoted to assistant editor this past spring.
DES: What previous work and volunteer experiences have enriched your service at B-C?
LD: I tutored other students in several subjects while in college. The students had a wide variety of reasons for taking the courses, of background knowledge, and of approaches to learning and studying. Learning how to explain the same content or concept in different ways has helped me think about how the textbooks I edit can be more useful to students with different backgrounds and needs.
DES: Recently you undertook a medieval Latin course. Could you talk about your reasons for doing so? About the experience?
LD: A recent ACL newsletter advertised that Dr. Elza Tiner at Lynchburg College was offering an online medieval Latin class that featured a significant pedagogical component. Since one of B-C's goals is to publish a title related to medieval Latin every other year or so, the course appealed to me as a way to be better prepared to edit medieval Latin textbooks while also considering the material from a teacher's perspective.
The class featured reading and translating selections from medieval Latin, then preparing annotations of the passages for students as well as constructing lesson plans. The course also featured a paleography component. I was fascinated to find that many institutions, including the British Library, have been digitizing the manuscripts in their collections and have made the images freely available on their websites.
DES: What are your favorite off-the-job activities?
LD: I enjoy reading in a variety of genres, bicycling (especially to the library), and visiting the Chicago Botanic Garden.
DES: What do you enjoy most about your work at B-C?
LD: The most enjoyable part for me is developmental editing, which is the stage when we consider what should be added, revised, or expanded to make the book more useful for the students who will use it.
DES: Is there a special anecdote about your time at B-C that you'd like to share?
LD: I began studying Latin in high school and still have a handful of T-shirts that feature Latin phrases. Sometimes when I'm out running errands a Latin teacher or former classics student will ask about my shirt, and I'll get to share about working at B-C.
Interview with Darius Arya, founder of Ancient Rome Live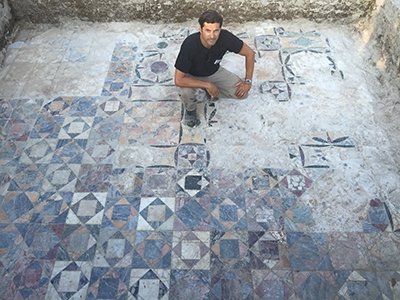 Darius Arya standing on one of the newly restored opus sectile floors of a late antique domus from this year's dig in Parco dei Ravennati, part of Ostia's suburbium. The decorations rival the late antique houses of Ostia like that of Cupid and Psyche.

DES: Let's start with Ancient Rome Live. What's it all about? What are your hopes for it?
DA:
Ancient Rome Live . . .
We're committed to presenting ancient Rome and the classics in accessible, engaging formats that are also educational and accurate. We also know that if the content isn't cool enough then no one will watch it. So, after committing so much time to social media conversation, we think we've got a winning format. We'll have to see, of course.
Previously, we have been busy on our wedigrome YouTube channel (Ostia Antica, Digging History, a promotion of the Alto Medioevo Museum in EUR for the Italian Ministry of Culture and Fastionline videos. They were not enough.
We've now created a larger platform—with a stand-alone website that is intended to be THE destination for video content on ancient Rome. (The app is to follow this fall!)
The website is clean and straightforward. The videos are reliable, accurate, and fun. And they are on a sustainable platform. Years from now, the videos will still be available—so the site, reliable for the long term, can be a go-to hub for educators and students.
The videos also have original animations that we've produced as well. So the content is one-of-a-kind and engaging.
All other cited material has been vetted, and we have permission to use—for a winning package of information in short-hand presentations, 2–4 minutes long.
We think that ARL will succeed in being an important online resource!
DES: How do you see the average high school teacher using Ancient Rome Live?
DA: The videos are bite-sized and very specific. For example, for the video on the hills of Rome, we created seven videos, one on each hill, plus a summary video on all seven. Educators can go the library and choose a topic and assign individual videos for a larger group discussion. The app will include a series of lesson plans as an added resource.
DES: What inspired you to develop this fascinating program?
DA: I've had a lot of experience with TV—and after so many History and National Geographic programs, I figured that we would create our own team, our own format, solely driven to engage and inspire. Thus, we embarked on creating short videos, getting to the core monuments, emperors, and topographical regions for starters. Then we'll move on to more complex issues.
DES: Tell us a bit about your own academic background and what led you to pursue studies of the classical world.
DA: I fell in love with classics through reading ancient mythology at 12 years old. Then I picked up Latin and Greek, eventually traveling to and studying in Europe, in particular Italy. I have a PhD in classical archaeology, years of doing research in Rome (Fulbright, American Academy at Rome fellowship), and 15 years of teaching in Rome, on location, in addition to 13+ years field experience in Rome and Ostia Antica. I love working on location—and teaching on site. It's hard to beat also living in Rome on a daily basis!
DES: What are the other components of the American Institute for Roman Culture?
DA: We currently are focused on
1. social media interaction (Facebook, Instagram @saverome and @airomanculture, Twitter @saverome and @airomanculture, Periscope live streaming: Darius Arya/ @saverome)
2. conservation, site preservation efforts (with ICCROM, Ministry of Culture)
3. summer excavation program at Ostia Antica and new high school programming
4. video production, leading to new app for ARL this fall.
DES: What excavations are you currently pursuing?
DA: The Parco dei Ravennati, the suburbium of Ostia Antica . . .
It's an investigation of a virtually unexplored area—but one of vital importance to understanding Ostia's transition in late antiquity and abandonment in the early medieval period. Check it out at
http://romanculture.org/programs/current-field-school-excavation/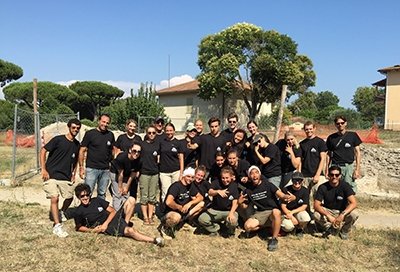 The Parco dei Ravennati 2015 excavation team—staff and students.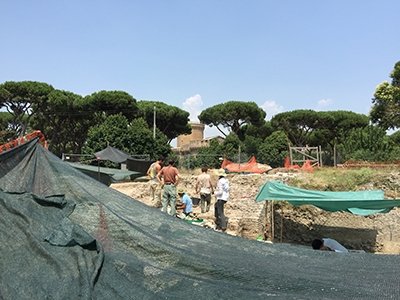 Keeping cool in the shade. Dig site (with sections in the shade, under netting) with Pope Julius II's Renaissance castle of the Borgo in the background.
DES: What's your favorite ancient site in Rome? Please explain. And, what's your favorite place to eat in Rome? Please explain.
DA: It's really hard to beat the Roman Forum. From any angle above (Palatine and Capitoline hill overlooks), or just walking through it—this is where history happened, in every corner, on every stone.
Favorite place to eat—tough to say—as it will vary from the type of food—fish, pasta, steak or fried artichoke. I can safely say, however, that I absolutely love shopping for fresh vegetables in Campo de' Fiori, where I live.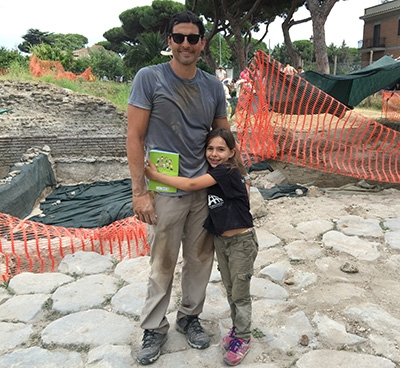 Darius with little helper, his younger daughter Xanthe, at the Parco dei Ravennati dig site 2015.
Editor's Note: Check out Ancient Rome Live (created by Darius Arya, hosted by AIRC) as a great resource for integrating material culture into your classes. As Darius says, "Ancient Rome was the world's first metropolis. When we explore the city's remains and try to reconstruct the past we realize just how 'modern' it was, a sophisticated, crowded, thriving cosmopolitan center. It's also difficult to fathom that rich past, over its foundation, rise, and fall. Ancient Rome Live is a new blended learning platform with video, social media, livestreaming (via Periscope), app and website that explains that past and links ancient Rome to our contemporary world."
Resources & Teaching Tips

√ Looking for some end-of-summer or gearing up reads?


Smithsonian Magazine recently published some gems.

The Coliseum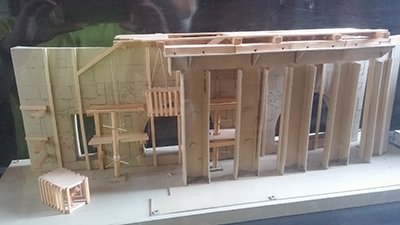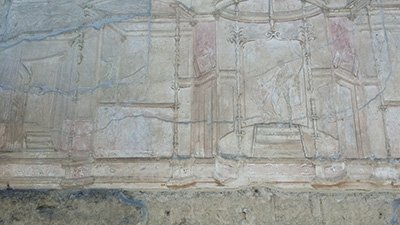 The glorious stucco work at the Stabian Baths, Pompeii. Photo by Donald Sprague.



Archaeology also offered some engaging articles.

Augustan Rome
Papyri from Herculaneum
√ The National Geographic Society has launched a new bimonthly publication National Geographic History.
The first April/May issue contains articles on the Seven Wonders of the Ancient World and Pompeii while the June/July issue includes "Rome: From Myth to Empire," "Aristotle, the Father of Modern Thought," and a piece on the Rosetta stone.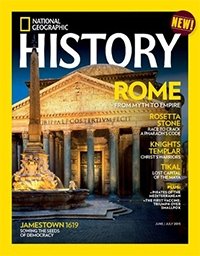 √ Pluto


The NASA mission to Pluto sent magnificent photos back to earth that wowed folks in July. This first planned mission into the Kuiper belt merits exploring classical connections.

The New Horizons website discusses the role of classical (primarily Roman) mythology in the naming of Pluto and its moons.

The International Astronomical Union (IAU) is the international governing organization for the naming conventions and names of astronomical objects. They're the ones who delisted Pluto as a planet. Check out the IAU Planetary Working Group naming compendium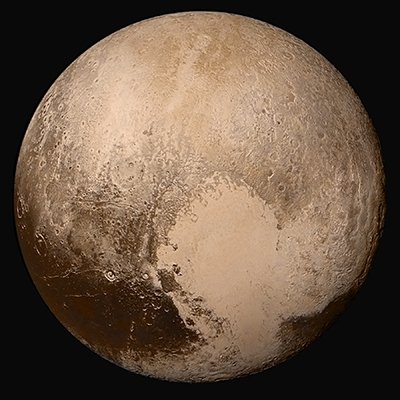 Pluto in its true colors. Photo courtesy of NASA.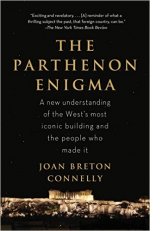 The Parthenon Enigma
by Joan Breton Connelly
The Parthenon of Athens, that iconic building, with its beauty and fine proportions, is a paragon of architecture. The author provides extensive documentation not only about the building itself but also about the period of time in which it was designed and about the people who made it. Thucydides, Euripides, Cicero, and Plutarch are just a few of the authors she cites.
The range and depth of coverage of The Parthenon Enigma is breathtaking. As one would expect, Connelly writes that the building is based on a ratio of 4:9 and the precision with which the ratio is observed is astonishing. Connelly also makes the case that, contrary to popular opinion, Greek temples were not white but were extensively painted with bright colors. When the Parthenon marbles had been prepared for molding with prewashes of lyes or acids, vestiges of color would have been removed. However, laser surface cleaning from 200
6 to
2009 has revealed traces of paint on the west frieze. Connelly also notes that Isadora Duncan performed an ecstatic dance within the Parthenon's colonnade; that Virginia Woolf wrote that her own ghost met her at the Parthenon when she was 23 and that it was more splendid when she viewed it again at the age of 50; and that the Parthenon served as a Christian church for several centuries. She recalls the outrage of Lord Bryon, expressed in the poem "The Curse of Minerva," of the sacrilege of Elgin removing the marbles from Greece.
What I found especially fascinating is her coverage of the discovery of new fragments of Euripides's lost play Erechtheus, peeled from mummies brought to Paris by Pierre Jougnuet. Connelly writes that the casings of many mummies from Hellenistic Egypt were papier-mâché made up of discarded scraps of papyrus. The ink on those paper scraps did not dissolve. Papyrologists eventually were able to separate the papyrus layers and found new additions to Erechtheus. So how does a Hellenistic papyrus text transform our understanding of the Parthenon? For one, the newly recovered fragments provide the closing speech of Athena commanding Poseidon to leave Athens in peace and commanding the widowed Queen Praxithea, in language like that of sacred laws establishing cult places, to establish a sacred precinct for her husband Erechtheus and for her maiden daughters. Athena sets Praxithea as priestess over what becomes the Erectheum and the Parthenon.

Sometimes I found the amount of detail in this book daunting and I will admit that I skimmed portions of the text. However, the text contains much information about the Parthenon and can be used as a reference book. General readers with an interest in Greek history and architecture will value the book, especially if they are planning a trip to Athens. Connelly provides detailed information about the friezes carved on the building. Visitors using this book as a guide can make their trip to the Parthenon far more meaningful. However, given the extensive scholarship found in the book, it will appeal even more to those who have devoted much of their lives to the study of the ancient Greek world.
Marie Carducci Bolchazy, EdD
President, Bolchazy-Carducci Publishers
---
eLitterae Subscribers Special 40% Discount

Take advantage of the discount price on one, two, or three titles from the ever popular BC Latin Reader Series.

A Lucan Reader: Selections from Civil War
by Susanna Braund
ISBN: 978-0-86516-661-5
Paperback, 168 pages
Price:

$19.00

$11.50

A Roman Women Reader: Selections from the Second Century BCE through Second Century CE
by Sheila K. Dickison and Judith P. Hallett

A Roman Army Reader: Twenty-One Selections from Literary, Epigraphic, and Other Documents
by Dexter Hoyos
ISBN: 978-0-86516-715-5
Paperback, 264 pages
Price:

$19.00

$11.50
This offer is valid for up to five copies per title,
prepaid, no returns.
Discount is not available to distributors or
on products distributed by Bolchazy-Carducci Publishers.
This offer expires 09/15/15.
(Please note that there will be no adjustments on previous purchases. Offer is non-transferable and subject to change without notice.)
Enter coupon code

eLit0815

on the payment page.
The special eLitterae offer pricing will be charged at checkout.