In AcroYoga we speak of Center of Gravity in an architectural sense ~ our COG over our own bodies, and our bodies in tandem when we are balanced on partners in various configurations. On the Slackline or on a solo yoga mat we find our rootedness too, for stability that establishes our ease, flow, freedom and self-expression.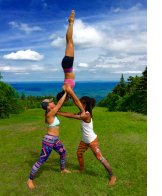 Personally, I find that my most rooted moments in life are when I have created an intersection of having both a vertical axis and horizontal axes in my relationship to the world.

That is, the vertical alignment of my spirit with Spirit serves to root me vertically, top-down. And then the horizontal connections I have on the earth plane, with everyone I meet, know, love, and relate to, intersect with the vertical line, and together they create my moving point in space, a moveable COG.



Then I am rooted even when I am moving very fast. I am anchored even when flipping or twirling. I am traceable and trackable in the cosmos, like a pin I can drop at any time and send to myself. I am safe and grounded even when change swirls around me - when I create the vertical axis, the vertical connection, access really, with prayer and meditation. To daily find myself, I find my awareness of a vertical axis to pinpoint my place in time and space. This is the 4th niyama, 4th inner practice ~ our finding Svadhyaya, Sacred study or Self study.



Where and how do you drop your pin? Where, how do you locate yourself on the map of the cosmos? My Google map, I realize, needs two coordinates ~ a vertical line as well as horizontal relational lines.

I rediscover time and again the beauty of longitude, to give meaning to latitude.

Upcoming Events:

Aug 1-2: NY AcroFest "Trust, Move, Play" The Muse Brooklyn
Aug 22: Summer Restorative Treat, 2-4PM Pure Yoga Eastside
Aug 20, 27, Sept. 3: Thai Me Up! 3 Thur eves Om Factory USQ
Sept 13: AcroYoga Yoga Vida, 2-4pm, 99 University Place, NYC
Sept 19: Acro 101, 2-4PM Om Factory Fashion District, NYC
Sept 26-30: AcroYoga Elemental Immersion, w/K.Capano, NYC
Oct 23-25: Fall Freedom Yoga Weekend Retreat, Catskills, NY

Pure Yoga New York Weekly Yoga Classes:
Pure Yoga Eastside - 203 E.86th St. (3rd Ave)
Monday: 10:30-12:00 Slow Flow Meditation
Tuesday: 12:30-1:30 Restorative
Thursday: 5:30-6:30 Vinyasa 1/2
Friday: 5:30-6:30 Restorative
Pure Yoga Westside - 204 W.77th St. (Amsterdam Ave)
Friday: 11:30-12:30 Restorative

Om Factory Weekly AcroYoga Classes:
Fri: 7:30-9:15PM AcroYoga Flow Open Level, Fashion District
*1st Fri/Month 9:30-11:30PM AcroYoga JAM, Fashion District
*Aug 7 JAM is changed to July 31st in honor of NY AcroFest
+Aug 10: sub Monday 5:30 AcroYoga Solar Open Level, USQ
+Aug 10: sub Monday 7:15 AcroYoga Lunar Basics, USQ

NYC Elemental Immersion Sept 26-30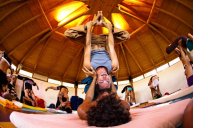 Dive deep into the richness of AcroYoga in a way you cannot do in regular classes or workshops. The Elemental Immersion is two mini immersions in one: both solar and lunar, both acrobatic and therapeutic. These represent 30 Yoga Alliance CEU contact hours for RYT teachers, and the 5-day Immersion fulfills one requirement toward AcroYoga Teacher Training. With the lovely Katie Capano and myself! There is not another NYC Elemental for a year!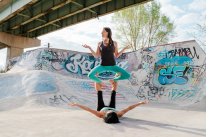 There are weekend options and 5-day options. Early Bird $100 discount ends Aug. 24th! Payment plans available. No prior experience required; we will bring you up to speed. And no partner needed. Partners and friends R Us! Check out this info video on Elemental Immersions.

Fall Freedom: Yoga Adventure Weekend Retreat Oct 23-25

Come away from the urban jungle and breathe some beautiful fresh air with us on Wagging Tail Farm and Yoga Studio's 100 acres of woods, fields, garden, and gorgeous historic farmhouse, which will house our retreat and residence from Friday evening until Sunday after lunch.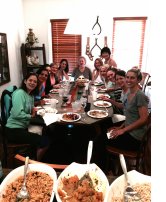 Enjoy a variety of Yoga styles to soothe, challenge, balance and restore you. Share our catered meals, book a massage if you'd like to! Go for a hike, swing in the hammock, or learn Slackline Yoga as well as enjoy partner AcroYoga, Thai Massage, Vinyasa Flow and Restorative Yoga.

Friends and family, take advantage of our $25 Friends discount for two coming with us together.

Privacy; Photo Credits; Forward; Reply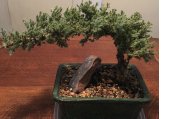 I value your privacy and do not share email lists. Feel free to Forward any time or Reply, Subscribe or Unsubscribe. Thanks for photos this issue go to: Wari Om, Adachi Photography, Kadri Kurgun, Charles Lee, Linda Mittel.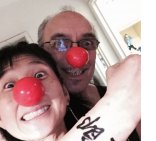 My schedule always appears, updated at www.maryaranas.com.
Have a wonderful summertime!
Ommmary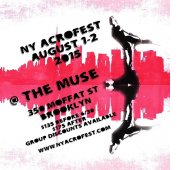 The 4th Annual NY AcroFest abounds with jubilation and variety! There is still time to buy a 1-day or 2-day pass and taste the very inclusive, festive summer fun!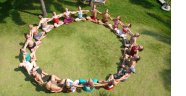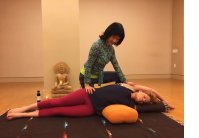 Summer soother, summer prices! Why not treat a friend or family member, to "Spa Yoga" with you?

Two hours of yummy yoga rest with nurturing touch, supportive bolsters, aromatherapy, and guided meditations! All levels.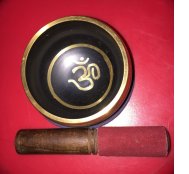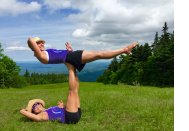 Join me as a fellow student in the 3-week AYfit, AcroYoga partner fitness series at Union Square's Flight School 7/30, 8/6, 8/13. Check out the Fierce & Fit workshop too, on August 15!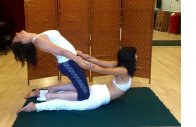 Then, join me as your teacher in the 3-week Thai Me Up: Candlelit Thai with Gina Newlin and myself: 8/20, 8/27, 9/3.

Drop-in, or full series for a savings. 7:15-8:45.

I have two AcroYoga Foundations workshops in September!
Yoga Vida in Union Square on 9/13, Om Factory in Time Square, on 9/19! Both are 2-4pm. No partner needed!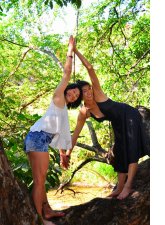 I am delighted to join forces with the beautiful new Nuansa Spa on Fifth Avenue and 49th Street. From their signature Sodashi aromatherapy treatments including scrubs, facials, and select table massages, to Awakening Thai yoga bodywork both on the mat, and in the sky with flying therapeutics, take a look at Nuansa Spa's menu.

I enjoyed the soothing Soul to Sole massage with aromatherapy. Excited to treat my relatives to Nuansa when they visit!