Writer's Center and NaNoWriMo to Provide Free Writing Workshops
From writing your memoir or the next great novel to authoring children's books and developing catchy openings or songs, The Writer's Center (TWC) and NaNoWriMo can help. These organizations will be leading a series of free writing workshops during the sixth annual Gaithersburg Book Festival, May 16, from 10 a.m. to 6 p.m.
Interested participants can join the workshops on a first-come, first-served basis by registering in the workshop tent on the day of the festival. Designed for participants ages 16+, the workshops include:
Writing the Memoir – 10:30 a.m.-Noon
Presented by Sara Mansfield Taber
In this 90-minute workshop, Sara will review the key building blocks that make for a vivid life story and gives participants an opportunity to try the tricks of the trade through writing exercises. Sara is the author of "Dusk on the Campo: A Journey in Patagonia," "Of Many Lands: Journal of a Traveling Childhood" and "Bread of Three Rivers: The Story of a French Loaf." She was a featured author at the 2012 Gaithersburg Book Festival for her memoir, "Born Under an Assumed Name: The Memoir of a Cold War Spy's Daughter."


Connect with Kids! Adults Writing for Children – Noon-1 p.m.
Presented by Mary Quattlebaum
Have you always wanted to write for children? Then come and join the fun! Mary, a children's author, will guide a discussion on plot, character, audience and voice as participants explore stories designed for kids ages 2 to 8 (largely picture books and magazine stories). Mary is the author of 18 award-winning children's books, including "Pirate vs. Pirate," "Jackson Jones and the Puddle of Thorns," "The Hungry Ghost of Rue Orleans" and "Jo MacDonald Saw a Pond." She teaches in the Vermont College M.F.A. program in Writing for Children and Young Adults. She reviews children's books for The Washington Post and Washington Parent, edits educational materials for museums and small publishers and presents frequently at schools.


Give 'em the Hook: Catchy Opening Sentences – 1-2:30 p.m.
Presented by Mark Cugini
You only have one chance to make a good first impression. In this hands-on seminar, participants will learn about different types of first sentences and discuss how word choice, language and sentence structure can help set the tone for an entire story. Mark received his M.F.A. from American University and is the author of "I'm Just Happy To Be Here" and the forthcoming "Good Ass Job." His work has appeared in The Lifted Brow, Sink Review, Barrelhouse, NOÖ, Hyperallergic and Hobart, among others. He is a founding editor of Big Lucks and a strategist for the lit blog Real Pants.


Introduction to Songwriting – 2:30-4:30 p.m.
Presented by Mary Alouette
Have you ever had a tune in your head and wanted to know how to turn it into a song? Perhaps you have written songs before but want help making them even better than they already are. In this workshop, participants will study musical form, melody and style, looking particularly at pop and contemporary songwriting to discover what makes a song a hit. Bring a notepad and pen and a portable audio recording device to document the workshop. Mary won the grand prize in the Washington Area Music Association's (WAMA) Professional Artist Support System songwriting competition in 2013 and was a finalist in the Mid-Atlantic songwriting competition in 2012. Also in 2012, she won WAMA's New Artist of the Year and Best Debut Album. As an Artist in Residence at Strathmore, she headlined at the Kennedy Center's Millennium Stage and Blues Alley. In addition to performing, Mary teaches songwriting in schools in the Mid-Atlantic region with Washington Performing Arts and Kid Pan Alley. She is based in New York City and Washington, D.C., and performs her original music under the name Alarke.


NaNoWriMo: You Can Be a Writer Too! – 4:30-5:30 p.m.
Panel discussion featuring Molli Barnes, Vickie DiSanto and Carl Rauscher
Have you ever spun a story in your head, but not had the confidence to write it down? This, in a nutshell, is what National Novel Writing Month (or NaNoWriMo as it is affectionately called) is all about. Every November, hundreds of thousands of people around the world decide to write a novel, many of them for the first time, including those who never thought they could write. You, too, can stop being intimidated and start writing. Learn how during this lively discussion.
For more information about the workshops, the presenters and the schedule, visit the Workshop page of the GBF website.
Free Children's Workshops Inspire Creativity in Writing, Book Design
Whether your kids are interested in creating pop-up or tunnel books, writing fiction or poetry, designing comic books, or learning how to write a college essay that will have impact, the Gaithersburg Book Festival has the perfect workshop.
Offered for free and led by writing and design professionals from around the Washington, D.C., metropolitan area, the children's writing workshops will take place at the Festival from 10 a.m. to 6 p.m.
"We're really excited about this year's programming," said Kathy Crutcher, chair of children's workshops for the Gaithersburg Book Festival and founder of Shout Mouse Press. "Aspiring young writers can learn from best-selling authors, professional artists and inspiring educators from the Washington, D.C., area's most innovative writing programs."
The workshops include:
Tunnel Books for Children (Ages 6-12) – 10-10:50 a.m.
Presented by Heidi Bishop, an artist specializing in printmaking and children's book arts
Children will be provided a short introduction to the concept of book arts. They then will create their own books in a "Tunnel Book" format, which will challenge them to use a 3-D format, as well as integrate their story with the shape of the book. For younger children, pre-cut and assembled templates will be available.


Making Comics (Ages 12-18) – 11 a.m.-12:20 p.m.
Presented by Jason Rodriguez, comic book writer and editor
For more than a century, artists and storytellers have been taking stories that existed in their heads and placing them into a series of panels to make comic strips and books. In this workshop, children will learn how to craft their own comic books, starting with an idea and characters that exist in some continuous space and moving them into a series of moments that tell an exciting and engaging story. The workshop will cover the process of making a comic book – from an idea to a story and even to the printing, folding and stapling – in order to encourage them to make their own whenever they have a story to tell.


Characters & Dramatic Action (Ages 9+) – 12:30-1:20 p.m.
Presented by John Morogiello, Playwright-in Residence at the Maryland State Arts Council
During this workshop, students will examine character traits and how to present them through dialogue. They also will explore the basics of dramatic structure and write a full scene with a partner.


Create Your Own Stories!: Fiction Writing (Ages 6+) – 1:30-2:20 p.m.
Presented by Adi Desai, Program Coordinator and Instructor at Writopia Lab
Do you like writing fantasy or realistic fiction? Or maybe dystopian worlds are more your style? In this workshop, writers will be encouraged to create a piece of fiction through original Writopia Lab creative writing games while getting stellar feedback from published authors. At the end of the workshop, writers are encouraged to read their work and receive constructive feedback from fellow writers and instructors.


Popping Up with Robert Sabuda (Ages 7-97) – 2:30-3:20 p.m.
Presented by Robert Sabuda, #1 New York Times best-selling children's book creator
Make your very own pop-ups! Join Robert for a special workshop as everyone gets busy making their own pop-ups. He will teach a variety of simple techniques that can be used for making cards, invitations and, with a little practice and imagination, your very own book!


Fly Language: Poetry Raises Up! (Ages 8+) – 3:30-4:20 p.m.
Presented by Split this Rock's DC Youth Slam Team
Spoken word poetry has inspired many generations to step up to the blank page and express themselves, then take the mic on stage to perform that poetic expression. Students from the DC Youth Poetry Slam Team will lead this writing workshop with help from their coach, hoping to engage and inspire participants with creative writing that rises up from the page. Participants will write and share poetry based on prompts and activities developed by teenage poets. No experience necessary, but having fun is mandatory.


College Admissions Essay Writing: Writing Your Way Into College (Teens) – 4:30-5:20 p.m.
Presented by Jocquelyn Downs, Branch Manager, Writopia Lab
In this workshop, Writopia instructors will help college-bound high schoolers identify unique and meaningful personal stories and tell them in their authentic voices. Instructors will provide guidance on structure and editing and help students explore themes, expand on ideas and create drafts.
No pre-registration is required for these free workshops; participants should just plan to show up at the time their preferred workshop is scheduled to start.
Workshops are generally limited to 20 participants, but individual presenters can expand the workshop at their discretion.
For more information about the workshops, the presenters and the schedule, visit the Children's Workshop page of the GBF website.
In the Home Stretch: Line Up of Fiction, Non-Fiction Authors Grows
With just about one month until the sixth annual Gaithersburg Book Festival kicks off, we continue to grow our featured author list, with several new award-winners and best-sellers in both fiction and non-fiction joining us on May 16.
~Fiction~

Michelle Brafman is the author of "We Named Them All: Stories" and the novel "Washing the Dead." She has won numerous awards for her short fiction, and her work has appeared in the minnesota review, Fifth Wednesday Journal, Slate, Tablet, Lilith Magazine, The Washington Post and elsewhere. She teaches fiction writing at the Johns Hopkins University M.A. in Writing program and lives in Glen Echo, Md., with her husband and two children.

Rick Campbell spent 32 years in the Navy, serving on four nuclear-powered submarines. On his last submarine, he was one of the two men whose permission is required to launch its nuclear warhead-tipped missiles. Upon retirement, Rick was offered a two-book deal (extended to a four-book deal) for his novel, "The Trident Deception," which was hailed by Booklist as "the best submarine novel since Tom Clancy's classic – 'The Hunt for Red October.'" Rick currently is working on the third and fourth books in this series, sequels to "The Trident Deception" and "Empire Rising."

Susan Coll is the author of "The Stager," selected as a New York Times and Chicago Tribune editor's choice. She is also the author of the novels "Beach Week," "Acceptance," "Rockville Pike," and "karlmarx.com." "Acceptance" was made into a television movie starring Joan Cusack in 2009. Susan's work has appeared in numerous publications including The Washington Post, atlantic.com, npr.com and The Millions. She works at Politics & Prose bookstore and lives in Washington, D.C.

Maureen Corrigan is the book critic for NPR's "Fresh Air," a critic-in-residence and lecturer at Georgetown University and winner of the Edgar Award for Criticism. She is the author of "So We Read On: How the Great Gatsby Came to Be and Why it Endures" and "Leave Me Alone, I'm Reading." In 2012, Corrigan served as a juror for the Pulitzer Prize in Fiction. She is also a reviewer and columnist for The Washington Post, serves on the advisory panel of The American Heritage Dictionary, and has chaired the Mystery and Suspense judges' panel of The Los Angeles Times Book Prize.

Marisa de los Santos is The New York Times best-selling author of three novels for adults, including "Love Walked In" and "Belong to Me," and a middle grade novel, "Saving Lucas Biggs," co-written with her husband David Teague. Also a distinguished poet with a Ph.D. in literature and creative writing, de los Santos fell in love at an early age with the texture and music of words. She lives in Wilmington, Del., with her husband, their two children, Charles and Annabel, and their Yorkies, Huxley and Finn.

Sharon Allen Gilder is a native Washingtonian and Gaithersburg, Md., resident since 1978. Her debut historical romance novel, "The Rose Beyond," initially began on a sheet of scrap paper that she carried around in her wallet. After "germinating" for 14 years, the story finally reached full bloom. In addition to being an author, Sharon is a freelance writer, is on the staff of The Town Courier newspaper, and has been published in The Washington Post, The Gazette and numerous other newspapers and magazines.
Greer Macallister is a poet, short story writer, playwright and novelist whose work has appeared in publications such as The North American Review, The Missouri Review and The Messenger. Her plays have been performed at American University, where she earned her M.F.A. in Creative Writing. Her debut novel, "The Magician's Life," was a weekly or monthly pick by Indie Next, LibraryReads, People Magazine, SheReads, PopSugar, Publishers Weekly, The Boston Globe and Audible.com.
~Non-Fiction~

Heather Butts, J.D., M.P.H., M.A., is the author of "Alexander Thomas Augusta: Physician, Teacher and Human Rights Activist" and "African American Medicine in Washington, D.C.: Healing the Capital During the Civil War Era." She is an an Integration of Science and Practice (ISP) Instructor and Faculty Advisor at Columbia University Mailman School of Public Health. She also serves as an adjunct professor at St. John's School of Law and is the co-founder of H.E.A.L.T.H for Youths. Heather received her B.A. from Princeton University, her J.D. from St. John's University, her M.P.H. from Harvard University and her M.A. from Teachers College, Columbia University.

Melanie Choukas-Bradley is the author of four natural history books, including the highly acclaimed "City of Trees: The Complete Field Guide to the Trees of Washington, D.C.," which has been published in three editions during a 34-year period. Her newest book, "A Year in Rock Creek Park—the Wild, Wooded Heart of Washington, D.C.," was published in November. Melanie is also author of two books about Sugarloaf Mountain in Maryland. She leads tree tours and field trips for Casey Trees, the Audubon Naturalist Society (ANS), the Nature Conservancy and the U.S. Botanic Garden and she teaches plant identification courses for the Natural History Field Studies Program of the Graduate School USA and ANS. Melanie lectures widely and has been a guest on the Diane Rehm Show, the Kojo Nnamdi Show and All Things Considered. In 2014, she was awarded one of four inaugural Canopy Awards by Casey Trees.

Andrew Cockburn is the Washington editor of Harper's magazine and the author of numerous articles and books on national security, including The New York Times Editor's Choice "Rumsfeld and The Threat," which destroyed the myth of Soviet military superiority underpinning the Cold War. He is a regular opinion contributor to The Los Angeles Times and has written for, among others, The New York Times, National Geographic and the London Review of Books.

Richard E. Cohen is a veteran Washington journalist and co-author, with former Representatives Tom Davis and Martin Frost, of "Partisan Divide," a book about dysfunction in Congress. He has written and edited for a number of prominent publications on multiple platforms, and is a leading expert on congressional policy and politics. For more than 30 years, Richard covered Congress for the National Journal. His work focused chiefly on magazine coverage of the key players, major issues and internal dynamics within Congress, plus legislative dealings with the White House, lobbyists and other outside groups.

Sue Eisenfeld is the author of "Shenandoah: A Story of Conservation and Betrayal." Her writing has appeared in The New York Times, The Washington Post, Washingtonian, The Gettysburg Review, Potomac Review, Little Patuxent Review, Still:The Journal, Hunger Mountain, Ars Medica, Blue Ridge Country, Health Affairs and more, and her essays have been listed among the Notable Essays of the Year in The Best American Essays 2009, 2010 and 2013. She is a four-time Fellow at the Virginia Center for the Creative Arts and teaches for the Johns Hopkins M.A. in Writing and M.A. in Science Writing programs.

Martin Frost, co-author of "The Partisan Divide: Congress in Crisis," served 26 years in Congress representing the Dallas–Ft. Worth area in North Texas. During that time, he served four years as chair of the Democratic Congressional Campaign Committee and four years as Chair of the House Democratic Caucus. As a result, he knows personally virtually every member of the current Democratic leadership and most of the ranking Democrats on key House Committees. Additionally, nearly half of the current members of the U.S. Senate, both Democrats and Republicans, served with Congressman Frost in the House. Frost is now a senior partner in the Washington office of the Polsinelli law firm, where he devotes much of his time to issues dealing with energy, taxes and transportation. He has appeared as a political commentator on numerous cable news networks, including MSNBC, FOX News and Bloomberg and writes articles for publications, such as Politico and The Hill. He was named a board chair of the National Endowment for Democracy in the spring of 2013 and serves as co-chair of the Circles program for The John F. Kennedy Center for the Performing Arts.

Tim Grove has worked as a public historian for more than 20 years and currently works as the chief of museum learning at the Smithsonian's National Air and Space Museum. His career has included positions at the Smithsonian National Portrait Gallery, the Smithsonian National Museum of American History, the Missouri Historical Society and a graduate internship at the Colonial Williamsburg Foundation in Virginia. As both a historian and educator, Tim strives to find creative ways to engage diverse audiences with history and to demonstrate the relevance of the past. He co-authored "The Museum Educator's Manual" and originated and continues to write the History Bytes column in History News. He has been published in the Journal of American History, Perspectives on American History, History News and Gateway Heritage. He holds an M.A. in history from George Mason University.

Marc Kaufman was a latecomer to writing about space and science, but fell in love with it once he began reporting on NASA for The Washington Post. In addition to untold stories for The Washington Post and more recently The New York Times, he has written two books on space topics. The most recent is "Mars Up Close: Inside the Curiosity Mission," for which he was embedded for almost two years at NASA's Jet Propulsion Lab. He also wrote "First Contact: Scientific Breakthroughs in the Hunt for Life Beyond Earth." Prior to his discovery of the joys of reporting about space, he was a foreign correspondent, investigative writer, magazine writer and beat reporter for The Washington Post and The Philadelphia Inquirer.

Adele Levine worked as a physical therapist rehabilitating combat amputees at Walter Reed Army Medical Center, and later, Walter Reed National Military Medical Center, for nine years. The soldiers at Walter Reed never asked if they'd be able to walk again, they just wanted to know when they could run. "Run, Don't Walk: The Curious and Chaotic Life of a Physical Therapist Inside Walter Reed Army Medical Center" is her first book. Adele's writing has appeared in The New York Times, The Washington Post, Washingtonian magazine, Psychology Today and Narrative.ly. She lives in Silver Spring, Md., and rarely leaves her zip code.

Andrew Maraniss' first book, "Strong Inside," is a New York Times best seller. A partner at McNeely Pigott & Fox Public Relations in Nashville, Andrew studied history at Vanderbilt University and graduated in 1992. He worked for five years in Vanderbilt's athletic department as the associate director of media relations and then served as media relations manager for the Tampa Bay (Devil) Rays during the team's inaugural season before returning to Nashville to join MP&F. The son of Pulitzer Prize-winning journalist David Maraniss and trailblazing environmentalist Linda Maraniss, Andrew lives in Brentwood, Tenn., with his wife Alison, and their two young children.

Clarence Page is one of the most recognized and highly regarded columnists in the country, appearing in more than 150 daily newspapers. He has been a member of the Chicago Tribune editorial board since 1984 after first joining the paper in 1969. He won the 1989 Pulitzer Prize for Commentary. Clarence has been a broadcast mainstay for decades, contributing to The MacLaughlin Group, NewsHour with Jim Lehrer, NPR's Weekend Edition and MSNBC's Hardball with Chris Matthews, among others. His book, "Culture Worrier," commemorates the 30th anniversary of his column's first appearance. He lives outside of Washington, D.C., with his wife and son.

Richard Peabody is the founder and co-editor of Gargoyle Magazine and editor (or co-editor) of 23 anthologies including "Mondo Barbie," "Conversations with Gore Vidal" and "A Different Beat: Writings by Women of the Beat Generation." His new book is "The Richard Peabody Reader." The author of a novella, three short story collections and seven poetry books, he is also a native Washingtonian. He taught fiction writing at Johns Hopkins University for 15 years.
Mary Stockwell received her Ph.D. in American history from the University of Toledo and was a professor of history and department chair at Lourdes University. She is currently an Earhart Foundation Fellow at the William L. Clements Library at the University of Michigan where she is researching her upcoming book on the life of Anthony Wayne. Mary is the author of history books used by young people throughout the United States including "The Ohio Adventure," "A Journey through Maine" and "Massachusetts, Our Home," the 2005 winner of the Gold Lamp Award from the Association of Educational Publishers for Best Book.

Bryan Voltaggio is the executive chef and owner of the restaurants Volt, Lunchbox, Family Meal, Range and Aggio. As a finalist on Top Chef (season 6) and Top Chef Masters (season 5), he is the first chef to compete on both programs. The James Beard Foundation Award finalist co-authored the cookbook "Volt ink" with his brother, Michael. "Home" is his first solo cookbook. Bryan lives with his wife, Jennifer, and their three children, Thacher, Piper and Ever Maeve, in Frederick, Md.
~Children's and Young Adult~

Jessica Day George is the author of "Tuesdays at the Castle" and The New York Times best-seller "Wednesdays in the Tower," as well as the Twelve Dancing Princesses series and Dragon Slippers series. Her newest book in the series is "Thursdays with the Crown." Originally from Idaho, she studied at Brigham Young University and has been a movie store clerk, a bookseller and a school office lady before becoming a writer. Jessica lives in Salt Lake City, Utah, with her husband, their three young children and a five-pound Maltese named Pippin, who often makes cameo appearances in her books.

Aisha Saeed is an author, attorney, educator and maker and drinker of chai. She is also one of the founding members of the #WeNeedDiverseBooks campaign. While Aisha loves writing about a variety of topics, her main passion lies in channeling her inner teen. Her debut YA novel, "Written in the Stars," was published in March. She has been blogging for more than a decade and her writing also has appeared in places, such as The Orlando Sentinel, BlogHer, Muslim Girl Magazine and Red Tricycle. When Aisha isn't writing or chasing her two little boys, you can find her reading, baking, doodling henna patterns or daydreaming about eight consecutive hours of sleep. She lives in Atlanta with her husband and two sons.
14 Finalists Selected for 2015 High School Student Short Story Contest
First-round judges have selected 14 finalists from a pool of more than 150 entries for the Gaithersburg Book Festival's fifth annual High School Student Short Story Contest.
The first-, second- and third-place winners, along with a fan favorite, will be announced on Saturday, May 16, at the Festival.
The winning stories will be selected by Sarah McCoy, a New York Times, USA Today and international best-selling author of the novels "The Baker's Daughter," a 2012 Goodreads Choice Award Nominee, and "The Time It Snowed In Puerto Rico." Her next novel, "The Mapmaker's Children," is due out in May 2015.
"I'm honored to be asked to serve as the judge for the 2015 GBF High School Short Story Contest," said McCoy. "Having attended high school in the D.C. area, I look forward to reading the creations of the finalists, and supporting the newest generation of local storytellers."
The 14 finalists, in alphabetical order, are:
Samantha Anderson – Anderson Academy, Newport News, Va.

William Choi – Sidwell Friends School, grade 11, Washington, D.C.

Riley Corboy – Gaithersburg High School, grade 12, Gaithersburg, Md.

Aline Dolinh – Oakton High School, grade 11, Oakton, Va.

Samuel Enriquez – homeschooled, grade 10, Annapolis, Md.

Madeline Gresh – Academy of the Holy Cross, grade 12, Rockville, Md.

Mary Kasputis – Oakton High School, grade 10, Oakton, Va.

Maggie Leon – Gaithersburg High School, grade 12, Gaithersburg, Md.

Allison Marie McGlone – Yorktown High School, grade 10, Arlington, Va.

Alexander McLaughlin – Grace Brethren Christian School, grade 9, Upper Marlboro, Md.
Kevin Robinson – Oakton High School, grade 10, Oakton, Va.

Jenna Schwartzman – Oakton High School, grade 10, Fairfax, Va.

Elizabeth Woolford – Yorktown High School, grade 10, Arlington, Va.

Annika La Vina – Walter Johnson High School, grade 11, Kensington, Md.
Entrants included public, private, and homeschooled students from 12 jurisdictions throughout D.C., Maryland and Virginia. Jurisdictions included the Maryland counties of Anne Arundel, Frederick, Howard, Montgomery, and Prince George's; the Virginia counties of Arlington, Fairfax, Fauquier, Prince William and Spotsylvania, as well as the City of Newport News, and Washington, D.C.
The finalists' stories have been posted to the Festival website. Visitors are encouraged to read the stories and "like" their favorites to help determine the "Fan Favorite" entry.
6th Annual Gaithersburg Book

Festival

____

Saturday

May 16, 2015

____

On the Grounds of

City Hall in

Olde Towne Gaithersburg, Md.

Did you know that it takes more than 200 volunteers to make the Gaithersburg Book Festival a success each year?
You can be part of what is quickly becoming one of the best literary events in the Mid-Atlantic area by volunteering for the 2015 Gaithersburg Book Festival! No experience is necessary. All we ask is that you bring a warm smile and a helpful attitude. We'll bring the award-winning authors, and in return you'll have a once-in-a-lifetime experience and your very own volunteer t-shirt.
To learn more about the volunteer experience, read a blog by four-festival volunteer Mathy Milling Downing.
To sign up, visit the Volunteer section of the Festival website.
Homewood Suites Partners with GBF to Offer Discount Hotel Rates

The GBF welcomes its newest partner, Homewood Suites by Hilton – the host hotel for the Festival.
This newly renovated hotel is offering Festival participants and attendees a special rate of $99 per night for a spacious king or double queen studio suite, which also includes the Homewood hot breakfast buffet.
To make your reservations and take advantage of this special offer, please call 888-370-0983 and use booking code "BOO."
Fundraiser at Whole Foods Kentlands Raises More than $5,000 for Festival
On April 8, Whole Foods Market in the Kentlands hosted a fundraiser that brought in more than $5,000 for the Gaithersburg Book Festival.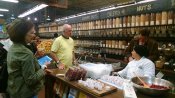 The store shared 5 percent of its net sales for the day and hosted a wine tasting, led by Pinky & Pepe's Grape Escape, and raffle, which included prizes from Whole Foods, Pinky & Pepe's and Hand and Stone Massage.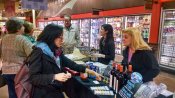 April 16: GBF Presents an Evening with

You don't have to wait until May 16 to see top-notch authors brought to you by the Gaithersburg Book Festival. We'll be kicking off the festivities on April 16 when we host an evening with best-selling mystery author Jeffery Deaver at the Bethesda Library from 7 p.m. to 9 p.m. Deaver is best known for his book "The Bone Collector," which was made into a film starring Denzel Washington and Angelina Jolie.
Visit the GBF website or Facebook for more details.
Welcome to Our Newest Sponsors
The GBF would like to thank the latest sponsors to commit their support to the 2015 Gaithersburg Book Festival:
~Partners~
Homewood Suites by Hilton - North Gaithersburg
The Universities at Shady Grove
Mid-Atlantic Federal
Credit Union

Red Tricycle


Sodexo

LeafFilter Gutter Protection


Life Long Learning Institute, Montgomery College


Maryland Council of Teachers of English Language Arts
The Gaithersburg Book Festival offers sponsorships to fit a variety of budgets, and organizers can tailor a sponsorship package to fit any company's needs. Depending on the level of sponsorship, a company can be featured prominently in Festival-related advertising, as well as its e-newsletter, blog, website and program; receive complimentary exhibit space and/or exclusive naming rights to author pavilions; and earn complimentary admission to the exclusive Author Reception preceding the Festival.
For more information, visit the GBF website. If you have questions, or would like to develop a customized sponsorship to meet your marketing objectives, email Jud Ashman. To secure your sponsorship, download the sponsorship opportunities form.
Want to be one of the first to know about

the latest news from the Gaithersburg Book Festival and our featured authors?
Share the GBF News with your friends, family and book club members so they can see what we're up to for 2015.
Simply click the "Send to a Friend" button at the top of the newsletter to pass along this issue.
To become a regular GBF News subscriber, visit the Festival website and click "Join Our Mailing List."
Subscriber contact information will be used solely for the newsletter and will not be shared or sold to other parties.