Classical Conferences and Meetings in 2015

CANE—The Classical Association of New England
109th Annual Meeting
March 13–14, 2015
Noble and Greenough School
Dedham, MA
Representative:
Donald Sprague
CAMWS—The Classical Association of the Middle West and South
111th CAMWS Meeting
March 25–28, 2015
Millennium Harvet House at the invitation of the University of Colorado
Boulder, CO
Representatives: Marie and Allan Bolchazy, Bridget Dean, and Donald Sprague
International Congress on Medieval Studies
50th Congress
May 14–17, 2015
Western Michigan University
Kalamazoo, MI
Representatives: Adam Velez and Laurel Draper
ACL—American Classical League
68th Annual ACL Institute
June 25–28, 2015
University of Connecticut
Storrs, CT
Representatives: Marie and Allan Bolchazy, Laurel Draper, and Donald Sprague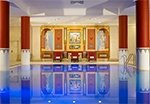 The Marriott Hotels webpage includes this photograph of the indoor pool at the Marriott Hotel Bristol, England. Its Roman fresco inspiration perhaps comes from the hotel's proximity to the nearby Kings Western Roman Villa. The English take great pride in their Roman remains.

---
Trojan Horse Redux
Concerned that the proposed free trade treaty between the United States and European Community will unleash a tide of unwanted American foods, demonstrators took the streets. Of course, the Trojan Horse in Copenhagen caught our classicist attention.
---
America's Foremost Lyricist


Stephen Sondheim's vision of the very human quest to feel free to be ourselves, and to accept that sometimes we need the help of others to accomplish that, resulted in the beautiful song Anyone Can Whistle, 1963. Sondheim's luscious lyrics include

I can dance a tango . . .
I can read Greek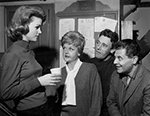 Lee Remick, Angela Lansbury, Harry Guardino, and Herbert Greene captured backstage at Anyone Can Whistle. Courtesy of Wikimedia Commons/Deborah Greene Bershatsky.

---
Get It Right, College Boy
Law and Order SVU's Detective John Munch, played by Richard Belzer, in an episode investigating foul play at a college campus, corrects a smarmy basketball player who said he was at an "alumni's" home for a party.
"That's 'alumnus,' college boy!"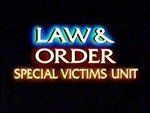 ---
Deflategate
My clever colleague made a marvelous connection between Deflategate and its ancient predecessor.
---
Sisyphus


Alexis Tsipras, the new prime minister of Greece, likened Greece's loan repayment predicament to that of Sisyphus.
---
Classical Allusions


Chicago's New City compiled a list of 2014's "bests." Do you think the author of the following knows the ancient world?

"Best guess as to which project gets done first: Redevelopment of US Steel Southworks site on south lakefront; Construction of the Chicago Spire; Redevelopment of Old Chicago Main Post Office or CTA Red Line extension to 130th Street.
Redevelopment of Old Chicago Main Post Office.

Second city to none, Chicago is on track to best the glacial pace of Roman construction, which has become a matter of proverb. If Rome was indeed not built in a day, what timelines should we be expecting? Let us consult specific historical precedents. Think of Spire as an obelisk—an unmistakable symbol of potency. Though the Romans whisked obelisks from Egypt practically overnight, it had taken the Egyptians some 1,000 years to perfect the craft of carving a monolith out of stone. The CTA Red Line extension is most like aqueducts: a democratic means of conveyance elevated high above ground. The aqueducts system took just shy of 300 years to complete. The US Steel site, with its phased approach and intractable political pressures, follows the pattern of the three Punic Wars, whose campaigns against Carthage lasted 120 years. Our bet is on the old post office: its transformation into an entertainment destination recalls the bread and circuses of the Colosseum. The project was finished in merely twenty-six years. Friends, Romans, countrymen: see you in 2040!" [Editor's Note: The Colosseum's construction actually took ten years leading up to its dedication in 80 CE. Even with Domitian's later additions, twenty-six years is off!]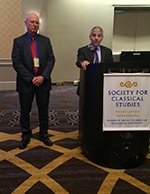 Professor Timothy Winters listens as new SCS president John Marincola proclaims the citation.
The Society for Classical Studies takes great pleasure in recognizing outstanding teaching at the college level. The 2014 recipient of the prestigious Excellence in Teaching at the College Level Award is Professor Timothy F. Winters of Austin Peay State University. When Professor Winters arrived at Austin Peay in 1997, there was no classics program. Today, thanks to his enthusiasm and efforts, the classics program is flourishing and much beloved by students. Read the full award citation.
Winters is the coauthor of B-C's Homer: A Transitional Reader. He joins the honored ranks of other B-C authors who have received this award for teaching excellence—Kenneth Kitchell (1983), James May (1986), Jane Crawford (1989), Thomas Sienkewicz (1989), Anne Groton (1995), W. Jeffrey Tatum (1992), Hans-Friedrich Mueller (2000), Gregory Daugherty (2002), T. Davina McClain (2005), and Ronnie Ancona (2009).

---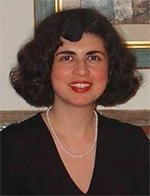 During the Third Brazilian Congress of Rhetoric organized by the University of São Paulo in September 2014, Milena Minkova, coauthor of Latin for the New Millennium, Level 2 with its emphasis on the full legacy of Latin literature and writing, delivered an invited plenary presentation, "Rhetoric of the 'Other' in Neo-Latin (observations based on Erasmus, Busbecq, Peter Martyr, Sepúlveda, Joannes Latinus, Maffei, Landívar)." She is currently working on a critical anthology of Neo-Latin.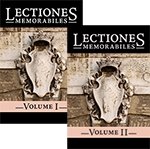 We have been sedulously working on a tight deadline as we prepare two new books that provide all the Latin readings with IB appropriate notes and background materials for the IB curriculum with test beginning in 2016. We'll keep you up to date with announcements in eLitterae and our social media.

The eyeVocab software leverages human memory for distinctive affective images* presented in isolation to radically improve the speed, depth, and permanence of second language vocabulary acquisition. Images are drawn from classical art, both western and eastern, from photojournalism and historical photography, great book illustration, and other sources.

*
Learn how images are chosen
.
Far more than a set of electronic flashcards, the multimodal vocabulary program facilitates a significantly deeper learning and retention. Students will readily master the frequent Vergil and Caesar vocabulary for the AP® Latin Exam and thereby devote far more of their study time and energy to reading and discussing De Bello Gallico and the Aeneid.
eyeVocab programs correspond to the following B-C books.
Caesar: Selections from his Commentarii De Bello Gallico
(218 words)

(162 words)

eyeVocab for Latin for the New Millennium
Level 2 is forthcoming.
Introductory rate for each of the AP® Latin programs is $14.95. The LNM 1 introductory rate is $24.95. For site licenses, contact Miles Becker at sales@eyeVocab.com. Click on each title to learn more.
Important Classics Deadlines

Winter 2015 Webinar Schedule
Note some webinars are on Wednesdays this session.
Tuesday, March 3, 6–7:00 pm EST
Tips on Implementing eyeVocab in Your Class Activities—Making Vocabulary Mastery Achievable for ALL Your Students!
Presenter: Thaddeus Lisowski, Head-Royce School, Oakland, California
Wednesday, March 11, 6–7:00 pm EST
Using "Padlet" to Enhance Vocabulary Learning
Presenter: Christopher Bungard, Butler University
Wednesday, March 18, 6–7:00 pm EST
Caesar as Ethnographer
Presenter: Rebecca Futo Kennedy, Denison University
Tuesday March 31, 6–7:00 pm EST
The Archaeology of Ancient Greek Democracy
Presenter: Laura Gawlinski, Loyola University Chicago
Tuesday April 21, 6–7:00 pm EST
Latin for the New Millennium: Springboard to AP Latin
Presenter: Donald Sprague, Bolchazy-Carducci Publishers
Tuesday April 28, 6–7:00 pm EST
The Lure of the Relic: Collecting the Holy Land
Presenter: Morag M. Kersel, DePaul University
What Equipment Do I Need for B-C Webinars?

To participate in Bolchazy-Carducci Publisher sponsored webinars you will need high-speed internet access, computer speakers/headphones, current web browser with updated "Flash Player"*, and the link to the webinar virtual meeting space, which is provided in your webinar invitation.
Webinars Make for User-Friendly Professional Development

Participation is free. All webinars provide opportunity for participants to ask questions. Learn lots—attend as many presentations as you can. Bolchazy-Carducci Publishers provides documentation for your participation. You can share this with your supervisors. Many webinar presenters provide handouts, etc.
The Pompeiiana Newsletter created and edited by Bernard Barcio ran from 1974 through 2003. The newsletter offered a place for Latin students to publish comics, stories, games, and articles, and was a beloved resource for Latin teachers. In 2008, Barcio granted Bolchazy-Carducci Publishers the rights for all of the Pompeiiana Newsletter. B-C is proud to serve as curator for this archive and has made the issues available for teachers, students, and friends of the classics. Check out http://pompeiiana.blogspot.com/
The eTextbook trend is progressing and Bolchazy-Carducci Publishers is adding more eTextbook providers to offer a variety of eBook platforms for users. Currently Bolchazy-Carducci textbooks are available through GooglePlay, MBSDirect Digital, and Chegg. Each eBook platform offers a variety of tools to enhance the learning process. eBooks have the same content as our traditional books in print.

For direct links to purchase Bolchazy-Carducci eTextbooks, visit the title's product page. Just above the product description there is a list of the eTextbook providers and a direct link to purchase the eTextbook.
How do I purchase a B-C eBook?
Simple! When you are browsing through www.Bolchazy.com, any time you see GooglePlay or DirectDigital link, click on the link, and you will automatically be directed to a webpage where you can purchase the eBook.
Can I purchase direct from the distributor?
Yes! If you prefer, you can link directly to our eBook providers' websites and search by title, by author, or by Bolchazy-Carducci Publishers to locate the title you would like to purchase. The GooglePlay ebooks store offers a preview of the book, including the table of contents and select pages.
What hardware is required?
You can read eBooks on a Mac, PC, iPhone, iPad, Android, or a variety of eReader
s.
Preview Bolchazy-Carducci Titles

Preview Bolchazy-Carducci titles before you purchase using Google Preview.
---

iPodius - Bolchazy-Carducci Publishers online shop for: audio, software, video, and a treasure trove of teacher-created materials in the Agora.
---
---
---
AP® is a trademark registered and/or owned by the College Board, which was not involved in the production of, and does not endorse, this site.
I'm afraid the delivery of this issue was delayed a bit by car trouble. B-C's intern, Connor Hart, who recently returned from holiday break in New England, is leading the investigation into the alleged underinflated tires.
I was tempted to call it the Post Super Bowl issue but felt that would be a little tacky. My motivation, however, was not that well-matched game but the disappointment that a forty-nine year tradition of Roman numerals has come to an end. We go from Super Bowl XLIX to Super Bowl 50.
In this issue, we commence a new monthly feature "Meet the B-C Staff." We want you to put faces to our names and learn a bit about each of our talented, dedicated, hardworking, and interesting staff members. Please take a moment to meet "the voice of Bolchazy-Carducci Publishers"—Linda Lochmayer, customer service specialist nonpareil. And, when you visit the B-C office in real time, Linda's smile and welcome greet you upon arrival.
We conduct an in-depth interview, in this issue, with Miles Becker, the creative educator behind eyeVocab. In discussing the interview and asking the questions, I was reminded of the following quote from Steve Jobs.

"Creativity is just connecting things. When you ask creative people how they did something, they feel a little guilty because they didn't really do it, they just saw something. It seemed obvious to them after a while. That's because they were able to connect experiences they've had and synthesize new things. And the reason they were able to do that was that they've had more experiences or they have thought more about their experiences than other people. Unfortunately, that's too rare a commodity. A lot of people in our industry haven't had very diverse experiences. So they don't have enough dots to connect, and they end up with very linear solutions without a broad perspective on the problem. The broader one's understanding of the human experience, the better design we will have."
In many ways that analysis of the creative process applies to how eyeVocab came to be. The interview with Miles is much longer than eLitterae interviews usually are but . . . do read it through . . . very interesting stuff! And, remember the table of contents to the left allows you to skip around the newsletter!

Frustrated that you're half way through the school year and students are still stumbling over vocabulary? eyeVocab will make that a thing of the past. Read the interview to learn more about this revolutionary approach to learning vocabulary. Learn how the images are chosen.


All of us at Bolchazy-Carducci wish you well with the second semester!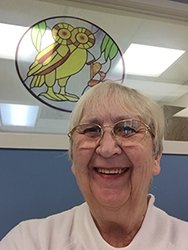 Linda Lochmayer, Customer Service Specialist
DES: Give us a little overview of your time with B-C. How long have you been working for B-C? How did you find this job? What are your principal responsibilities?

LL: I started working for B-C on April the 9th, 1999. I wanted to work close to home so I could take advantage of being active in my children's activities. I was working for a company that was not far from B-C and when they were reducing the staff I thought I would look elsewhere but still be close to home. When I walked into B-C to be interviewed, it was the late Lou Bolchazy, the owner, who interviewed me. Three hours later, I was able to leave and he hired me almost the next day. My principal responsibilities are to process orders, handle accounting issues, and answer any questions about our products. My favorite part of the job is talking to our educators who call in and need a little assistance. They ALL seem so sweet. I love helping whenever I can. If I do not know the answer, I hunt until I get the answer.

DES: What previous work and volunteer experiences have enriched your service at B-C?

LL: Since I have always worked in a business environment, I have applied this knowledge to whatever I need to do. The best motto is to treat others as you would like to be treated. When I volunteered in the schools with the very young, I listened to them as if they were the only ones who mattered. This was very important to them. I try to live by this every day.

DES: You're one of the most active volunteers I know. Could you talk about your various volunteer activities?

LL: Since I love people, naturally I volunteer for anything that is in need of help. I have volunteered at many events in Wauconda. Right now some of our activities include the "Shamrock – Plunge" coming up in March. This activity is to better our lake and to help a group that assists veterans finding it difficult to reacclimate to civilian life after returning from the service. I work at our farmers market to help our Chamber of Commerce. I worked on the Holiday Walk for our community. This was fun. I am on the committee for our Waucondafest event. With every event for which I volunteer, I make sure that I am in direct contact with the people. I love to see people having fun. I have been on the Cancer Relay for Life for ten years. This is a great event. People who have had cancer touch their lives will tell you how this event heals the soul.

DES: What do you enjoy most about your work at B-C?

LL: My contact with our customers.

DES: When not at B-C or one of your volunteer activities, how do you like to spend your time?

LL: We spend time with our family. We go bowling. We get together at someone's house. We read.

My first introduction to eyeVocab was via a webinar just over a year ago. I was impressed by the powerful images that the program uses to build a connection between the Latin word and the meaning. I often encounter students who really struggle through the process of learning vocabulary and I wondered whether eyeVocab might be a beneficial program for them. I decided to give it a try in my Latin 1 class for the spring semester of 2014. The program is sophisticated so I spent a couple of short sessions learning the key-strokes required for proper operation. Once I was comfortable with it, I introduced it to my class. Rather than allowing students to sit down and learn how to use the program on their own, I decided that it would be best for my students if I walked them through its use as a whole group. After the demonstration, I allowed the students to get started on their own aided by a step-by-step guide that I had prepared for them as well as a "cheat sheet" to help with the key-strokes. The majority of my students found the program easy to operate and, consequently, caught on very quickly.

Here's how it works. The program breaks each vocabulary list down into smaller groups of words. The students focus on a single small group and master those words before moving onto the next group. The first goal is for students to build a connection between the image and the meaning of the Latin word. They use the first few repetitions of the flashcards to accomplish this task. They look at the image and use the description of the image to help build the connection as they hear the Latin word clearly pronounced. Once they get to the point that they associate the image with the English meaning of the word and can hear the Latin pronunciation in their minds, they begin to learn the correct spelling of the Latin vocabulary word. They do so through three different mechanisms: listening, sub-vocalizing, and typing. They quietly (and correctly!) pronounce the Latin word, including principal parts and genitives, while typing. As soon as students are able to correctly input the Latin word with no errors, the program removes that word from the group. Once students have correctly entered each Latin word in the group, eyeVocab provides a summary of the students' statistics (time to complete, number of errors, etc). I instruct my students to keep working on the group until they have no mistakes, then work through the group one more time before moving on to the next group of words. My students love the stats and they start to compete with themselves and with each other. I generated a log for them to use to keep track of their results. As students use eyeVocab, especially initially, I have found that they benefit from regular reminders to say the vocabulary quietly to themselves. The students who can hear the vocab word in their heads are also the ones who can immediately recall the meaning and correctly spell it. Regularly using eyeVocab has helped my students learn vocabulary much more effectively; they know the meaning of the word, genitives and principal parts, and have longer retention. I am really happy with the results and my students enjoy using the program. It's a win-win!
Lynne West
Bellarmine College Prep
San Jose, CA
Editor's Note: To learn more about the development of eyeVocab, read the interview with its creator, Miles Becker.

Resources & Teaching Tips

√

As mentioned in previous issues, The Smithsonian magazine regularly features some terrific articles about the ancient world. Here's a tetrarchy of treasures!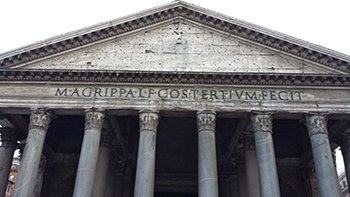 The pediment from the facade of the Pantheon. Note the Agrippa inscription. Photo by Don Sprague.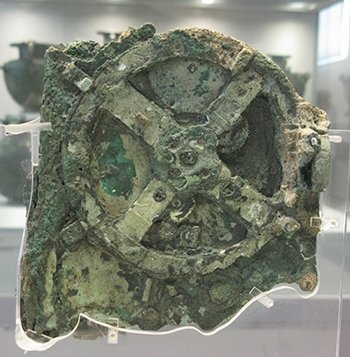 The Anikethera Mechanism, "the first computer," at the National Archaeological Museum, Athens, Greece. Courtesy of Wikimedia Commons.

√
Teachers every once in a while need a little inspiration. So, on one of those blue days when the lessons plans did not go over as well as intended or way too many students did not do their homework,
view this little video
to be reminded of the awesome profession we teachers have undertaken.
√
Do you check the
B-C blog
? If not, you should. Our editorial intern, Connor Hart, a creative and talented classics major who graduated from the renowned classics program at the University of Massachusetts at Amherst, has researched and developed some terrific recommendations for class activities. "Classics in Pop Culture" Parts I and II encourage students to explore the connections between the classics and contemporary music. "2015: A Sea Odyssey" provides suggestions on how students can trace Aeneas's journey through today's world while "Supper in the Strophades" encourages students to learn about foods and culinary traditions associated with places on Aeneas's journey. Bolchazy-Carducci is blessed to have Connor on our team and you'll be impressed with these blog posts.
by Adam Nicolson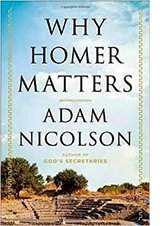 Did Homer create the Iliad and the Odyssey on his own or did he build upon the oral tradition of epic songs of battle and disaster? Is the Iliad based on the Trojan War or on a war that happened much before that? When did Homer live? And, is he one person or many? These fascinating questions are covered in Why Homer Matters.
When I started reading Why Homer Matters, I struggled to find Homer's answers to life's important questions: Do we love others as ourselves? Do we indulge ourselves? Do we surrender when we face seemingly unsurmountable challenges? How much should we fight for our principles? Homer is silent on such questions. So why does he matter? Nicholson posits that Homer's purpose is providing enlightenment on how things are and that a detailed engagement with pain and sorrow through poetry is the way we are enlightened. He believes that the wars happened so that the poems could happen. We find the wisdom that Homer provides gradually as we progress with the reading of this book. It should be read carefully and thoughtfully and with many time-outs for reflection.
The author is a polymath; his knowledge of so many fields of study is deep and breathtaking. In this book, he weaves in information on Ventris, who deciphered Linear B, and Albert Lord, who researched the oral traditions possibly underlying Homer's epics. He compares the ethic of the Greek warriors with the code of conduct of gangs in South Central LA and East St. Louis. Nicholson also gives a very personal account of his rape by a young man in the Syrian desert and relates the episode to Homer's warriors.
According to Nicolson, The Iliad is not an anti-war poem. Nicholson's primary focus is on demonstrating that Homer's writing provides us with a vade mecum, a kind of metaphysical guidebook on how to lead a meaningful life in a world of terrifying and wondrous changes. Homer does not provide guidance "if the lessons derived are the usefulness of violence, the lack of regret at killing, the subjection and selling of women, the extinction of all men in a surrendering city or the sense that justice resides in personal revenge." Homer doesn't answer questions about how we should behave. Instead Homer provides us with wisdom, a sense of reality, and an embrace of the complexity of life. By telling the stories of the Iliad and the Odyssey, he helps us learn how we became who we are.
Marie Carducci Bolchazy, EdD
President, Bolchazy-Carducci Publishers
---
AIA/SCS Conference Report

The 2015 joint conference of the American Institute of Archaeology and the Society for Classical Studies was held January 8–11 in New Orleans. Allan and Marie Bolchazy, managing editor Bridget Dean and editor Don Sprague staffed the double booth. Allan had carefully chosen the booth's location so that it could be seen when one entered the exhibit hall. That strategic location and the attraction of the drawing for the complete set of all nineteen BC Latin Readers drew a steady flow to the B-C booth.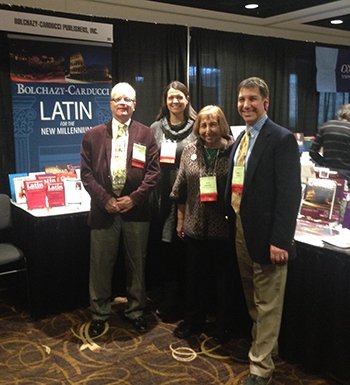 B-C's "fabulous four" at the exhibit.
While New Orleans was not nearly as warm as we had hoped—the temperature was as low as 37°—and it was windy, we adjusted and appreciated the significant change from the arctic cold of Chicago. From coffee and beignets at Café du Monde to the bikers' convention at the Marriott to strolling through the French Quarter, we enjoyed "Nawlins." Marie spent Friday morning at the spectacular World War II Museum and rewarded herself with a luscious lunch of oysters on the half shell. Food and fabulous restaurants proved a very important feature, as one would expect, of our New Orleans adventure. Indeed, "we rather overdid the eating," noted Marie!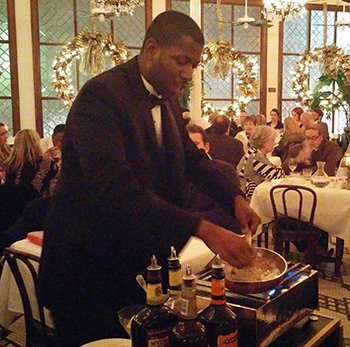 Signature bananas foster being prepped for dessert at the elegant Arnaud's.
While B-C offers its titles as eBooks on a variety of platforms, we classicists love to see the books real time, to handle them, to peruse the pages, to check out the maps, and many like to talk with the publisher reps. And we thoroughly enjoy providing this opportunity and joining the conversation. The SCS meeting also gives us the opportunity to chat with authors about their books, about new projects, etc. We enjoyed seeing Ronnie Ancona, Hans-Friedrich Mueller, Cora Sowa, Daniel Harris-McCoy, Yasuko Taoka, Tim Winters, and BC Latin Reader authors Mary Jaeger, Catherine Keane, Jim May, Jeffrey Tatum, and Judy Hallett. We also discussed upcoming webinars with Chris Bungard and Rebecca Futo Kennedy. Bob Cape kept us up to date with the AP Latin program while Sherwin Little and Kathy Elifrits did the same for happenings with the American Classical League and the success of the big move to a new office.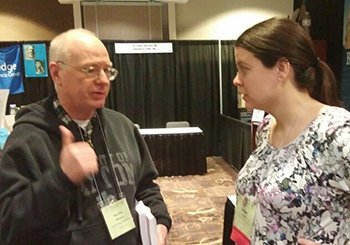 Tim Winters and Bridget Dean discuss projects. Dean recalls fondly her study tour of Greece under Professor Winters's direction.
The booth kept us pretty busy but we did manage to squeeze in a few of the talks. Bridget attended two on the Capitoline Hill while Don took in Carol Gilligan's discussion of how the classics have influenced her work in psychology and a presentation on a newly discovered epic celebrating Columbus. Marie attended the SCS Plenary Session and took photos of Tim Winters, as he received the SCS award for excellence in teaching.

A special feature of the B-C booth was giving the BC Latin Readers preeminent display space. We were pleased to celebrate the completion of the series with the arrival of the 19th volume A Roman Women Reader! The drawing for the complete set of Readers drew much attention.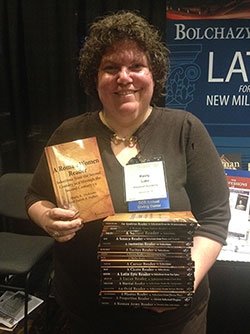 Keely Lake of Wayland Academy, winner of the drawing, graciously poses with the stack of nineteen BC Readers
Myth Is Truth: A Radio Series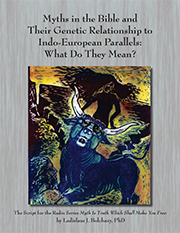 Bolchazy-Carducci Publishers takes great pleasure in providing this eleventh installment as a free download for classicists and students of mythology across the globe. Myth Is Truth, a series of interviews with Dr. Nancy Boyle as host and Dr. Lou Bolchazy as comparative mythology scholar, was broadcast by WLUC, Loyola University Chicago, in 1977, and by WRRG, Triton College, in 1978.



The Mythology of an Afterlife
In another engaging segment of Dr. Bolchazy's Myth Is Truth, he examines the varying myths of an afterlife. Dr. Bolchazy addresses how beliefs about the afterlife have evolved throughout history, informing Judeo-Christian conceptions of the most mysterious of religious matters.
Listen to a sample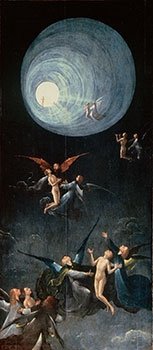 Flemish painter Hieronymus Bosch (c. 1460–1516) depicts a scene from the afterlife entitled Ascent of the Blessed. Courtesy of Wikimedia Commons.



eLitterae Subscribers Special 42% Discount

Love historical fiction? Stock up on these four titles. Spend those cold winter nights curled about with Benita Kane Jaro's engaging novels about Catullus, Cicero, Caesar, and Ovid and their historical milieu, as listed below. These books make great prizes!

The Key
Historical novel on Catullus's life
224 pp. 6" x 9" Paperback,
ISBN 978-0-86516-534-2

$12.00
$7.00

The Lock
See Cicero in his mileau: a novel on his life and times
304 pp. 5" x 7¾" Paperback
ISBN 978-0-86516-535-9

$12.00

$7.00


249 pp. 6" x 9" Paperback,
ISBN 978-0-86516-822-0

$12.00
$7.00

316 pp. 6" x 9" Paperback,
ISBN 978-0-86516-822-0

$12.00
$7.00
This offer is valid for up to five copies per title,
prepaid, no returns.
Discount is not available to distributors or
on products distributed by Bolchazy-Carducci Publishers.
This offer expires 03/15/15.
(Please note that there will be no adjustments on previous purchases. Offer is non-transferable and subject to change without notice.)
Enter coupon code

eLit0215

on the payment page.
The special eLitterae offer pricing will be charged at checkout.
Interview with Miles Becker, Creator of eyeVocab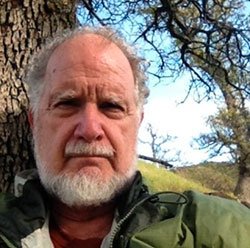 DES: You've had a varied set of learning and teaching experiences. Tell us how they've served you well in putting the various eyeVocab programs together.
JMB: Yes. I took four years of Spanish in high school, the last two from a woman who was regarded as very "old school" in 1962. You did not, if you could possibly avoid it, make an error in her class. Turning homework in late never crossed our minds. She was effective in some important ways. We all passed the College Boards with high scores. We learned the verbs. We learned grammar. But in my case at least, and in others I believe, we did not learn to speak. Three years later when I went to Spain I could barely get a sentence out. It took a month to get her ghost off my shoulder.
Following that high school Spanish experience, I took most of two years of Russian at Reed College, as they did not offer Spanish. That experience mainly made me aware that there are languages much harder than Spanish. And again, grammar and reading were the focus. Vocabulary was left to us to find a way to learn.
In Spain I lived on the fifty-year old three-masted Baltic Schooner Sofia some Reed friends and I had bought and were refitting, with the intent of setting out to sail around the world. My Spanish was the best in the group, so I was the one who arranged to buy what we needed. What we needed, beyond food, was not what tourists buy. We had two late 1940s Danish Nimbus motorcycles, four cylinders and shaft drive to the flatbed sidecar. A sort of early post-WWII pickup truck.
With my long hair, pea coat, driving up on that motorcycle, speaking Spanish, and needing specialized shipbuilding supplies and tools, I confused a few ship's chandlers, at first. It was great fun. We were doing actual productive work, and in Spain at that time productive work to a high standard trumped any notion of our unorthodox living arrangements.
I spent two years in Europe altogether, but the year in Spain had by far the greatest effect. It gave me a very strong belief in the value of language learning, and particularly in developing the ability to speak.
That was 1969 and 1970. In 1967 I had started to work for Outward Bound, usually for three months in the summer. This was my introduction to teaching. In 1971, I was offered a part-time position at the Athenian School in Danville, California. They had required students to participate in an Outward Bound course the summer before their senior year, and now wanted to develop an outdoor program that would run throughout the school year. This was a very attractive offer, and I accepted. The job became full time, and I was substantially responsible for the development of the Athenian Wilderness Experience.
We did many things that could not, I believe, be done today, including a trip on skis in March and April from Yosemite Valley most of the way to Mt. Whitney. We were out 26 days, another Outward Bound instructor, three Athenian seniors, two of them young women, and I. For two weeks south of Mammoth we camped at elevations of 10,000 feet and skied at an average elevation close to 11,000.
Like the adventure of the schooner Sofia, this trip was undertaken against the advice of many experts. All but a few, but those few were snow survey rangers who actually skied these mountains all winter long, and the chief ranger of Kings Canyon National Park. Care and skill were required. But conventional wisdom has its limits.
So this patchwork of experiences left me with two notions that have had a strong influence on the development of eyeVocab. One is the shortcomings of much expert opinion, which should always be thoughtfully tested, and the other is that with care, skill, good tools, and techniques, a great deal more can be done than is often believed possible.
In 1992 at the age of 46, after twenty years as a painting contractor, I went back to college—at the University of California at Berkeley to finish a BA, in Spanish. Initially I thought I would be satisfied with a BA, and intended to take the shortest path, in Latin American Studies. But I found literature more interesting, and perhaps better history, than the history courses. And I found my interest sliding across the map and centuries to medieval Iberia—which involved the Moors and Arabic. My department thought that learning Arabic would be a great thing of course—as long as it did not take any extra time.
I finished an Arabic first-year intensive in the summer of 1992, and a second year intensive in the summer of 1994. These were searing encounters with a truly difficult language, where the lack of effective tools for the teaching of vocabulary was particularly damaging. Flashcards and lists. My visual metaphor for Arabic vocabulary without such tools is the Arthur Rackham illustration of Alice being attacked by the deck of cards. Undifferentiated strangeness!
I had graduated with a BA in the spring of 1994, and was awarded the "Cervantes Prize for Excellence in Spanish Literary Studies." Not departmental honors, but a decent result. And on the list of the winners of the Departmental Spanish Honors in the Spanish Library was the name of the woman who had sat next to me for two years back in our high school Spanish class. I applied for the Master's program, and was accepted. It was with some trepidation that I realized that I would be teaching Spanish 3 that fall. Half of the graduate students in my department were native speakers, and the other half it seemed had recently spent a year or two studying in Mexico, Spain, or Argentina. My non-academic Spain was twenty years in the past. My fluency was based on having run a contracting business with Hispanic employees.
So I approached the teaching as something of an outsider. I required my students to memorize—to chant—verb paradigms, which was not considered to be "the thing." In fact it was proscribed. I also stumbled across the fact that students liked to talk to each other, and if left scrupulously alone, would enthusiastically do so, with no "today, we are going to the doctor's office." It helped to tell them that they would be graded up for mistakes, as that meant they were speaking, and otherwise to conscientiously ignore mistakes for the first few weeks. In that early period just standing up and looking at the class would in a few seconds bring the volume of sound crashing down. Later I could sit with them, and they paid me no attention. We did this almost every day. I moved people around, and they always had something to say to each other. Once, towards the end of a semester of Spanish 1, I realized that the entire class was so engaged that they had not noticed that is was a minute before the hour. I quietly gathered my things and crept out. The first student came out the door at four minutes past the hour. My students ended these semesters far ahead of the other classes of the same level. They did not fossilize mistakes. With coaching on vowels, elision, and a few other things their pronunciation was very good. The coordinator told me that my Spanish 1's "are speaking better than any of the Spanish 3's." That was not surprising. The official model was a teacher speaking to a student—not relaxing for the student of course and not much time given to speaking—or very occasionally—in pairs about some topic which rarely held more than a theoretical interest. This was not effective. The other skills of the good speaking Spanish 1's matched those of the other classes.
At this time, I developed a video to assist students with elision and the pronunciation of vowels.
During this period I was taking seminars in classical Arabic poetry, and thus dealing with the other side of the language learning issue. It felt like I was spending half my life in the Hans Wehr Arabic English dictionary, and often realizing that this was the third or fourth time I had looked up a word.
There were no effective tools or techniques for learning vocabulary.
About this time I was also doing some work in turn-of-the-19th-century Spanish low theatre, where costume played an important role in subverting the meaning of song lyric, or rather bringing out the double and triple meanings. Publications on this topic had photographs. How does image—costume, or lack of it—affect text, if its intent is not to illustrate but to subvert and amplify? I gave that a lot of thought.
I was also interested in memory, and someone suggested I read Yates's book on "Classical Memory Art."
I had, in my earlier life, developed photography skills and learned how to use the Quark publishing program in order to produce detailed proposals for painting structural exteriors, and had learned to use the Real Basic authoring system to streamline the production of these proposals. Soon, my teaching would capitalize on these skills and my reflections on image and memory.
In the fall of 1999 I had run out of teaching time at Berkeley and took a job in a local private high school teaching a class of six "low achievers." I was told "not to expect too much."
And, indeed, their well internalized label seemed to be true.
I could not get them to learn words. Any words. This was a problem.
They resisted all the methods and forms of encouragement I knew.
But one day in October 1999 an idea came to me. Images as the prompt to Spanish, on cards, but not the usual cards. Cards that were fastened together in decks. I had the skills to do this, and put a set together.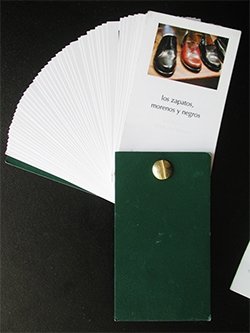 A sample of those vocabulary card decks from 1999.
The results were astonishing. These "low achievers" learned six hundred words between October and May and gave one hundred and twenty of them selected from the entire year's cards back on a final exam in May, English and Spanish, prompted by image, at a class average of 95%. I never had had anything close to such a result at UCB.
And there was much more.
Outward Bound leverages confidence. The first thought to be impossible challenges are overcome with determination and the right tools and technique. Subsequent challenges are more difficult, and by the end of a 26-day course substantially more difficult, but always addressed with the necessary tools and skills, and increasing confidence, and are always met.
Discovering the ability, given a good tool, to learn words at a rate equal to the better students I had taught at UCB, did wonderful things for these high school students' confidence in general, and translated into real progress in learning all aspects of what they had been convinced they could not learn—Spanish.
At this time I had been awarded a Berkeley Language Center Fellowship. Of thirty-six applicants, four were accepted. This put me in close touch with national figures in the study of second language acquisition.
I found it difficult to believe that this simple approach had not been used before. But if it had I could find no one who was aware of it.
Quite a bit of digging in the psychology library found relevant work on recognition memory for image, but only for image, not for information intentionally bound to the image.
I was then a couple of years into the Spanish PhD program, and it had become clear that it was extremely unlikely at my age that I would find a reasonable job. And my department had no interest in a discovery I believed could radically change language teaching.
So I left the university, hoping to move my ideas forward, supported by contracting as a day job.
I had taken one semester of Latin. My Arabic satisfied the classical language requirement, but I thought it would be a good idea to have Latin. Thaddeus Lisowski was my TA. His best efforts unfortunately could not overcome the hard facts of time, so I did not continue with Latin. In 2001 I contacted him to see if there would be a possibility of using the cards in a UCB summer intensive in Latin or Greek. In 2001 we created a set for the second half of the Greek Summer Workshop, which was well received. In 2002 and 2003 I created full sets for the Latin Summer Workshop. Student feedback was very good, but it took more time than I could afford.
In 2006 I approached the director of the Latin Summer program, and was about to work on putting together a video flashcard implementation for the recently introduced iPod, when an opportunity to do so with Arabic presented itself.
That version of eyeVocab, unfortunately, did not achieve much. Intensive courses, or a course like my 1999–2000 Spanish course created an environment where use could be established. To do that in a normal university course requires rigor, and that was absent even at Berkeley.
However, in 2009 the director of the Berkeley Arabic program was hired to direct the Tunis intensive in the six site State Department funded Critical Language Scholarship Program. She convinced the American Institute for Maghreb Studies, which was responsible for the program to buy Mp4 video players for 24 students. The eyeVocab Arabic videos were loaded on the players and given to the students before they left Washington DC for Tunis, with the instructions that this was how vocabulary would be learned.
In-country intensives are an ideal context for eyeVocab, and the pre- to post-course score improvement of beginners and advanced beginners were the greatest ever recorded in a State Department funded Arabic program. So great that there were complaints from other sites that the scores could not be true.
In 2010 and 2011 the Tunis program used an iPod implementation, that with funding from the American Institute for Maghreb studies, I had been able to have developed. This implementation was extended to cover the second year textbook then in use.
The results were spectacular. Historically, OPI score improvement for beginners and advanced beginners in a Critical Language Scholarship Program Arabic intensive course ranged from 1.5 levels to 2.25 levels. At the Tunis site in these two years the average improvement was 3.6 levels. That is a sixty percent difference!
These scores were the product of a powerful tool, instructor buy in, the pressure of an intensive course, and excellent teaching. eyeVocab does not teach language. It enables the teaching of language.
About the same time Thaddeus Lisowski contacted me. He had taken his PhD in classics, and was teaching at the Head Royce School in Oakland. His students weren't learning their vocabulary as well as he thought they should, and could. So I put together a computer implementation of the method, which was installed in the Head Royce Language lab. The results were excellent. He gave up about a half period of teaching time a week to take his Latin II's to the lab, with a significant, in his opinion, net benefit in substantially improved learning of vocabulary, genitives and principal parts, enabling more progress in nine classroom periods than he had experienced before in ten.
Thaddeus's success led to collaboration with Bolchazy-Carducci, and here we are.
DES: What criteria direct your selection of an appropriate image for a given word?
JMB: Images are chosen for their graphic power and their emotional affect as well as their suggestion of a narrative.
We have a very high percentage of images from Western and Eastern art, particularly, in Latin, from the Medieval and Renaissance periods through the early 20th century, as well as book illustration, and high quality photojournalism and photography.
The emotions we hope to arouse range from surprise, which could be a concept appropriately illustrated in unexpected context, to humor, empathy or sympathy, recognition, or even puzzlement.
The narratives the images suggest are varied, but clear. The image is understood not as a representation of a thing but as a scene in an implied narrative. A story, however brief, is vastly more memorable than one understood as a mere depiction or example.
[Editor's Note: Check out the sample images from eyeVocab and Miles's discussion of why they were chosen. (complete document)]
DES: In what ways is eyeVocab different from other digital vocabulary programs?
JMB: All the other vocabulary programs of which I am aware are elaborations of paper flashcards. They "flip"—text to text. When images are included they are nearly always the quality of stock photos, which are inherently exaggerated and false. They illustrate, if even that. They do not evoke. They are small, presented in a confused visual field, and imply no narrative. Sound, if present, is in almost all cases poorly recorded, unclear, or too fast, and always without presence. If not, in fact, a computer-generated voice. Typing is awkward, the fonts small, and again, the visual field is confused. I have not yet seen a chunking function that breaks a chapter list into readily assimilated subsets that working memory can effectively use.
eyeVocab presents very high quality images in isolation. The images have affect and imply a narrative that expresses the concept desired to be learned. Sound is clear and the voice has presence. Text is large and clear. Typing conventions allow text to be entered without breaking the "trance like focus" commented on by many observing students working eyeVocab. Correctly entered words are dropped from a cycle. Useful information on results is presented at the end of a cycle. Other useful information is presented in the notes.
And of course something very valuable which we are now implementing in Arabic and intend to implement before long in Latin—example sentences and dialogs with sound that reference the images and are therefore extremely memorable, as a vehicle for the unconscious learning of grammatical formulae and a large amount of extra vocabulary. Moreover, they can be used as practice dictation—something entirely out of the question for the other approaches.
DES: Explain how the principles of eyeVocab resonate with the ancients' understanding of how memory works.
JMB: "Classical Memory Art" is based on an evocative image or a series of images created by the individual in her mind. Such an imagined image is by nature distinctive, affective, and seen in the mind in isolation.
The nature of the images used in eyeVocab and their presentation without interference in the visual field, their affect, and the narrative implied by them, would be well understood by the ancients.
DES: What's your favorite eyeVocab success story?
JMB: Well, there are many. For example, the student at UC Davis who was having terrible difficulties in the early weeks of last fall's Arabic 1, lamenting the fact that Arabic script was just "squiggles on the page," who in December touch typed her eyeVocab final—half the active vocabulary of the quarter, eighty words, prompted by image—without a single error, and getting a comfortable A in the course.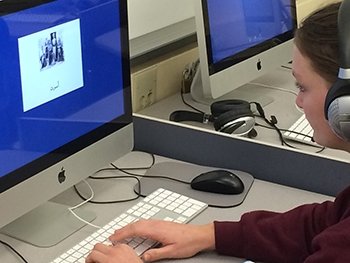 Corinne Cook, student of Arabic at the University of California at Davis, working on eyeVocab in the language lab. Photo by Miles Becker.

Or the fact that while it is considered impossible to teach touch typing in Arabic to beginners, and indeed irresponsible to attempt to do so, since it detracts from their learning of grammar and vocabulary, fifty of eighty students at UC Davis touch typed their final eyeVocab exam, and another twenty typed on the physical keyboard with an onscreen keyboard up for reference. I am not concerned with whether students use their typing skill for anything else, but to get maximum benefit from eyeVocab they need to learn to type. And they got that benefit! The average score of sixty of eighty students in what must have been the most difficult vocabulary test ever given in first year Arabic was 98.7%, notwithstanding the fact that a single letter misspelling meant a .6% deduction.
Or in Latin the impressive results that Thaddeus Lisowski has achieved at Head Royce and talked about in the webinars he has given at B-C.
Or going back to the beginning, the astonishing accomplishment of those "low achievers" back in 1999.
There are many.
DES: As you move forward, what are your hopes for eyeVocab? for Latin? for other languages?
JMB: My hope is that in the coming year or two we can significantly raise the bar in Latin, with home use and rigorous testing. I believe that the Tunis Arabic scores, the results in an Arabic intensive last summer at UC Davis with home use and rigorous testing, Thaddeus Lisowski's results at Head Royce without home use, and data from other cases, imply that the possible benefits of declarative knowledge of a chapter's vocabulary when that chapter study begins, and of course declarative knowledge of the vocabulary of all previous chapters, including those of previous years, has the potential to increase the rate of learning new material by 25–30%, across the board, by which I mean all students in a class. And further, that beyond finishing some number of chapters in two thirds the time, or in the same amount of time but with the addition of much enriching material, that all measures of the student's understanding of the language will be radically improved.
Regarding other languages, our Spanish has a great deal of content, at around 1,500 words, but Spanish is very diffuse, in that there are a seemingly unlimited number of textbooks each in numerous editions. To develop Spanish we would have to work with schools that were willing to have core and high frequency vocabulary presented in eyeVocab, and less important vocabulary studied in other ways.
We have made the most progress in Latin and Arabic I believe because the difficulty of these languages makes those who teach them more open to new methods that show promise.
But the method is language independent. Any language pair can benefit from this approach, so the possibilities are great.