BFF: Filter by Newsletter Name
Welcome to the first edition of Beta Feature Fridays! For the next few months we'll be detailing a new feature from our super sleek MNB Beta system in a BFF blog every other week. (Haven't checked out Beta? Do it!) The updated MNB interface is loaded with new and exciting tools that will help make your email marketing better, and we want to talk about all of them. Get pumped.
Search Party
Do you have lots and lots of newsletter drafts saved in your archive? Do you want to copy and edit a newsletter you sent many moons ago? Do you dislike scrolling through alphabetized lists? If you answered yes to any of those questions, MNB has just the solution for you!
Introducing Filter by Newsletter Name!
This brand new feature allows you to search for specific words or full titles in your archive. Simply access your archive (by clicking "Newsletters" on the top menu inside your account), and then, using the search field at the top of newsletter list, enter your search terms.

You'll notice that the system will automatically update the returned newsletters to match your query. No need to hit "Enter" or click a search icon. Just type the word or phrase you know appears in the title of the newsletter(s) you're looking for, and you're good to go.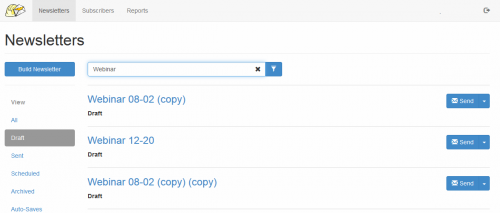 The filter works in every section of your archive (Draft, Sent, etc…), so it's easy to find the exact newsletter you need, right when you need it, no matter where it is. Pretty slick, right?
So, that about does it for the first round of Beta Feature Fridays. We'll be back in two weeks with another peak at one of the many new features you'll find in the MNB Beta system.