It's time to get your tickets for our April 30th Fundraiser! Whew! What a bunch of extra work we faced in the process of rescheduling since it involved changing venues...but how exciting it is to be back on track! And with the International Blues Challenge on the weekend following our fundraiser, those of us attending both are looking forward to a high energy couple of weeks. With all this time staying home, it's just hard to wrap my mind around the whole idea of going and doing again!
We have an interesting new article this week. International blues artist, Doug MacLeod and joined forces with author Debra Schiff in creating a blues mystery novel. Be sure and check it out below. The remaining articles are back from last week. Most are FYI articles for upcoming events.
Read
on below for all the news.
Always remember, this is YOUR newsletter! Please send
feedback or suggestions our way. You can reach me by email at the address below. We appreciate our readers and want
to see
your ideas included!
Tickets on Sale NOW!

Ozark Blues Society

2022 IBC Fundraiser

The ticket link is up and active again! Limited reserved table seating is available as well as general admission w/o guaranteed seating.
To order your tickets visit our Eventbrite site:
You may also visit our website to access the ticket link.
Our new date is just one week before the International Blues Challenge in Memphis so it will be a great opportunity for the NWA community to come out and hear the Jeff Horton Band as they share the music they will be taking to Memphis!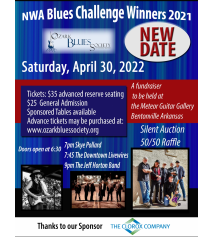 We are excited to bring this fun, annual event to the Meteor Guitar Gallery. Keep watching for more information as we finalize the details of this new event. A BIG thank you to all the
great blues loving folks in NWA.
We appreciate your support of Ozark Blues Society and our 2022 IBC challenger, the Jeff Horton Band.
"Murder at the Crossroads"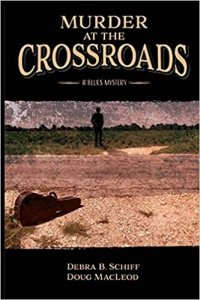 Murder at the Crossroads transports the traditional mystery into the world of blues music. It was cowritten by Doug MacLeod, a world-touring, award-winning blues musician, and Debra Schiff, author of Murder to Scale.This suspenseful story will resonate with music fans of all persuasions as well as diehard blues afficionados.

How does anyone make peace with the paths they choose at crucial "crossroads" in their lives? For Eddie Baker, a middle-aged black man, those decisions are literally life-or-death matters. As a teenager, he secretly witnesses the lynching of a civil rights worker in Mississippi in the early 1960s. He flees the dangers of the South to Chicago and is able to forge a career as a blues guitarist. But even over 30 years later, in 1992 Los Angeles, he is still haunted by the horrific act he was powerless to stop. When a former Klansman is at long last prosecuted for the crime, Eddie reluctantly travels back to his Mississippi hometown for the trial. After the murder of the DA's star witness, Eddie is pursued by someone who knows what he witnessed and wants him silenced forever.
Murder at the Crossroads provides an insider's guide to the ups and downs of a struggling blues musician. Eddie is helped by real-life blues greats and characters, a sidekick who has the body of a skinhead but the soul of a black bluesman, and loyal friends. Standing in his way are vengeful white supremacists, the animosity of a wronged woman, and his own fears and weaknesses.

Eddie has a final shot at redemption. He must somehow find the path that leads to justice for a victim of past crimes while preventing another murder from happening, his own!
Bob (Steady Rollin') Margolin had to say this in his review:
"Doug MacLeod and Debra Schiff have co-written a mystery novel that moves me like…a Doug MacLeod musical performance. His 50+ years as a Blues musician, his knowledge of the scene and the people and The Road from then to now, and his story-telling in words and his music are magnetic and soulful. He brings that to this book. It starts strong and grows in power, reflecting the life, light, darkness, tragedy, triumph, history and love in the Blues World. I'm taken and shaken."
You can order Murder at the Crossroads from your favorite bookseller or from the Barnes and Noble or Amazon(including a Kindle version) websites.
Please note that a portion of profits will be donated to The Blues Foundation's HART Fund.
We would love for you to interviews the authors! To coordinate interview scheduling please contact Miki mmvt@me.com or 651-755-7944.

Support Options

For Local Artists

Please check this section of the newsletter weekly for ideas of how to support local musicians and venues. Submissions are being reduced to contact information this week as we restart the Live Music Calendar.
*****
Jimmy Wayne Garrett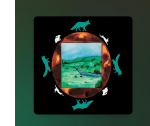 For more information about Jimmy Wayne Garrett, his schedule, recent interviews, or buy the latest album, visit: JimmyWayneGarrett.com
His music may also be found HERE:
YouTube link https://www.youtube.com/watch?v=NAj6BYVglL4&list=OLAK5uy_la2zCm6zUphqeNMMe4j9I2jxiI2YT1AkU
*****
Buddy Shute and the Motivators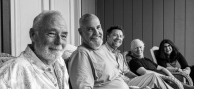 Buddy Shute and the M
otivators live at the Eureka Springs Auditorium on YouTube: LiveAtTheAud
***
Buddy's latest project is a duo with Mark McGee. They will be representing the Fort Smith Riverfront Blues Society at the 2022 International Blues Challenge. Their recently released CD/EP is now available.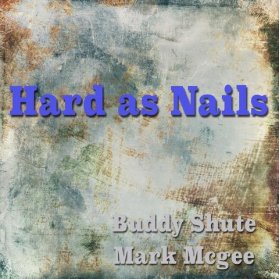 To learn more about the band, and Buddy's duo with Mark McGee, visit:

Facebook: Buddy Shute and the Motivators
******
Brick Fields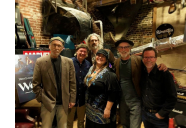 We have released a single from the upcoming album. Here is a link to the video "Take Me To the Riverside"
Once live music begins again, f
olks can stay updated on our concerts by signing up to our email at www.BrickFieldsMusic.com and following us on Facebook at:https://www.facebook.com/BrickFieldsMusic
We also have two stores on our website one for music merchandise and another for Blues Therapy handmade items such as essential oil blends, Jewelry, tie dyes, bath salts, body butters and more.
Thank you for your support.
I pray that each of you and your families are all doing okay through this.
Brick Fields
Booking Call: The Brick House 479-846-4668
*****
The Jeff Horton Band
**Read on for NEW information**
Based in Bentonville, Arkansas, the
Jeff Horton Band definitely has

a passion for the Blues! For the last
10 years Jeff and the guys have
done their part in sharing
the Blues
as much as possible, treating their fans to an enjoyable experience.
Jeff reports he has some exciting gigs coming up at Good Vibrations in Rogers. There will be a new jam every other Monday from 7-9pm, beginning December 27th. Additionally, he and the band will be hosting the New Year's Eve party
at
Good Vibrations this year.
For more information on the Jeff Horton Band check out:
Jeff has also put together a Spotify playlist for NWA Blues. It can be found, HERE:
*****
LIVE MUSIC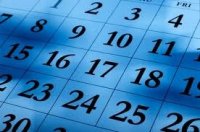 Please enjoy the following listings comprised of bands, venues, and/or organizations that support Ozark Blues Society. Always check with individual venues for event details and schedule changes. Submit weekly listings by emailing: SANDY
3.
11
Full House for Happy Hour at George's Majestic Lounge in Fayetteville

Elizabeth Bainbridge Jazz at Levi's Gastrolounge in Rogers

Jenna and Friends at JJ's Grill and Chill in Bella Vista
3.12
UA Jazz Combos and World Music Ensemble at UA Global Campus in Fayetteville

Speakeasy Jazz at Levi's Gastrolounge in Rogers

Shaina Shepherd with Baang for Black Fret NWA Sessions at 21c Museum Hotel in Bentonville

Brick Fields at Wanderloo Lodge and Bar in Eureka Springs
3.15
Adam Collins, Matt Beach and Garrett Jones for Jazz at the Undercroft Bar in Bentonville

Vince Turner at JJ's Grill and Chill in Bella Vista

Richard Burnett at JJ's Grill and Chill in Fort Smith
3.16
3.18
Oreo Blue for Happy HOur at George's Majestic Lounge in Fayetteville

UA Dept. of Music: Schola Cantorum at Faulkner Performing Arts Center at UA in Fayetteville

Circle of Thirds Jazz at Six Twelve Coffeehouse and Bar in Fayetteville
3.19
DeeDee Jones for Soul Nite at the Meteor Guitar Gallery in Bentonville

Blew Reed and the Flatheads at Ruckers Music and Mayhem in Noel Missouri
4/30
Bound for Beale IBC Fundraiser at the Meteor Guitar Gallery in Bentonville
5/8 Robert Johnson Legacy Tour with guest Tony Redman at Meteor Guitar Gallery in Bentonville

5/23 Bonnie Raitt and Lucinda Williams at Robinson Center Performance Hall in Little Rock

Please Submit Dates for Regional Blues Artists and Group Events HERE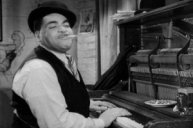 Today's show features music performed by the great Fats Waller

"Jazz isn't what you do; it's how you do it.
"
Fats Waller


Blues Education Supporters
Thanks to the following for their support of blues education.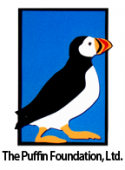 Check Out these regular local radio programs

"The Generic Blues Show" hosted by Paul Kelso airs every Friday night at 9pm on KUAF 91.3FM
Rockin' Hog Radio presents "Sunday Morning Blues" from 8am to 10am every Sunday
LINK
Get Involved with the Ozark Blues Society

Annual membership levels begin at $15 and give you so much in return, including meeting new friends while enjoying the best blues artists in the area.
By being a member of The Ozark Blues Society of Northwest Arkansas, you are helping to support the Arts and to preserve the Original American Art Form known as The Blues.
Membership Benefits Include:

Weekly E-newsletter
Opportunities to win tickets to events
VIP seating at events (when available)
Discounts on OBS merchandise
Social networking – meeting other people who also love the blues
Opportunities to volunteer on OBS committees and at events
Ability to attend board meetings and vote on upcoming organizational issues and elections
Visit our Website to renew or join! Ozarkbluessociety.org