We're in it for the Long Haul


Make a gift at www.er-d.org or send your gift to the diocesan office marked Nepal Relief and Rebuilding. Your gift will help The Episcopal Church be present right now, as well as longer-term when the enormous task of rebuilding begins. Pray for Nepal.

Draft 2016 Budget Available for Review

The following 2016 Budget documents are now available.
Indianapolis Pride Parade June 13... Get Involved!


With marriage equality before the Supreme Court and the high-profile battle over RFRA in Indiana, there is no better time for Episcopalians to march in the Pride Parade!

Last year saw over 120 Episcopalians walking together and we won first prize as a walking group in the parade. We are poised to walk together again and to offer hospitality at a booth during the festival.

We know walking is not for everyone, so we're looking into whether bikes are allowed and into entering a car as part of our group this year. Stay tuned!

But we need help getting the various parishes involved! If you are interested in participating this year, please identify one person in your parish to advertise and organize for you and put that person in touch with the Rev. Suzanne Wille at rector@allsaintsindy.org as soon as possible, no later than May 9.

Information will be posted on our diocesan Facebook page and on the Diocese of Indianapolis at Circle City Pride Festival and Parade Facebook page.

TRIENNIAL MEETING DELEGATES ARE TO BE LOOKING AT THE FUTURE OF WOMEN IN THE CHURCH

By Janet Higbie
Province V Representative to the Ad Hoc Committee
Resolution 101/104 was passed at the 2012 Triennial Meeting to establish an ad hoc committee to research and review the present function and structure of the Episcopal Church Women (ECW) National Board, and the mission and purpose of the Episcopal Church Women (ECW), and make the appropriate recommendations.These recommendations were asked to be presented to the women in 2015.

In 2013, the 2012-2015 Episcopal Church Women Board established a committee to address this resolution. This committee became known as the Ad Hoc Committee for Restructure. It was comprised of nine women each representing a province of the Episcopal Church. To ensure diversity of viewpoints, the members of this committee had different levels of familiarity with ECW, as well as diversity in culture, race, age, and education. The National ECW Board contracted with Crystal Brook consulting firm with a strong Christian base to lead and support the ad hoc committee as we undertook the challenge of this resolution.

This committee met face to face twice, had weekly phone calls on Skype, and each of us worked on 2-3 committees with phone calls and homework to be ready to present to the whole committee. The work was monumental as well as rewarding. We learned from each other.

The National ECW Boad is encouraging everyone to read the entire report. Those coming to the Triennial Meeting please come prepared to participate in a deeper discussion about the restructuring of ECW, including the committee's recommendations, and the changes needed to the bylaws. The first conversation will take place on Saturday June 27 from 7:30 -9:00 am.

Here is the link for the complete report. http://ecwnational.org/triennial-meeting-2015/adhoc-committee-for-restructure/adhoc-committee-report-and-appendices/

Change is necessary and inevitable for any entity to survive. I truly believe this report and the proposals given hold many of the areas that need to occur for us to continue to thrive.

Again, I recommend you take the time to look over the report. If you have any thoughts or suggestions feel free to contact me at JLHigbie@gmail.com. Please pray for us as we undertake this challenge.

I would like to close with part of my letter to the National Board.



"Please remember that for any entity to survive, they must continually look at where they have been, where they are, and where they want to be in the future. It is a continuous continuum. If that entity fails to adapt, it will fail and wither away. An example of this is IBM. They were a leader in the PC computer world. The company failed to adapt to the changing market and lost a foothold. IBM sold the PC division to Lenovo, a Chinese company who did adapt to the changing market. They are the leader in PC's in the world."

Vestry College
Waycross
Fall Ember Day Gathering
Steps to Wellness with Medical Trust/ CREDO Staff. Krannert, Interchurch Center

Deans meeting immediately following.

September 25-27
The Episcopal Women's Ministries'
Fall Retreat

The Episcopal Women's Ministries' Fall Retreat, "Growing Wise" will be at Waycross September 25-27. Guest speaker and leader will be The Rev. Jean Denton.

Questions? Lisa Matucheski, or home 317-293-9324 mobile 317-777-5142.



October 23-24




Diocesan Convention Part 2


Wyndham Indianapolis West. See Diocesan Convention is Changing in this issue for more details.


Advent Ember Day Gathering
Krannert, Interchurch Center
A place to sit in a circle and share ideas!
Great Things to Do This Summer to Help Your Parish Grow and Develop
By Kathy Copas, Diocesan Coordinator of Communication and Evangelism
The more relaxed vibe of summer will soon be here—a time when the programming year may ease up while opportunities for parish growth and development can still present themselves in some different and unique ways. Here are just a few ideas to consider.
Use your grounds and get outside.



Start a pick-up game—softball, volleyball, board games, whatever you have room for—with the neighborhood kids.





Set up a free lemonade stand on a hot afternoon.





Purchase some inexpensive ice cream in bulk and host a Friday night ice cream social.





Suspend a white sheet from two trees, use your best projector, and show a movie. For some extra fun, make it a popular musical and pass out lyrics so people can sing along.





Find someone in your parish or community/local university with a telescope and hold some stargazing nights.





Organize a 4th of July parade for bikes, trikes, and pets.





In short—always be thinking of some simple, no or lost-cost/low effort fun things you can get out and do right on your own grounds, even spontaneously, that will cause people to connect with you.




Get out of the parish hall conference room and actually and go out and informally meet the neighbors.



Just strolling the immediate neighborhood, greeting people who are walking, working in their yard or sitting on their front porch is great. Asking for their opinions/ideas on what are important issues in the neighborhood is even better.




Do some outdoor church and coffee hour opportunities before the weather gets too warm. Try something new with worship like an outdoor Sunday evening service.


Inside the parish, develop new volunteers by inviting people to try something on a limited/temporary summertime basis—singing in a special summer choir, ushering, greeting, leading a church school program, helping with altar guild, lectoring, working in the nursery, or serving.



A lot of folks are hesitant to volunteer for open-ended assignments but may help with more limited volunteer opportunities. Yet, once they see how easy a task is, and get in the habit, you may be able to recruit them for longer assignments.




Swap stuff—plants, summer garden vegetables, recipes, tools/household goods, clothing, sports equipment.



Just announce the dates and let people bring their items in on the designated day and swap away. Great get-to-know-you time.




Set up a table at your county fair or festival with no agenda or major effort---just be present to chat with people, connect. Be friendly and open and let God take it from there!
Have fun and be sure to tell us what you did at thegatheredcommnity@gmail.com
Kathy Copas
502-345-6406
KathyCopas@aol.com
by Dave Guilfoyle
Another in a series of Deacon Postulant Stories
Reading Jim Stanton's characterization of his call to the deaconate as a tug resonated with me, because I have always described my own call as a push. When you are pulled somewhere you have a pretty good idea where you are going, but when you are pushed, you have the impulse without an indication of exactly where you are headed.
I have only been an Episcopalian for six years or so. But I knew from the first Eucharistic service and discussion with the priest that it was where I needed to be. When I became a member of the Church I felt compelled to become as involved as possible in our shared mission. I found lots of opportunities to serve. I became a reader, greeter, served on the Bishop's Committee. I got involved with the outreach ministries, joined the Christian formation groups.
But there was something more, difficult to explain, but very real. A PUSH – a feeling that I needed to do something else, without a very clear idea of what that thing was. I discussed it with my priest in 2012, and she suggested I go to Information Day to look for some clarity.
My wife and I attended together and learned about the roles of the ordained in the Church and the process of formation and training leading to ordination.
During this session, I found what I had been seeking. The ministry of the deacon spoke to me very clearly. I entered discernment the next week.
The last three years have been challenging, frustrating, transformative, and unbelievably rewarding. It has also been the work of many people. It has involved my congregation, the deacons in the diocese, the Bishop and her staff, and the professionals who provide some of the training. And of course, my family, who has encouraged and supported me through the process.
The first year and a half have been spent in discernment. This involves examining your call with others through prayer, meditation, discussion, and study. It was a very eye-opening experience for me. I have been challenged to explore my spiritual journey, how I could live out my baptismal promises, where my passion and experience would lead me.
At the same time, I came to understand what the ministry of the deacon looked like. I studied the history and theology of the diaconate, shadowed a deacon while they worked in the liturgy and in outreach. I met with the Bishop and the Commission on Ministry to discuss and explore my call. On December 15
, 2014 I was accepted into postulancy.
Since then I have been in formation as a deacon. It has been difficult and rewarding. I work full time and have a big family, and so time is a challenge. The deacon formation program allows for development while a postulant works by using many formats. Bible study through the Education for Ministry program, online courses from the Center for Anglican Learning and Leadership, weekend retreats at Waycross, practical training, just to mention a few.
I am not finished with formation, not by a long shot. But the push has never gotten any weaker. I still feel compelled to look for how best to use whatever gifts God has given me to serve. And I believe this push is the Holy Spirit working in my own life in a very real way. We all share in the ministry of the Church, we are baptized into this ministry. Finding our place in this mission is work of discernment.
Are you being pushed?
Brownsburg Episcopal Presence Blossoming

Follow the Rev. Gray Lesesne's blog at


---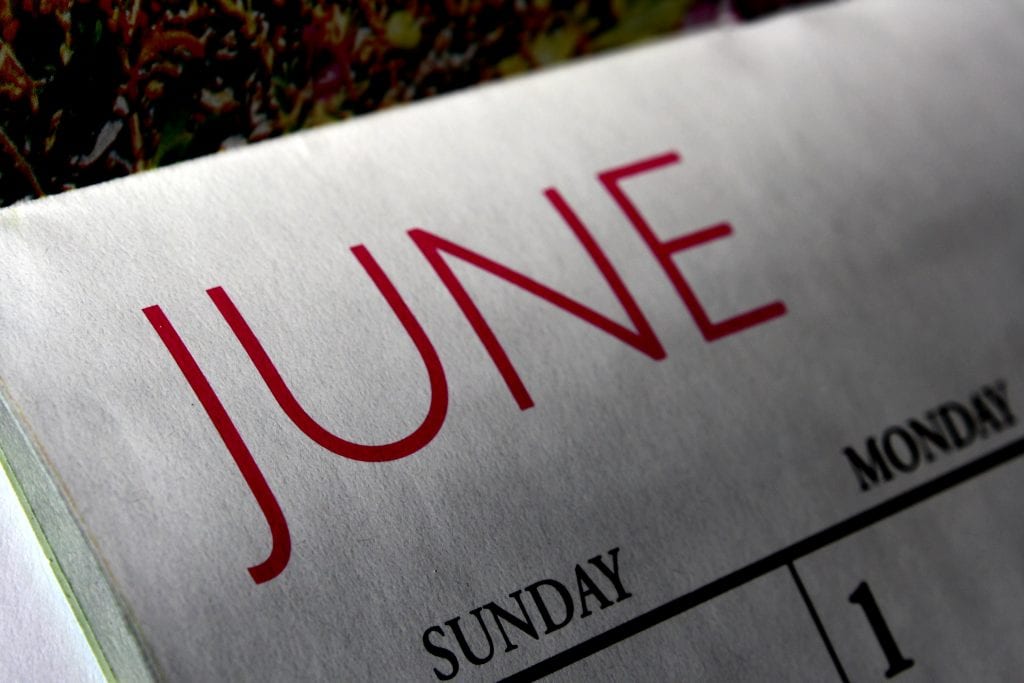 Commission on Ministry Plans Information Day

If you believe you're hearing the call to ordained ministry, please be in conversation with your priest. Your priest may then bring you and a member of your vestry or Bishop's Committee to this Information Day to learn more about the ordination process.

This event is at St. Paul's, Indianapolis from

11 a.m.-3 p.m.

,

Saturday, June 6

.

Contacts for answers to your questions: The Rev. Charlie Dupree, COM Chair or Joyce Krauser, COM Coordinator.

---
Vestry College Rescheduled for August 14-15

The February snow-canceled Vestry College has been rescheduled for August 14-15 at Waycross. In addition to the usual Vestry College workshops, there will be opportunities to further explore Pathways to Vitality and Holy Currencies concepts and applications. Contact Canon Bruce Gray (gray@indydio.org) for more information, and especially let him know if there is a particular topic you would like to have explored in August.

---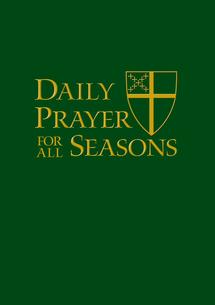 Free Resource for Personal Reflection: Daily Prayer for All Seasons

Now available for free download on the website of The Episcopal Church here.

Developed by the Standing Commission on Liturgy and Music and authorized by the 77th General Convention in 2012 (Resolution A055), the prayers in Daily Prayer for All Seasons are presented according to liturgical season beginning with Advent and progressing through Christmas, Epiphany, Lent, Holy Week, and Easter. In addition, two sections are offered for Ordinary Time: Creation and Rest.

In each, all prayers are grouped according to eight particular themes: praise, discernment, wisdom, perseverance and renewal, love, forgiveness, trust, and watch.

---

Music and Mission: The Dayspring Choirs Project



Purchase CD's or Digital Downloads and Help Dayspring Center



Featuring music by the choirs of Holy Family, Fishers; Nativity, Indianapolis; St. Francis, Zionsville; and Trinity, Indianapolis.

All proceeds from sales of this celebration of music and mission will be used to provide emergency care, essentials, and support services to Indianapolis-area homeless families and children at Dayspring Center.

Click here for a preview and purchasing information. Not interested in the CD, but want to make a gift to support Dayspring's mission? You can do that through this link as well.

Waycross Hosts Volunteer Weekend

Youth Summer Leadership Seminar

Friday, June 26 – 6:00 p.m. to
Sunday, June 28 – 12:30 p.m.

The Summer Leadership Seminar is a fun and exciting time hosted at St. Christopher's, Carmel that is designed to prepare our greatest resource: young people. During this weekend, our young people will explore a range of topics: working with small groups, leading liturgy, collective decision making & much more.
You can look forward to:
Group & Community Building Sessions lead by Adult Volunteers & Local Clergy
Break Out Sessions
Large Group Games
Community Worship
The cost for the weekend is $30 and includes any supplies needed, food for the weekend and a Tshirt.

Scholarships are available.
Registration is open at stchriscarmel.formstack.com/forms/sls15

Contact Tim Dinger at tim@stchriscarmel.comor (317) 846-8716 for more information.

St. Christopher's Episcopal Church
1420 W. Main Street
Carmel, IN 46032

St. Mark's, Plainfield Holds 1st Annual Lasagna Cook-Off

A wonderful and delicious time was had by all!


Seven people entered their best lasagna recipe. Each lasagna was given a name based on a city in Italy (this way the preparer of the lasagna was anonymous) and was cut up into small serving sizes and placed in serving boats. Everyone present picked up a tray and filled it with each of the boats for a very tasty sample of each lasagna. We then chose our favorite (it was not an easy decision) and voted.


.


And the winner was..... none other than the chef who threw down the gauntlet. Congratulations Wes Maharas and a great big THANK YOU to all the Chefs: Roberta Anderson & Donna Presdorf, Andy Burnett, Ruthie Burnett, Wes Maharas, Donald Presdorf, Kathy Chorba and Mike Healy

EPISCOPAL FUND FOR HUMAN NEED

Are you ready for the Episcopal Fund for Human Need campaign?


Pentecost Sunday, May 24, is our designated day....but you can do projects year round including volunteering at some of the agencies in your deanery or even a neighboring deanery. If you want ideas or speakers be sure and contact any of the EFHN Board members or agency directors (those lists are included in the kits). Kits were distributed at the clergy conference and, for those locations not in attendance, the kits were sent in the mail. Please participate fully in this only diocesan-wide, Indiana outreach ingathering, which addresses a myriad of problems through wonderful agencies in each of our deaneries! Materials and information are available on indydio.org.

Bishop in Israel with Interfaith Partners for Peace

What Happened at Diocesan Convention

New format begins with Part 1 in Bloomington

Bishop Cate Waynick Calls for Election of 11th Bishop
In an address to the 178th Diocesan Convention, Bishop Cate called for the election of the 11th Bishop of the Episcopal Diocese of Indianapolis. The text of her address is available to read online or to download. The process will be overseen by the Diocesan Standing Committee. For more information, see The Search for the Eleventh Bishop.

News from the Convention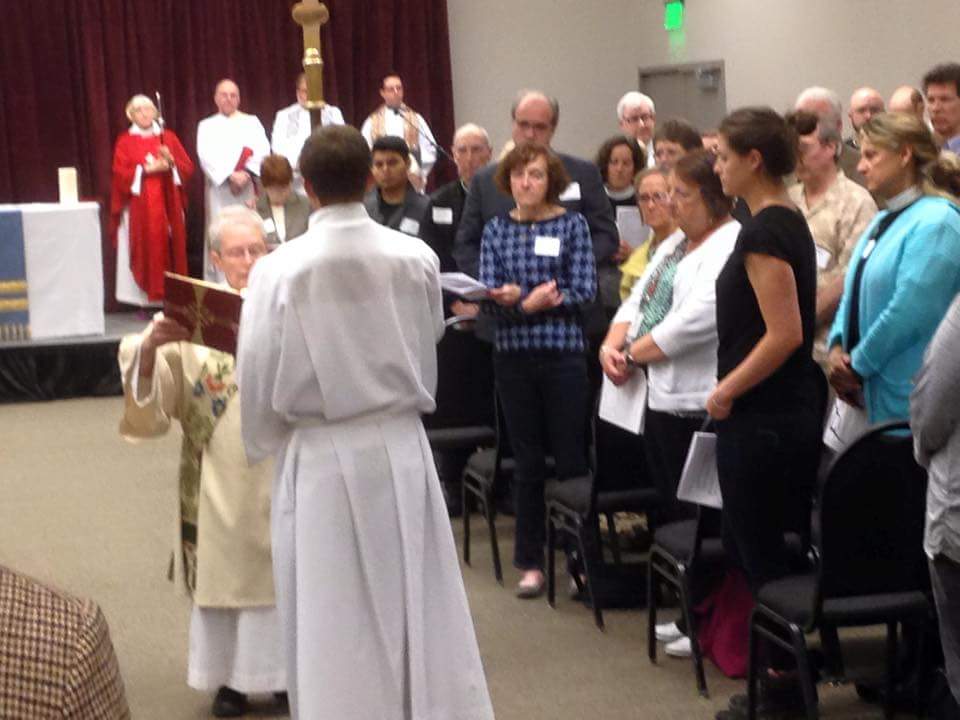 The 178th Episcopal Diocese of Indianapolis Convention met April 25 in Bloomington for part one of what will be a two-part convention in 2015, as the diocese experiments with a format that should enable more persons to participate who have

Monday

-

Friday

work or school responsibilities. More . . .

The Gospel of St. Mark and the Longer Version
Referring to his work as the newly consecrated church planter for Brownsburg, Indiana, the Rev. Gray Lesene preached the sermon for the convention worship service, telling the diocesan household.

We are no longer in the supposed "Shorter Ending of the Episcopal Diocese of Indianapolis." Instead, we are standing shoulder to shoulder with those early disciples in Mark's longer ending, listening as our Risen Lord, in all his glory, surprises us once again with the truth and hope and joy of his Resurrection. We are all making the conscious decision to go forth with these disciples once again into the world in a new way to proclaim the good news.

Like those in Mark's longer ending, we may be a little nervous in this new moment. (I know I am.) Like them, we will make mistakes along the way. (I know we will in Brownsburg.) But thanks to you, and thanks be to God, we are no longer entranced by death and the tomb, for we are moving into new life. In our Diocese, we have decided that death and decline is not the narrative that will define us as the pundits have predicted. Instead, we are a part of a Resurrection story. The Resurrection story. God's constant story.


A Thank You From Our Friends in the Diocese of Bor

The Diocese Continues to Make a Difference



Dear Bishop Cate,

I believe and trust the Lord that all is well with you. It has been a while since we communicated. However, Bishop Ruben is passing much greetings to you and the congregations at all churches of your diocese (the Diocese of Indianapolis).


Bishop Ruben, the Dean, the entire clergy and the congregation of the Diocese of Bor, especially those who have just returned back home after the crisis of December 2013, are so much appreciative of all the support that you sent to the Diocese of Bor before and especially during and after the Crisis of 2013.

Bishop Ruben said that it is only our Lord who knows how to reward you and your congregations for your immediate response in addressing some of the needs of the Diocese and her suffering congregations. The Lord, our protector and the giver of life, is doing His work now. People are coming back to Bor and our church on Sundays is sometimes attended in thousands as it used to be before.

We do believe in the power of prayer, and still ask you to pray for us and the peace in South Sudan, especially JONGLEI State.

Once again, pass our sincere, greetings to your diocesan staff and the congregations.

Peace.
John Bullen,
Contact Person,
Diocese of Bor

Parish Happenings Posted on the Web . . .


St. Peter's, Lebanon, had a program in adult education about the importance of honeybees to our world, learning that one in three foods we consume depend on the honeybee. They have now embarked on a honeybee ministry (what a honey of an idea, huh?!).




Congratulations to Lily and Jack Beasley, who were recently baptized at St.John's, Lafayette.




St. Paul's, Evansville, had a visit from the Rev.Canon Debra Kissinger to discuss the search process for their interim priest and eventual new rector.




A beautiful Easter chancel at St. Paul's, Richmond.




St. Augustine, Danville, had some energetic egg hunters for an Easter egg hunt.


St. Paul's, Jeffersonville, got some great volunteer help from Jesus Cares Exit 0 (I-65) Ministry. The hard workers mulched the grounds and did clean up and spruce up for spring,
The Great Vigil of Easter 2015 at St, Paul's, Indianapolis.
St. Paul's, New Albany, has a different local outreach emphasis each month. During April, they collected clothing for a local clothing bank. This month, they are collecting pet food for their parish's pet food pantry. The pet food is offered to those in the community who don't have the resources to feed their pets.
St. John's, Crawfordsville created a beautiful butterfly cross for Easter.
St. John's. Bedford, made a colorful flowered cross for Easter.
Godly Play children at St. Timothy's, Indianapolis, decorated canned goods for their food pantry.
There are some great cooks at St. John's, Speedway. Now, they are collecting their recipes for a parish cookbook.
Many eggs were hunted at St. Thomas, Franklin this season, too.
The altar at historic Christ Church, Madison, looked beautiful for Easter.


Children at St. Christopher's, Carmel, created a butterfly bulletin board proclaiming the resurrection.
Children at
Christ Church Cathedral
prepared for and held an Easter pageant.
Trinity, Bloomington, is undergoing renovation.
How lovely are the Spring flowers at
St. Mary's. Martinsville
?!
Springtime is in full bloom at St. Mark's, Plainfield.
The new Episcopal Community at Brownsburg hosted a Saturday work day in April at the Harris Academy, sprucing up the grounds for Spring.
St. David's, Bean Blossom, won honorable mention for their participation in their community's Spring Blossom Parade.
Spring flowers at Trinity, Lawrenceburg.
The Great Vigil of Easter at All Saints, Indianapolis.
The St. Monica's Guild at Trinity, Indianapolis, recently prepared and served a gi-normous amount of Cornish pastries and scotch eggs.
Diocesan Choirs Hold Spring Choir Festival


The Episcopal Choirs of All Saints, Indianapolis; Christ Church Cathedral, Church of the Nativity, Indianapolis; St. Christopher's, Carmel; St. Francis in the Fields, Zionsville; St. Paul's and Trinity in Indianapolis gathered this month for a Spring Choir Festival at St. Paul's, Indianapolis.

Over 180 singers celebrated the Anglican tradition of great choral music, performing the music of Charles Villiers Stanford, G. F. Handel, Craig Phillips, Peter Hallock, Parker-Shaw, and David Hurd. Bruce J. Barber II was the Guest Conductor.

Submit Pics and Articles... Share!